THE AUTOBIOGRAPHY OF JOHN SHEPARD KEYES, TRANSCRIBED
THE LIFE OF J. S. KEYES, IN BRIEF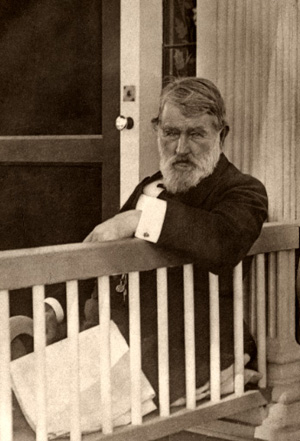 John Shepard Keyes was a lawyer, a Massachusetts state senator, a sheriff of Middlesex County, Massachusetts, a United States marshal, a judge of the District Court of Eastern Middlesex, and a life-long resident of Concord, Massachusetts. A son of John and Ann Stow Shepard Keyes, he was born in Concord on September 19, 1821, died in Boston May 15, 1910. George and Joseph Boyden were his brothers. He was educated at the Concord Academy under teachers Phineas Allen and William Whiting, at Harvard College (1837-1841), and at the Harvard Law School. Keyes began to practice law in 1844, and married Martha Lawrence Prescott the same year. (She died in 1895; Keyes remarried in 1898.)
Keyes was elected sheriff in 1853 and in 1860 was a delegate to Republican convention at which Lincoln was nominated for presidency; he was made a United States marshal shortly thereafter. He served as a bodyguard during Lincoln's inauguration and was present at Gettysburg for the delivery of the Gettysburg Address. As a marshall, he lived with his family in Boston for a time during the Civil War. (His duties included handling cases of prize ships, contraband goods, and the custody of certain types of prisoners.) In 1863, he bought the Bullet Hole House on Monument Street in Concord.
Keyes became a judge of the District Court in 1874. Locally, he was involved with numerous Concord committees and offices, including the committees for the 1850 and 1875 celebrations of the anniversaries of the Battle of Concord, for the 1885 celebration of the 250th anniversary of the town's incorporation, and the Committee on the Gunboat Concord (formed to arrange the gift of a model of D. C. French's Minuteman Statue to the U.S.S. Concord). He was a member of the Social Circle in Concord from 1846; president of the Concord Antiquarian Society; a director of the Concord Bank; a trustee of the Middlesex Institution for Savings; and vice-president and director of the Middlesex Mutual Fire Insurance Company.
Four of the children of John and Martha Prescott Keyes survived to adulthood: Annie S. (1847-1928; Mrs. Edward Waldo Emerson); Florence (1851-1877; Mrs. Charles Walcott); Prescott (1858-1943), who married Alice Reynolds (daughter of Grindall) in 1881; and Alicia M. Keyes (1855-1924). John Shepard Keyes and his family are buried in Concord's Sleepy Hollow Cemetery.
KEYES'S MANUSCRIPT AUTOBIOGRAPHY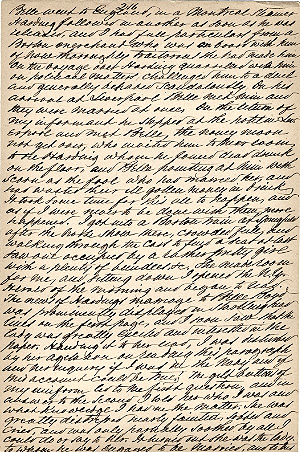 As a member of the local, county, state, and national power elite, Keyes was highly self-confident in expressing his thoughts and opinions on all subjects—personal, professional, and political—in his diary and his manuscript autobiography, both of which form part of the extensive J. S. Keyes and Keyes family papers in the Concord Free Public Library's William Munroe Special Collections. (See the finding aids listing for Keyes papers at http://www.concordlibrary.org/special-collections/fin_aids for more information about the library's Keyes holdings.) His autobiography, which was quoted extensively by Amelia Forbes Emerson in her memoir of him for the Fifth Series of Memoirs of Members of the Social Circle in Concord (1940), covers his life from 1821 to 1866.
Keyes played a central role during a key period in Concord history, and his life was intertwined with those of Concord's Transcendental authors. His autobiography is therefore a key primary document for historical and literary research.
TRANSCRIPTION OF THE AUTOBIOGRAPHY
The Concord Free Public Library is pleased to publish a transcription of John Shepard Keyes's autobiography in PDF format for research use.
The transcription was generously prepared for the Concord Free Public Library by Professor Sandra Harbert Petrulionis of Penn State Altoona, with the assistance of research assistant, transcriber, proofreader, and editor Jennifer Cowfer and student transcribers and proofreaders Deborah Barry, Jeannette Burgan, Rebecca Diehl, and Christina Seymour. Dr. Petrulionis and her crew have prepared a literal, line-by-line transcription to scholarly standards. Along with the transcribed autobiography, their editorial notes and normalization practices may be accessed as separate pages from links below.
Please note that the transcribed autobiography is searchable through the search option on Adobe Acrobat.
In quoting from this transcription, researchers should acknowledge the Concord Free Public Library as both the owner of the manuscript autobiography and the publisher of the transcribed version (John Shepard Keyes, Autobiography, transcribed from ms. in John Shepard Keyes Papers, William Munroe Special Collections, Concord Free Public Library, Concord, Mass., Concord Free Public Library website, http://www.concordlibrary.org/uploads/scollect/doc/Autobiography_final.pdf).
Transcription of Keyes's Autobiography
c2010 Concord Free Public Library, Concord, Mass.
Not to be reproduced in any form without permission of the Curator of Special Collections, Concord Free Public Library.
Back to Special Collections homepage

Home
Mounted 10 November 2010.rcwh.