The Special Collections pages are currently under review. Please report any observed problems by clicking
.(JavaScript must be enabled to view this email address)
. Thank you for your patience and understanding.
Robert Wilde Collection of materials related to Henry David Thoreau and the Thoreau Society, 1941-1969
Vault A45, Wilde, Unit 1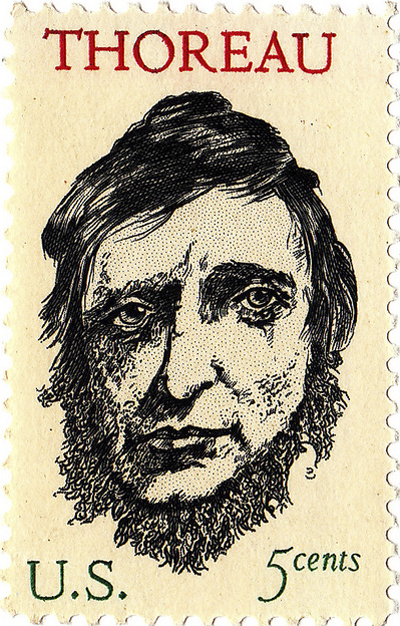 EXTENT: 1 container
ORGANIZATION: Three series: I. Materials (exclusive of newspaper clippings) relating to Henry David Thoreau. II. Newspaper clippings. III. Concord historical resources.
BIOGRAPHY: Massachusetts resident Robert Wilde (alternate spelling—Wild) was an active member of the Thoreau Society from the 1950s through the 1970s. He was nominated to the Executive Committee in 1974. A sculptor, Wilde created a statuette of Henry David Thoreau in 1950, copies of which were advertised for sale. The Thoreau Society Bulletin of Summer 1983 notes that fellow member Roland Robbins read a memorial tribute to Robert Wilde at that year's Annual Gathering.
SCOPE AND CONTENT: Materials, 1941-1969, collected throughout Wilde's years of affiliation with the Thoreau Society. The first series contains publications, pamphlets, letters, images and ephemera related to Henry David Thoreau and the Thoreau Society. The second series includes newspaper clippings arranged chronologically, spanning the years 1941-1969 (bulk 1962-67), relating to the concerns and activities of the Thoreau Society. The third series includes several items regarding the history of Concord, 1960 plus undated.
SOURCE OF ACQUISITION: Gift of Jim Evans, July 28, 2005.
NOTES/COMMENTS: Accessioned August 2, 2005 (AMC 118). Newspaper clippings copied; originals discarded.
PROCESSED BY: Leslie Thayer Piper, March 2015; finding aid completed April 2015.
Container list
Series I:
Materials relating to Henry David Thoreau, 1941-1969:
Folder 1. Thoreau Society Bulletin, letters, papers:
Materials include: issues of the Thoreau Society Bulletin from 1955-1960; an address by J. Lyndon Shanley, given at a meeting of the Thoreau Society in 1957; a recommendation for an amendment of the by-laws of the Thoreau Society for the 1960-61 year; a program from the 22nd Annual Meeting of the National Thoreau Society dated July 13, 1963; three copies of an advertisement for reproduction Walden cabins created by Thoreau Society member Roland Robbins; one letter from the Thoreau Society to a "Friend of Walden" soliciting funds for the Save Walden Committee; one letter dated February 19, 1958 from the Thoreau Society to the Massachusetts General Court; one letter from Gerhard Bleicken of the John Hancock Insurance Company regarding the company's use of Thoreau's image in an ad (the ad enclosed with the letter); one letter from Roland Robbins of the Thoreau Society regarding photographing the parts of an antique gun; an invitation to the Thoreau Society from the Thoreau Lyceum with an article about the founding of the Lyceum.
Folder 2. Survey map, pamphlet, order forms:
Materials include: one reproduction of Thoreau's survey of Nathaniel Hawthorne's estate; one pamphlet describing a Thoreau exhibition at the Pierpont Morgan Library in NYC; two order forms for publications regarding Thoreau and Transcendentalism.
Folder 3. Photos, print, and postcards:
Materials include: a print of a drawing of Thoreau's Walden cabin; three postcards of Thoreau; two small prints of Thoreau; one photograph of the Walden cabin.
Series II:
Newspaper clippings 1941-1969 (bulk 1962-1967):
Folder 4:
Materials include: articles about Patriots' Day festivities, Walden on the 100th anniversary of Thoreau's birth, and the controversy over the Thoreau commemorative stamp designed by Leonard Baskin.
Series III:
Concord historical resources, 1960, plus undated:
Folder 5:
Materials include: an advertisement for the Emerson Society Quarterly; Concord town meeting notes and a March 1960 map of the town of Concord regarding the establishment of historic districts and a Historical Commission in Concord; a typescript history of the Concord Free Public Library (reproduced).
Back to the Special Collections homepage
Mounted 15 April 2015. rcwh.