SAFFORD FAMILY LETTERS, 1815-1844
Vault A45, Safford Unit 1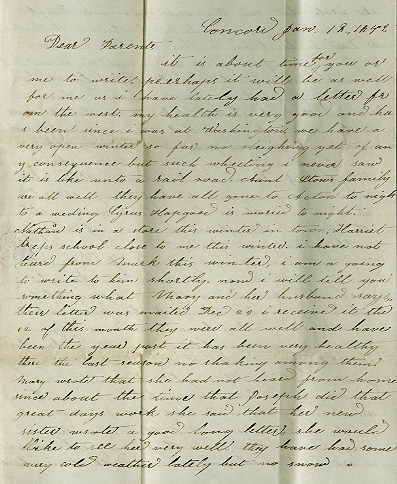 EXTENT: 17 letters.
ORGANIZATION AND ARRANGEMENT: Organized in a single file, arranged chronologically.
FAMILY BIOGRAPHY: Mark Safford (1782-1844) of Washington, New Hampshire, married Mercy Barrett (1780-1867) on January 30, 1807. Mercy Barrett was the daughter of Captain Joseph Barrett and Sarah Brooks Barrett of Mason, New Hampshire. Sarah Brooks Barrett was the daughter of John and Lois Brooks Barrett of Concord, Massachusetts, who were married by Justice Flint in Concord in 1744.
Mark and Mercy Safford had eight children, all born in Washington, New Hampshire: Lucy (born 1808; married John Cummings 1833; died 1842); Ward Duren (born 1810; married Sarah Way 1850; died 1884); John B. (born 1811; died 1833); Mary (born 1814; married Samuel Daniels 1837; died 1885); Joseph (born 1816; died 1892); Mark, Jr. (born 1818; died 1903); Harriet (born 1822; died 1905); George M. (born 1824; died 1853).
Lucy, Ward Duren, and Mark Safford were sometime residents of Concord, Massachusetts. Ward—who shows up in multiple volumes of Concord assessors' records—apparently lived and worked in Concord the longest. Their brother John lived and worked in Boston. Based on the collection, Ward can be placed in Concord between 1828 and 1844, Lucy in the late 1820s and early 1830s, Mark in 1840. Ward Safford returned to his native town after his father's death. Ward and Mark Safford died in Washington, New Hampshire, Lucy in Haverhill, New Hampshire.
SCOPE AND CONTENT: Seventeen letters, 1815-1844, by members of the Safford family and their Barrett relatives in Concord, Massachusetts, primarily to kin in Washington, New Hampshire. (One letter was written by Lucy Safford in Concord to her brother John in Boston.) Letter-writers include Rebecca and Louisa Barrett to their "Dear Sister" (Mercy Barrett Safford) and Lucy, Ward, and Mark Safford to their parents and siblings. Most of the letters were written by Ward Safford. Some letters contain messages by multiple correspondents. Subjects covered consist largely of family news, health, weather, crops, and other quotidian matters, with a few notable exceptions (see container list, below).
SOURCE OF ACQUISITION: Purchased from, Deborah Lavoie, February 2015.
RELATED MATERIALS: The Concord Free Public Library Letter File (Vault A55, Unit1) includes a single letter from Ward Duren Safford to his parents, describing the 1835 bicentennial celebration of Concord's incorporation.
NOTES AND COMMENTS: Accessioned February 7, 2015 (AMC 238). Processed by LPW; finding aid completed February 10, 2015.
Container List
Folder 1:
Letters, 1815-1834 (8 items).
Highlights: On March 6, 1831, Ward Safford refers in a letter home to Mr. [Samuel] Burr having gone to St. Augustine for his health. On May 24, 1832, he reports having gotten his pay from Mrs. Burr [who was by then a widow]. On November 3, 1833, he writes of his brother John's death.
Folder 2:
Letters, 1835-1844 (9 items).
Highlights: On April 7, 1836, Ward Safford writes his parents of the uncommonly severe April weather and tells his parents he wishes he could be home to assist in sugar-making and -eating. On October 16, 1836, he comments on his luck in not having "a wife and ten or twelve caterwalls" in tough times, with winter approaching. On April 5, 1840, Mark Safford tells his parents that he is working at Deacon [Reuben] Brown's, comments that he thinks he can make better money elsewhere, and reports on a visit to Lowell to look for factory work. In a letter of December 28, 1843, Ward Safford writes about the laying of the Fitchburg Railroad tracks toward Concord and of Irish "slavery" in the railroad's construction, and on October 27, 1844, expresses his thoughts about the setting off of his mother's "widow's thirds."
Images not to be reproduced without permission from the Curator of the William Munroe Special Collections, Concord Free Public Library, Concord, Mass.
Mounted 11 February 2015. rcwh.