Dee/Algeo Concord-Related Spanish-American War Collection, 1898-1962 (bulk 1898-1899)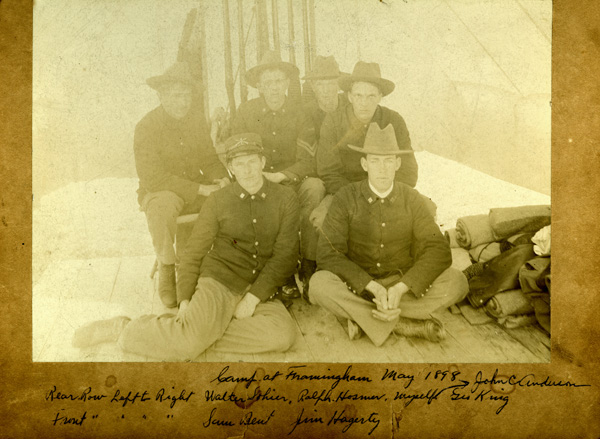 Vault A65, Unit D1
EXTENT: One box
ORGANIZATION: Three series. Series One: Rosters, reunion programs and photographs, 1898-1948 and undated; Series Two: Newspaper, newspaper clippings, newspaper prints, May 1898-May 1899 and undated; Series Three: Artifact and accompanying document, ca. 1898.
HISTORY: The Spanish-American War was waged between the United States and Spain from April 25th to August 12th 1898 as a result of American intervention in the Cuban War for Independence. American attacks on Spain's Pacific possessions also led to involvement in the Philippine Revolution (1896-1898) and eventually the Philippine-AmericanWar (1899-1902).
When war was declared by Congress on April 25th, President William McKinley immediately called for volunteers. Most Concord men went out with Company I of the 6th Regiment, known as "the Concord Company." At first, almost to a man, every qualified male in town enlisted before it was decided that married men should be excused from service. The final roster totaled 106 men and three officers, 45 of the men and one of the officers were Concordians, and included six or seven young men who, though still in high school, were allowed to enlist. 16 additional Concord men served with other organizations to which they were already attached.
Company I of the 6th Regiment, under Captain Cyrus H. Cook, was sent to train at the Muster Grounds in Framingham, Massachusetts before leaving on May 20th for Camp Alger, Virginia. Following that they transferred to Charleston, South Carolina where they boarded the S.S. Yale, arriving in Santiago on July 11th. The city surrendered within days and the Yale, with its crew of men and officers, was sent to Puerto Rico where they landed at Guanica on July 25th and dealt with a token resistance by the Spanish forces. On August 12th a protocol was signed, bringing the 113 day war to an end.
Illness and death from tropical diseases such as typhoid fever and malaria was a major problem for American troops, as was hunger in a number of the camps. The war over, Company I was relieved and returned to Boston. They returned to a rousing Concord welcome on October 27th.
Among those Concordians who served under Captain Cyrus H. Cook were John O. Algeo, Jr., George Bell Algeo, Ralph P. Hosmer, Charles P. Gage, John W. Hagerty, George G. King and Theodore L. Smith.
Three Concordians did not return and are honored with a memorial located in Monument Square. Corporal Ralph P. Hosmer, Private Charles A. Hart and Private George E. Adams, members of Company I, 6th Massachusetts Infantry, died at Utuado, Puerto Rico.
SCOPE & CONTENT: A small collection of documents, newspaper clippings and an artifact collected by Dee/Algeo family members. The collection contains rosters, reunion programs, photographs, and newspaper clippings. Newspaper clippings are from Boston, Lowell, Concord and unidentified newspapers, many undated. The artifact is a pen and an accompanying document.
SOURCE OF ACQUISITION: Donated by Sherry Dee Mobley, May 2014.
NOTES: Several of the newspaper clippings address Sherman Hoar's (1860-1898) civilian work during the conflict and subsequent death. Additional information about Sherman Hoar is available in the obituary scrapbooks located in Special Collections.
PROCESSED BY: C. Manoli-Skocay, June 2014.
Container List
Series I: Rosters, reunion programs and photographs, 1898-1948 and undated
Folder 1: Rosters, 1898-1962:
Roster of Concord Artillery, Company I, Sixth Regiment Infantry, M.V.M., ca. 1898. Roster of Company I, 6th Regiment, U.S. Volunteers, undated; roster of 5th Mass. Volunteers, 1st Mass. Volunteers, 2nd U.S. Coast Art., Mass Naval Mil., Coast Signal Service, U.S. Navy, 7th U.S. Infantry, 11th U.S. Infantry, 26th U.S. Volunteers, undated; list of surviving members of the Ralph P. Hosmer Camp #55, U.S.W.V., 15 January 1962.
Folder 2: Reunion Programs, 1906-1948:
Third reunion, Sixth Massachusetts Infantry, U.S.V., 27 October 1906; Fourth reunion, Sixth Massachusetts Regiment Infantry U.S.V., 26 October 1907; Forty-Fourth Reunion, Sixth Massachusetts Infantry, U.S.V., 23 October 1948 (fiftieth anniversary).
Folder 3: Photographs, 1898 and undated:
Captain Williams and Officers of L. 6th Regiment M.V.M, undated; Camp at Framingham, Massachusetts (includes John C. Anderson, Walter Sohier, Ralph Hosmer, George King, Sam Bent, Jim Haggerty, May 1898.
Series II: Newspapers and clippings, May 1898-May 1899 and undated [ca. 1898]
Folder 4: Newspaper Clippings, May 1898-July 1899
Folder 5: Newspaper Clippings, undated
Folder 6: Newspaper (Massachusetts 6th Regiment mustered out), 22 January 1899
Folder 7: Six prints of American warships from The Boston Sunday Herald, 15 May 1898-3 July 1898.
Series III: Artifact and document, ca. 1898
Pen, undated (boxed)
Document: "Pen used by all, excepting Captain Cook (who was in Boston) and Sergeant Ford signing in triplicate the first N.S. payrolls of this company". Signed by Jos. S. Hunt., undated.
c2014 Concord Free Public Library, Concord, Mass.
Not to be reproduced in any form without permission of the Curator of the William Munroe Special Collections, Concord Free Public Library.
Back to the Special Collections homepage
Mounted 11 June 2014. rcwh.