Pickard Family Papers, 1892-1980 (bulk 1915-1950)

Vault A45, Pickard, Unit 1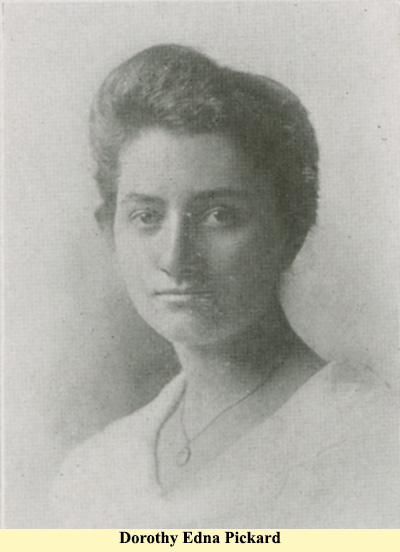 EXTENT: 1.6 linear feet (five document boxes).
ORGANIZATION AND ARRANGEMENT: Organized in two series. Series I: Pickard Family Papers, 1892-1975; Series II: Genealogical Notes, 1973 and undated
BIOGRAPHIES: Dr. Isaiah Pickard (1866-1947) of West Concord was born on the Old Pickard Farm in Littleton MA on November 21, 1866, the son of Cyrus Peverly Pickard (1842-1921), and Frances A. Haynes. Dr. Pickard prepared for Medical School at Amherst College, graduating in 1891. He began practicing medicine in Concord following his graduation from Harvard Medical School in 1896. He married Grace Sheldon Pierce (d.1936) on June 26, 1897 in Boston. Together, they had eight children: Dorothy Edna Pickard (born 1898 and died October 10, 1918 from influenza in Fitzwilliam, NH); Herbert Pierce Pickard (1899-1984), Newington CT; Alfred Haynes Pickard (1902-1926), served in the US Army, drowned on August 15, 1926 in Tianjin China; Cyrus Warren Pickard (1904-1990), Hingham MA; Elizabeth Ruth Pickard (1905-1988), Highland Street, West Concord, (Elizabeth was a librarian at the Concord Free Public Library); Frank Augustus Pickard (1907-2001), Tarrytown NY; Marion Esther Pickard (Mrs. John Bonner) (1908-1985), Arlington, MA; Harriet Pickard (1912-1947), West Concord MA.
SCOPE AND CONTENT: Series I contains items pertaining mainly to the family of Dr. Isaiah Pickard, including Dorothy's college diploma, college yearbook, and lesson plans, Alfred's school notebooks, 1923, Cyrus's Bible School certificate, 1915, Elizabeth and Frank's Concord High School certificates, 1923 and 1925, Marion or Mary's Agricultural Fair ribbons, 1919-1929, Harriet's Concord High School diploma and certificates, 1926-1930. Also included are household receipts, 1925-1953, cards and invitations, 1898-1920, a 1936 calendar, newspaper clippings, 1932-1972, Concord High School programs, 1920-1927, Concord Players programs 1932-1935, maps, and detailed records from the Willow Rebekah Lodge no. 109, 1892-1921, of which Elizabeth was a member. Many of the newspaper clippings and Concord High School programs are signed by Elizabeth Pickard. The collection contains memorabilia relating to Concord's sesquicentennial (1925) and tercentenary (1935) celebrations. The series also includes personal photographs, sermons and religious pamphlets, and ephemera. Series II contains genealogical notes (1251-1980 inclusive dates).
SOURCE OF ACQUISITION: Gift of Joy Bonner, 1982.
NOTES AND COMMENTS: Dr. Pickard donated most of his medical papers and equipment to Harvard University. This collection pertains mainly to his family. Quote from Elizabeth Pickard: "The flu took the life of my sister, Dorothy Edna, during her first year teaching in New Hampshire in1918. The doctor, who having treated so many locally during the epidemic, was out of reach of his own daughter and couldn't save her."
Processed by: Jeffrey C. Smith, April 2016
Container List
SERIES I. Pickard Family Papers, 1892-1975
BOX 1
Box 1, Folder 1: Dr. Isaiah Lovell Pickard, 1925-1947
Clippings, signed prescriptions, Board of Health postcards, Report of Contagious and Infectious Diseases, 1925; Dispersal Sale by Auction: 50 Vermont Cows, April 6, 1925; Letter from the April Committee regarding the 150th Anniversary of the Concord Fight, April 14, 1925; agreement to harvest wood in Sudbury, 1932; letter from Gardner W. Russell regarding stock dividends, March 26, 1942; Dr, Isaiah Pickard obituary (photocopy) Concord Journal, August 14, 1947.
Box 1, Folder 2: Dorothy Edna Pickard, 1898-1918
Lesson plan, undated; hymns and music, "It came upon a Midnight Clear," undated.
Box 1, Folder 3: Cyrus Warren Pickard, Alfred Pickard, 1915-1923
Cyrus Warren Pickard, West Concord Union Church Bible School graduation certificate, June 13, 1915 (ripped); two notebooks by Alfred Pickard: October 23, 1923 and November 22, 1923.
Box 1, Folder 4: Elizabeth Ruth Pickard, 1905-1957
Bank book, Middlesex Institute for Savings, October 17, 1905 - April 30, 1937; West ConcordUnion Church membership card, April 12, 1925; household accounts; newspaper clippings; Willow Rebekah Lodge, Union Church, December 6, 1955 (includes photograph of Elizabeth Pickard); Concord Community Chest campaign, 1957.
Box 1, Folder 5: Frank Pickard, 1923-1925
Certificates: Frank Pickard (captain), Concord High School football team, December 1, 1923; Frank Pickard, Concord High School track team, June 25, 1925.
Box 1, Folder 6: Mary Pickard, 1919-1935
Acton Agricultural Fair Ribbons, 1919-1929; certificate of completion: American National Red Cross (standard course), June 1935.
Box 1, Folder 7: Harriet Pickard, 1926-1928 and undated
Diploma: Harvey Wheeler School, June 18, 1926; certificate: Field Hockey, January 12, 1928; school project on Concord Minutemen, undated.
Box 1, Folder 8: Receipts and Accounts, 1929-1947
Mrs. Grace Pickard, Franklin Savings Bank book, 1929-1930; Allan Kennedy, painter's bill, May 16, 1932; Concord Hall Association expense accounts, 1941, 1943; empty envelopes for developed photographs, October 22, 1945; farm records (fruit and vegetables sold), 1944-1950; Dr. Pickard Estate, December 1, 1948; water heater bill, December 11, 1948; Wilson Lumber deliveries: October 26, 1948, December 28, 1948, February 16, 1949; coal use records (including general temperature records), 1947-1954; Whitney Coal and Grain, coal deliveries: August 8, 1949, July 11, 1951, November 7, 1951, January 5, 1952, November 21, 1953, fuel oil call for service, 1957. Many of these records were saved just prior to and after the death of Dr. Pickard in 1947.
Box 1, Folder 9: Ephemera, 1898-1956 and undated
Christmas cards and Christmas-related invitations,1898-1920; dedication of Odd Fellows Home Burial Lot and Monument, Hope Cemetery, June 14, 1898; Richard M. Hatch and Estella F. Chaplin wedding invitation, July 8, 1903; Ralph Bartolf Peterson and Maud Blanche Franks wedding invitation, June 10, 1905; Leland Anton Whitney and Dorothy Messer wedding invitation, September 4, 1920; card from Pilgrim Congregational Church, Southborough MA, 1956; International Society of Christian Endeavor, devotional book catalog, undated; Longfellow House card, undated; Union Class Register (grade book) undated; letter from camp, undated.
Box 1, Folder 10: Calendars, 1936 and undated
Concord Electric Appliance Company, 1936; A Year with the American Poets: Longfellow, Whittier, Emerson, Bryant, Holmes, Lowell, undated
Box 1, Folder 11: Newspaper Clippings, 1932-1972 and undated
The Boston Herald, Rochambeau and Washington by Coolidge, February 21, 1932; Richard Sullivan retires from Lawrence Public Library, July 1938; The Royal Family, June 11, 1939; Our Oldest Houses, July 30, 1953; Mrs. George Wallace appointed to the Board of Library Commissioners, June 14, 1956, Fred Bloomhardt resigns as Concord Librarian, May 15, 1958; Concord Journal, January 22, 1959; Concord Journal, Patriots Day, April 22, 1971; Minuteman National Park, 1972; article on first aid, undated, West Concord Tour, undated.
Box 1, Folder 12: Concord High School programs, 1920-1927 and undated
Graduation Exercises: 1923, 1924, 1925, 1930; Programs: Martha, April 30, 1920, Penrod, December 16, 1921, Olivette, April 28, 1922, The Heart of a Clown, February 1, 1923, Faust, May 4, 1923, Summer is a-comin' in, February 8, 1924, Said Pasha, May 16, 1924, Il Trovatore, May 8, 1925, Sherwood, February 20, 1925, The Mikado, May 12, 1927 (includes script and music); The Bohemian Girl, undated
Box 1, Folder 13: Concord Players, 1932-1935
Little Women, March 27-April 2, 1932; The Drama of Concord, September 11, 1935.
BOX 2
Box 2, Folder 14: Concord Fight Sesquicentennial, 1925
Patriots' Day 1775-1925 Annual Joint Celebration Program, Anniversary Ball invitation, April 20, 1925; Parade Route on a map of Concord, April 19, 1925 (2 copies).
Box 2, Folder 15: Concord Tercentenary, 1935
What to see in Concord, 1935, Tercentenary Program booklet, includes article: Three Centuries of Concord History by Allen French, September 11-14, 1935.
Box 2, Folder 16: Town of Concord, 1810-1972 and undated
Map of Concord Village in 1810 (photocopy); Vote at the Special Election, June 30, 1925, Battle of Lexington (print by Lassell Ripley), undated; A Leaflet Guide to the points of interest in Historic Concord, Concord Pocket Street Directory and Handbook, 1933; Consumers Digest Nov-Dec.1972; Concord Fire Alarm, undated.
Box 2, Folder 17: Ralph Waldo Emerson Centennial, 1903
Emerson Centenary Memorial Exercises, May 25, 1903.
Box 2, Folder 18: Willow Rebekah Lodge no. 109, 1892-1921
Instituted on April 12, 1892 – May 9, 1921, subordinate to the Grand Lodge, chartered June 11, 1823, Elizabeth Pickard, member, meeting at Odd Fellows Hall, March 22, 1892; George Ball is appointed District Deputy Grand Master for District 71, April 12, 1892; Harriet Wilson letter to Willow Rebekah Lodge, June 7, 1892; Financial Statement, June 30, 1893; Meeting notes, May 2, 1906; Constitution amended, September 5, 1907; Grand Union Field Day, April 6, 1908; letter from Francis Kaulback, November 30, 1913; New Hampshire Fire Insurance Policy, October 1, 1918; Independent Order of Odd Fellows Centennial Anniversary, April 26, 1919; letter from Mary Godkin, May 19, 1921.
BOX 3
Box 3, Folder 19:
Two envelopes of unidentified vacation slides, undated; two blank physicians record books; one religious medallion of the "infant Jesus."
Box 3, Folder 20: Pamphlets, 1894-1948
Berkeley Temple Young Men's Institute, Fifth Annual Banquet, May 21, 1894
The Tell-Tale Tomb by Frederick Brooks Noyes, 1835
Concord Free Public Library 75th Anniversary, October 1, 1948
Concord Community Chest Fund Campaign, October 22, 1948
Box 3, Folder 21: Pamphlets, 1939-1975 and undated
In His Steps Today by Rev. Charles M Sheldon, undated
The Journey by Stephen Moore, undated
He was Rejected a sermon by Russell Henry Stafford, March 19, 1939
King of Glory by Russell Henry Stafford, DD – Old South Church, Palm Sunday, April 2, 1939
Whether We Wake or Sleep by R. H. Stafford, Easter, April 9, 1939
Trial by Fire: Lincoln MA and the War of Independence by Paul Brooks, Lincoln MA
Bicentennial Commission, 1975
Box 3, Folder 22: Framingham State Normal School Yearbook, 1918
The Dial: Framingham State Normal School Yearbook, 1918 (includes photograph of Dorothy Edna Pickard.)
Box 3, Folder 23: Photographs, undated
Unidentified class photos, undated.
Box 3, Folder 24 Photograph Album, ca. 1937
Buildings at Northfield Seminary, ca. 1937
BOX 4
Box 2: Diplomas, 1918-1930
Dorothy Edna Pickard, Framingham State College (State Normal School), June 19, 1918; Harriet Haynes Pickard, Concord High School, June 20, 1930.
Series II: Genealogical Notes, 1973 and undated (1251-1980 inclusive dates)
BOX 5
Box 5, Folder 1: Adams Family genealogy notes, 1646-1960; Smith, Richard N. The Adamses of Townsend: from Daniel to Union S. Townsend MA: Townsend Historical Society, 1973.
Box 5, Folder 2: Allen Family genealogy notes, 1588-1936
Box 5, Folder 3: Batchelder Family genealogy notes, 1561-1744
Box 5, Folder 4: Brigham Family genealogy notes, 1475-1834
Box 5, Folder 5: Bryant Family genealogy notes, 1627-1777
Box 5, Folder 6: Ewer Family genealogy notes, 1593-1722
Box 5, Folder 7: Harlow Family genealogy notes, 1604-1874
Box 5, Folder 8: Hosmer/Wheeler Family genealogy notes, 1651-1838
Box 5, Folder 9: Littlehale Family genealogy notes, 1631-1929
Box 5, Folder 10: Miscellaneous genealogy notes, 1629-1980
Box 5, Folder 11: Perry, Florence Jones genealogy notes, 1734-1839
Box 5, Folder 12: Sandwich settlers, 1634-1717
Box 5, Folder 13: Temple Family genealogy notes, 1602-1892
Box 5, Folder 14: Trafton Family genealogy notes, 1251-1748
Box 5, Folder 15: Dunn Family genealogy notes, 1653-1952
Back to the Special Collections homepage