HELEN LEGATE PAPERS, 1898-1923
Vault A45, Legate Unit 1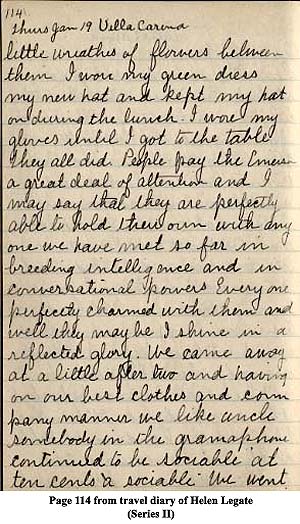 EXTENT: 9 items (1 container)
ORGANIZATION AND ARRANGEMENT: Organized into three series: I. Original letters, 1898-1923 (arranged chronologically); II. Personal travel diary, 1904- 1905; III. Photograph (copy of original).
BIOGRAPHY: Helen Augusta Legate (1858-1945) was born in California and spent her childhood in Leominster, Mass., where she lived on Legate Hill. As a young adult, Helen taught at Leominster High School, before moving to Concord, Mass. In 1885, she became principal of West Concord High School and, later, of the Emerson School (formerly located at the corner of Stow and Hubbard Streets). In 1911, she became the first principal of the Peter Bulkeley School, where she worked until her retirement in 1923, after 38 years in the field of education. Never married, Helen was active in local community organizations. She belonged to the Concord Women's Club, Ladies' Tuesday Club, Women's Parish Association and the Concord Art Association. Notably, Helen was a friend of the Emerson family and at the time of her death she was living in what was once the home of Ralph Waldo Emerson on the Cambridge Turnpike. Helen maintained a friendship with Emerson's daughters, Ellen Tucker Emerson (1839-1909) and Edith Emerson Forbes (1841-1929), and his son, Dr. Edward Waldo Emerson (1844-1930). Helen accompanied Edward Emerson and his wife and daughter (Ellen Emerson Davenport, 1880-1921) on an extended trip to Europe in 1904 and 1905.
SCOPE AND CONTENT: Papers consist of letters, 1898-1923, a personal travel diary, 1904-1905, and one photograph, not dated.
The letters, 1898-1923, were written to Helen by Ellen Tucker Emerson and Edith Emerson Forbes. The letters touch upon daily life activities, mutual acquaintances, local community happenings and occasional visits to the Ralph Waldo Emerson house. All letters are very brief in length.
The diary, November 15, 1904-February 19, 1905, details Helen's journey to Europe with members of the Emerson family—Dr. Edward Waldo Emerson, his wife Annie Keyes Emerson and their daughter Ellen.
The travel party spent three months in Europe after traveling aboard the SS Zeeland (no information on this journey is included). The diary describes their visits to various cities in Belgium, Switzerland, Germany and Italy, as well as a two-month period in Antibes, France. Here, the Emerson family, accompanied by Helen, rented "Villa Carina" from a French Viscount. The group spent their days touring throughout the Cote D'Azur and visiting people in the vicinity. The contents of the diary are comprised mainly of Helen's observations as a tourist; it is not highly personal in nature but it is sometimes humorous. She describes local scenery, artwork and people and she also provides commentary on social visits. Occasionally, Helen mentions friends and family from Massachusetts.
In the January 20, 1905 entry, Helen refers to a letter from William Emerson (son of Edward and Annie Emerson) reporting a deadly muskrat hunting accident in a canoe on the Concord River, in which seventeen year old Sam Hoar shoots Clarence E. Jones, son of Boston Banker R.H. Jones.
Helen's references to the Emerson family in the diary focus on describing day-to-day activities with the various family members—visits to museums and tourist attractions, countryside excursions, shopping, dining, errands and the like. Helen also comments on the Emersons' many good qualities—kindness, refinement, cultivation, intelligence, breeding and conversational powers.
The photograph included with the collection is a copy of an original (n.d. pre-1909) showing Helen Legate, Ellen. T. Emerson and Grace Heard on the Ralph Waldo Emerson family property, by the barn.
SOURCE OF ACQUISITION: Presented by Joan T. Fleming, 2009 and 2010. Letters and photograph were deposited via the Emerson Society, the diary presented as a gift directly by Mrs. Fleming.
ASSOCIATED MATERIALS: The Concord Free Public Library Special Collections also holds Ralph Waldo Emerson materials, Ellen Tucker Emerson (1839-1909) materials and Emerson family correspondence. Joan Fleming deposited items of Ellen Emerson's clothing in the CFPL, 2009, in conjunction with the Emerson Society.
PROCESSED BY: mbf; finding aid completed October 18, 2010.
NOTES/COMMENTS: Diary accessioned October 12, 2010 (AMC 191).
CONTAINER LIST:
Folder 1:
Series I. Letters to Helen Legate, 1898-1923:
Ellen T. Emerson to Helen Legate, 1898 April 1.
Ellen T. Emerson to Helen Legate, 1898 October 12.
Ellen T. Emerson to Helen Legate, 1904 June 27.
Edith E. Forbes to Helen Legate, 1912 May 22.
Edith E. Forbes to Helen Legate, 1919 April 16.
Edith E. Forbes to Helen Legate, 1923 May 5.
Ellen T. Emerson to Helen Legate, 1923 May 20.
Folder 2:
Series II: Travel diary of Helen Legate 1904-1905:
"My Trip Abroad" 1904 November 15 – 1905 February 19.
192 Pages
Folder 3:
Series III: Photograph (n.d.; pre-1909):
Miss Helen Legate, Miss Ellen T. Emerson, Miss Grace Heard on the Ralph Waldo Emerson family property, by the barn.
c2010 Concord Free Public Library, Concord, Mass.
Not to be reproduced in any form without permission of the Curator of Special Collections, Concord Free Public Library.
Back to Finding Aids Page

Back to Special Collections homepage

Home
Mounted 20 October 2010. rcwh.