JOHN H. LORING PAPERS, 1926, 1952-2004
Vault A45, Loring, Unit 2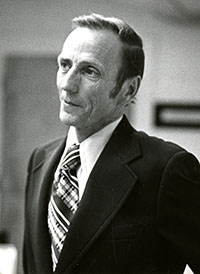 Extent: 1.5 linear feet (2 containers)
Organization and arrangement: John H. Loring's daughter, Tamara Loring, organized most of the collection chronologically and that original order was maintained, as it gives context to the materials, photographs, and documents that otherwise are unlabeled. Many of the donor's explanatory notes remain as well. The remaining material is arranged topically and within each section, chronologically. Photographs are included in both "Chronology" folders and separately, as they were donated.
Biography: John H. Loring was born in Concord on March 5, 1926 to Howard and Mary Loring. He graduated from Concord High School and served in the Army in World War II. He earned an engineering and business degree from Northeastern and worked as a chemical engineer before turning to politics. In 1972, Loring-- a member of the Republican Party-- ran and won the seat in the Massachusetts House of Representatives for the 33rd District, representing Acton and Concord for the next two years. He lost the race for the 48th District, representing Maynard and Acton in 1974, and won in 1976. His longest tenure in Congress was serving the 14th District: Acton, Carlisle, and Concord, from 1978-1988. He lost his last race in 1990 and retired from politics after sixteen years of service.
Loring's primary interests were on taxation, housing, urban development, and public safety. He was on the Steering Committee for Legislative Rules Reform, Ways and Means, Public Service, Energy, State Administration, and Ethics Committees.
Loring was married to Tatiana Farley. They had four daughters: Cynthia, Tamara, Pamela, and Susan. He enjoyed golf, was a member of the West Acton Baptist Church, and involved with the Boy Scouts. He was involved with the board of directors for Emerson Hospital, Middlesex Savings Bank, Acton Republican Town Committee, Boy Scouts, United Way, and the Mental Health Association of Central Middlesex. He died on July 11, 1993.
Scope and content: The types of material in this collection are correspondence, invitations, speeches, press releases, legislative working documents, campaign publicity, newspaper clippings, event programs, and photographs. The bulk dates focus on Loring's years in public office, 1972-1990.
Source of acquisition: Gift from Tamara Loring, 2016.
Notes/comments: Some materials retain the donor's explanatory notes. Researchers should take extra care not to separate these notes. Acton Historical Society retains some of the family materials.
Processed by: Jessica Steytler, June 2019
Container list
Box 1, Folder 1: Copy of birth certificate, 1926
Box 1, Folder 2: Chronology, 1952-1971
Box 1, Folder 3: Chronology, 1972, Jan.-Sept.
Box 1, Folder 4: Chronology, 1972, Oct.-Dec.
Box 1, Folder 5: Chronology, 1973
Box 1, Folder 6: Chronology, 1974
Box 1, Folder 7: Chronology, 1975-1976
Box 1, Folder 8: Chronology, Taxachusetts News, 1976 Oct. 30
Box 1, Folder 9: Chronology, circa 1977, undated
Box 1, Folder 10: Chronology, 1977 Jan.-May
Box 1, Folder 11: Chronology, 1977-1978
Box 1, Folder 12: Chronology, Taxachusetts News, vol. II no. 1, 1978 Oct.
Box 1, Folder 13: Chronology, 1978 Oct.-Dec.
Box 1, Folder 14: Chronology, 1979-1982
Box 1, Folder 15: Chronology, 1982-1983
Box 1, Folder 16: Chronology, 1984
Box 1, Folder 17: Chronology, 1985-1987
Box 1, Folder 18: Chronology, 1988 Jan.-Sept.
Box 1, Folder 19: Chronology, 1988 Oct.-Dec.
Box 1, Folder 20: Chronology, Taxachusetts News, 1988 Nov
Box 1, Folder 21: Chronology, 1989
Box 1, Folder 22: Chronology, 1990
Box 1, Folder 23: Chronology, Taxachusetts News, 1990
Box 1, Folder 24: Chronology, 1991-1992
Box 1, Folder 25: Chronology, 1993, 2004
Box 1, Folder 26: Notes, correspondence, working documents, memos, undated
Box 1, Folder 27: Elsie Loring Kennedy correspondence and memorial, 1990, undated
Box 1, Folder 28: Campaign letters and news clippings, undated
Box 1, Folder 29: Cards and invitations, undated
Box 1, Folder 30: Town committee lists-- Acton, Concord, Carslile, 1990, undated
Box 1, Folder 31: State legislators, published documents, 1985-1989
Box 2, Folder 1: Loring genealogy and Society of Mayflower Descendants, 1990, undated
Box 2, Folder 2: Obituary and memorial, 1993
Box 2, Folder 3: Stationary and campaign-related, undated
Box 2, Folder 4: Rolodex cards, undated
Box 2, Folder 5: Photographs with people and/or places identified, 1960s-1990s
Box 2, Folder 6: Photographs with people and/or places undientified, 1960s-1990s
Box 2, Folder 7: Photographs of John Loring, 1960s-1990s
Box 2, Folder 8: Newspaper photographs, 1960s-1990s
Box 2, Folder 9: Bunker Hill Flag, undated
Box 2, Folder 10: Isaac Davis troupe 1 kerchief, undated
Box 2, Folder 11: External memory drive and CD, undated
Box 2, Folder 12: Material related to donation, undated