Grindall-Benson Family Collection, ca. 1900-1966
Vault A45, Grindall, Unit 1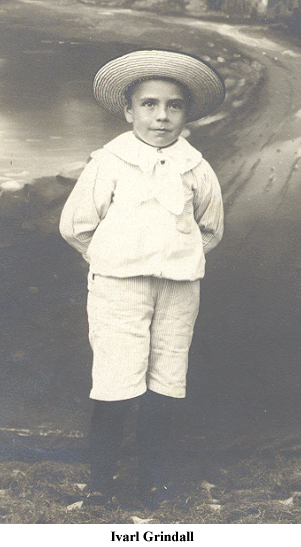 Extent: 10 Items.
Biography: Nellie Benson (1891-1966) and Mabel Benson (1899-1977) were sisters born to Christian and Caroline Sevrinson Benson. Nellie and Mabel Benson were born at the Ball-Benson House in Concord, Mass. In 1915, Nellie Benson married Ole Grindall (1887-1919), who was born in Norway. In 1919, Mabel Benson married Ole's brother, John Grindall (d. 1967), also born in Norway.
Scope and Content: Collection, ca.1900-1966, consists of cartes de visites, photographs, letters, and postcards related to the Grindall family.
Related Materials: Concord Historical Commission Collection of Documents Regarding the Ball-Tarbell-Benson House Formerly Located on Ball's Hill Road, Concord, Mass. (Concord Free Public Library Special Collections).
Source of Acquisition: Gift of Win Wilbur, [n.d.]
Processed by: Sarah Galligan, April 2012.
Container List:
Carte de visite, Uncle Alfred Grindall, 1909.
Carte de visite, Inger Grindall.
Carte de visite, Inger and Martha Grindall.
Carte de visite, Ivarl Grindall.
Photograph of unidentified woman.
Postcard to Mr. and Mrs. Benson from Ole Grindall.
John M. Grindall account book with Middlesex Institution for Savings, 1920 April 26.
ALS from Fred G. Coops, Concord, Mass to Mrs. N Grindall, Gloucester, Mass., 1928 Aug. 10.
Letter to Mrs. Nellie B. Grindall, Concord Mass., 1928 Oct. 5.
Postcard from Coburn Benson to John and Mable [sic] Grindall, Carlisle, Mass., 1966 Sept. 1.
c2012 Concord Free Public Library, Concord, Mass.
Not to be reproduced in any form without permission of the Curator of the William Munroe Special Collections, Concord Free Public Library.
Back to the Special Collections homepage
Mounted 21st April 2012. rcwh.