HERBERT WENDELL GLEASON SLIDE LECTURE "THOREAU'S COUNTRY"
(A LECTURE ON HENRY DAVID THOREAU'S CONCORD AND SURROUNDING AREAS),
[ca. 1915-1917, with later additions]

VAULT B5, UNIT 15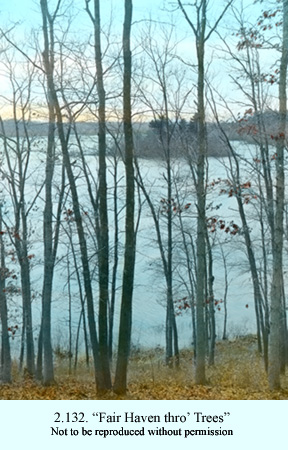 EXTENT: 92 hand-colored glass lantern slides in H.W. Gleason's original wooden box, accompanying notes in one archival box, and an advertising broadsheet in one oversize folder.

ORGANIZATION AND ARRANGEMENT: Two series. I. Lantern slides for "Thoreau's Country" lecture. II. Notes accompanying "Thoreau's Country" lecture, and broadsheet lecture advertisement. Slides arranged in numerical sequence assigned by Gleason.

BIOGRAPHY: Born in Malden, Mass. on June 5, 1855, Herbert Wendell Gleason graduated from Malden High School in 1873, Williams College in Williams, Mass. in 1877, and received a BD degree from Andover Theological Seminary in Newton, Mass. in 1881. In 1883, he married Lulie Wadsworth Rounds and moved to Pelican Rapids, Minn., to begin a career as a Congregational pastor.

In 1888, he left the ministry and worked as the managing editor of and contributor to the Northwestern Congregationalist (later The Kingdom), a denominational weekly newspaper. By this time, he was an avid outdoorsman and photographer, and wrote many articles for The Kingdom featuring outdoor scenes. In 1899, he actively committed himself to photography as a profession, and moved back to the Boston area. By the time he returned to New England, he had become interested in the writings of Henry David Thoreau, and in Thoreau's Transcendental approach to nature as symbolic of something higher than concrete reality. He visited Concord repeatedly between 1899 and his death in 1937 to take pictures of the landscape that Thoreau had known. Houghton Mifflin used some of Gleason's images to illustrate the 1906 Manuscript and Walden editions of Thoreau's writings. (Gleason himself researched the map of Thoreau's Concord included in the 1906 editions.) His photographs also appeared in Through the Year with Thoreau (Houghton Mifflin; 1917). The result of Gleason's sustained interest in Thoreau and in Concord was an exhaustive and meticulously identified visual archive of Thoreau's world, now held primarily by the Concord Free Public Library.
In addition to his Concord work, between 1899 and 1937, Gleason photographed places all across this country and in Canada as well. He is remembered for his photographs of parklands and potential parklands for the National Park Service. A friend of Stephen Mather, first Director of the National Park Service, and also of second director Horace Albright, Gleason was appointed to an official position by Mather and sent out on photographic expeditions to wilderness areas. He is remembered, too, for his illustrations of John Muir's work, for his photographs of Luther Burbank's horticultural experiments, of formal New England gardens and of flower shows, and for his work as a photographer for the Arnold Arboretum, as well as for his Concord images.
Gleason supported himself in part as a highly successful slide lecturer. He developed slide lectures around a number of the different subjects that he photographed. An undated brochure that he issued lists 33 different slide lectures. As noted in the brochure, Gleason's glass slides were hand-colored by Mrs. Gleason and by a Mrs. H.E. Stevenson. Gleason particularly valued his wife's skill as a colorist. In a 1913 statement of his terms, he gave his per-lecture fee as $75-$100. On May 24, 1917, the Appalachian Mountain Club sponsored a program in honor of the centenary of Thoreau's birth ("Thoreau's Country: Old Concord and Its Beauty"), held at MIT's Huntington Hall. Edward Waldo Emerson reminisced about Thoreau, and Gleason followed with a slide lecture consisting of (as described in a printed notice) "colored views, taken in Concord, illustrating many of Thoreau's nature-descriptions." This program, or one very similar to it, was given again on October 25, 1917, in Concord's Town Hall. Evidence strongly suggests that the CFPL's "Thoreau's Country" slides comprise the slide lecture presented by Gleason for the Thoreau centenary. Over the next twenty years, Gleason refined this lecture for later presentations. "Thoreau's Country" is the only identified surviving Gleason slide lecture.
Mrs. Gleason died in 1934, Herbert Wendell Gleason on October 4, 1937. They had no children.

SCOPE AND CONTENT: 92 hand-colored glass lantern slides primarily of Concord, Mass., for Gleason's lecture "Thoreau's Country," each slide individually labeled by Gleason himself, with accompanying typed box inventory; lecture notes (typed and manuscript biographical notes on Thoreau; two typed listings of slides in the "Thoreau Country" lecture; and typed quotations primarily from Thoreau to accompany the slides in the lecture, numbered to match the slides); and a printed broadsheet advertisement for the Thoreau centennial lecture delivered at the Concord Town Hall on October 25, 1917. Comparison of the slides with Gleason's original photographic negatives (also held by the Concord Free Public Library) shows that the images from which the slides were made were taken between 1899 and well beyond 1917. The bulk of the slides for the lecture, however, appear to have been prepared between 1915 and 1917. The extremely skillful hand-coloring of the slides in "Thoreau's Country" points to Mrs. Gleason as the probable colorist.

SOURCE OF ACQUISITION: The box of lantern slides was purchased by the Concord Free Public Library directly from Herbert Wendell Gleason in 1936, for the price of $184.00 ($2.00 per slide). The source(s) of the typed lecture notes and printed broadsheet are unidentified.

ASSOCIATED MATERIALS AT THE CONCORD FREE PUBLIC LIBRARY: Robbins Collection of Herbert Wendell Gleason Photographic Negatives of Images of Concord, Mass., 1899-1937; Robbins-Mills Collection of Herbert Wendell Gleason Photographic Negatives, 1899-1937; two sets of albums of Concord and Thoreau-related Gleason prints, mounted on guards and captioned by the photographer; Herbert Wendell Gleason Papers.

PROCESSING NOTE: Captions for the images are Gleason's, as written by hand on the frames for the slides themselves.
PROCESSED BY: Miriam Leigh; finding aid prepared April 2006.
CONTAINER LIST

SERIES I. LANTERN SLIDES:
Box 1 (Gleason's original wooden box):
2.1. "Map of Concord, by HWG"
2.2. "Concord Square"
2.3. "First Church, Concord"
2.4. "Battle Monument, fr. road"
2.5. "Minute Man"
2.6. "Old Manse, from garden"
2.7. "R.W. Emerson's house, fr. orchards"
2.8. "R.W. Emerson's study"
2.10. "Dr. Emerson's Studio"
2.11. "Hosmer House"
2.12. "J.B. Farmer's place"
2.13. "Tuttle's place & elm"
2.14. "Tarbell's house & lilacs"
2.15. "Wild appletree, Easterbrook place"
2.18. "E. from Punkatassett Observatory"
2.19. "S. from Annursnack Hill"
2.20. "Curly Pate Hill"
2.21. "Pipewort from Bateman's Pond"
2.22. "J.P. Brown's woods & pond"
2.23. "White Pond"
2.24. "Path on Fairhaven Hill"
2.25. "Ledge on Fairhaven Hill"
2.26. "October foliage toward Fairhaven"
2.27. "Conantum Pasture"
2.29. "Cows in pasture, Baker Farm"
2.30. "Up river from Nashawtuc"
2.31. "Thoreau's Boat-landing"
2.32. "Ball's Hill from river"
2.33. "Red Bridge, reflection in river"
2.34. "Clamshell Bank, down river"
2.35. "Pond-lilies at Hubbard's Bridge"
2.37. "Wayland Arch Bridge"
2.38. "Birches by Pelham's Pond"
2.39. "Flint's Pond, north shore"
2.40. "Walden from Emerson's Cliff"
2.41. "Brister's Hill, toward village"
2.42. "Brister's Spring (with glass)"
2.43. "Thoreau's Cairn (May)"
2.44. "Young Maples by Walden Pond"
2.45. "Walden Pond in May"
2.46. "Foliage on south shore of Walden"
2.47. "Summer foliage, Walden Pond"
2.48. "Walden Pond, October foliage"
2.49. "Walden in winter (arching limb)"
2.50. "Thoreau's Journals ("Poke")"
2.51. "Thoreau's Journals (entry of death)"
2.52. "'Sand Foliage'"
2.53. "Goose Pond"
2.55. "Old Marlboro Road, sign post"
2.57. "E. from Nashawtuc, spring flood"
2.65. "Red Maple by Concord River"
2.68. "Young Birch in Spring"
2.70. "Canoe by river in spring"
2.72. "Old apple tree, below Punkatasset"
2.83. "Fog from Nashawtuc"
2.85. "Pool in Conantum pasture"
2.90. "June reflections in river"
2.101. "Leaning Hemlocks, up river"
2.105. "Mountain views N.W. from Pine Hill"
2.106. "Mt. Wachusett from Wayland"
2.117. "September landscape, Conantum"
2.121. "Cobwebs in Barrett's Mill"
2.123. "Birches by shore of Flint's Pond"
2.126. "River reflections, by Dakin's"
2.127. "Pines on Ball's Hill"
2.132. "Fair Haven Bay thro' Trees"
2.134. "Fallen Leaves in Forest"
2.136. "Winter view at Williams' Place"
2.137. "Pines at foot of Lee's Hill (snow)"
2.138. "Birds' nest in alders (winter)"
2.141. "Snow-drifts behind stone wall"
2.142. "'Snow Statuary'"
2.144. "After the Ice Storm (Lincoln)"
2.145. "Heavy snow on branches"
2.146. "Deep snow in Fairyland woods"
2.148. "Snow-laden pines"
2.149. "Thoreau's Grave"
2.150. "Portrait of Thoreau, 1861"
2.153. "Tarbell's Spring"
2.157. "Trees reflected in river"
2.158. "Waving field of Rye"
2.160. "White Pond from north shore"
2.161. "Loring's Pond"
2.162. "Rabbit tracks by brook"
2.163. "The River a Winter Highway"
2.167. "Pine grove on J.P. Brown's land"
2.168. "Old Parris house, Wayland"
2.169. "Leaning Rock, Nonesuch Pond, Natick"
2.184. "High water on Lowell Road"
2.185. "Minott Pratt's elm"
2.186. "Rock shelter at Lee's Cliff"
26.64. "Mountain Horizon from Concord"
Series II. LECTURE NOTES AND BROADSHEET ADVERTISEMENT:
Box 2 (archival container):
Box 2, Folder 1:
Biographical information on Thoreau (manuscript—including some shorthand—and typed) to accompany "Thoreau's Country," plus envelope (Department of the Interior, National Parks)
Box 2, Folder 2:
Two typed lists of "Thoreau's Country" slides, plus envelope
Typed passages from Thoreau's journal and other sources, to accompany the following slides: 2.52; 2.53; 2.55; 2.57; 2.65; 2.68; 2.85; 2.90; 2.101; 2.105; 2.106; 2.117; 2.121; 2.123; 2.126; 2.127; 2.132; 2.134; 2.136; 2.138; 2.141; 2.142; 2.144; 2.145; 2.146; 2.148; 2.149; 2.150; 153; 2.157; 2.158; 2.160; 2.161; 2.162; 2.163; 2.167; 2.185; 2.186.
Oversize folder:
Broadsheet advertisement for lecture Thoreau centenary lecture at Concord's Town Hall, [1917]
c2006 Concord Free Public Library, Concord, Mass.
Not to be reproduced in any form without permission of the Curator of Special Collections, Concord Free Public Library.
Back to Finding Aids Page

Back to Special Collections homepage

Home
Mounted 29th April 2006. rcwh.