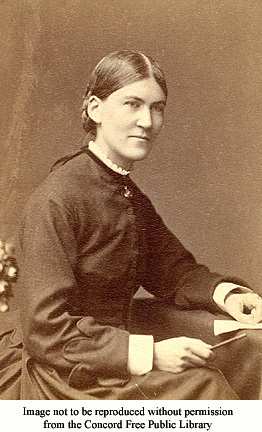 EXTENT: 2.75 linear ft. (3 containers)

ORGANIZATION AND ARRANGMENT: Organized into six series: I. Sheet Music; II. Bound Volumes; III. Patriotic music; IV. Christmas music; V. Misc. religious; VI. Manuscripts. Sheet music arranged alphabetically by composer, bound volumes alphabetically by composer, compiler, or title.

BIOGRAPHY: Second child and elder daughter of philosopher, essayist, poet, and lecturer Ralph Waldo Emerson and his second wife, Lidian (Lydia Jackson) Emerson. Born Feb. 24, 1839 in Concord, Mass., where she spent her life; died in Milton, Mass., Jan. 14, 1909. Member of Concord's School Committee, of First Parish (where she taught Sunday school for over forty years), and of various other Concord organizations. Acted as organizer and hostess of social events, including public dances held in Town Hall. (Some music in collection is believed to have been used at these sociables.) Assisted her father during mental and physical decline of his final decade.

Scope and Content: Collection includes printed sheet music, bound printed volumes of music, some sheets with printed lyrics only, and a few pieces in manuscript. Classical, popular, religious, and patriotic pieces are represented. Some items bear Ellen Emerson's signature; others bear signatures of Edward Waldo Emerson (Ellen's brother), Edith Davidson (protégée of Ellen), and Clara Hoar. Dated (or dateable) items range from 1855 to 1894; collection includes much undated material. Series Sheet music includes pieces by Beethoven, Stephen Heller, Louis Kohler, D. Krug, Felix Mendelssohn-Bartholdy, Mozart, Louis Plaidy, E.F. Richter, George F. Root, Schumann, Georgina Schuyler, and Henry Clay Work, among others. Series Bound volumes includes hymnal stamped "Choir First Parish" and several books of popular songs. Series Patriotic music includes multiple revisions of "Star-Spangled Banner" and "Hail Columbia." Series Christmas music includes sheet music for carols and booklets for Unitarian Sunday school Christmas services. Series Misc. religious includes booklet Hymns and Tunes, issued by American Unitarian Association.

SOURCE OF ACQUISITION: Gift of Amelia F. Emerson, Mar. 31, 1978.

PROCESSED BY: LPW; finding aid prepared 7/29/95. Prepared for the internet by Peter K. Steinberg, 03/07/06.


CONTAINER LIST
BOX 1:
Series I. Sheet Music

BOX 2:
SERIES II. BOUND VOLUMES:
Baker, B. F. The New Haydn … (Boston: Ticknor & Fields, 1866).

[Cover title] Christliche Harmonika in eine Auswahl von geistlichen Liedern mit drenstimmigen Melodien (Basel: Felix Schneider, [n.d.]).

Kemp, Father. Father Kemp's Old Folks Concert Music … (Boston: Oliver Ditson & Company, [1874]).

Mason, Lowell. The New Carmina Sacra, or, Boston Collection of Church Music … (New York: Mason Brothers, [1855]).
Stamped on title page: Choir First Parish.

Mason, Luther Whiting. Second Music Reader … (Boston, Ginn and Heath, 1879).

Root, George F. The Young Men's Singing Book … (New York: Mason Brothers, 1855).

Schumann, Robert. [Cover title] Robert Schumann's Album for Young Performers … (New York: Boosey and Co., [n.d.]).

The Songs of Scotland … The music edited by J. Pittman and Colin Brown. The poetry edited (with notes) by Dr. Charles Mackay (London: Boosey & Co.; New York: William A. Pond & Co., [n.d.]).

Waite, Henry Randall. … College Songs … New and enlarged edition (Boston: Oliver Ditson & Co., [1887]).

BOX 3:
SERIES III. PATRIOTIC MUSIC:
Folder 1: "Star-Spangled Banner"

Folder 2: "Hail Columbia"

Folder 3: Lyrics; "In Fourteen Ninety-Two"

Folder 4: SERIES IV. CHRISTMAS MUSIC

Folder 5: SERIES V. MISC. RELIGIOUS

Folder 6: SERIES VI. MANUSCRIPTS
c2006 Concord Free Public Library, Concord, Mass.
Not to be reproduced in any form without permission of the Curator of Special Collections, Concord Free Public Library.
Mounted 11th March 2006. rcwh.
Back to Special Collections homepage