Michael J. Dee - Edward D. Dee Letters, 1917-1918
Vault A45, Dee, Unit 1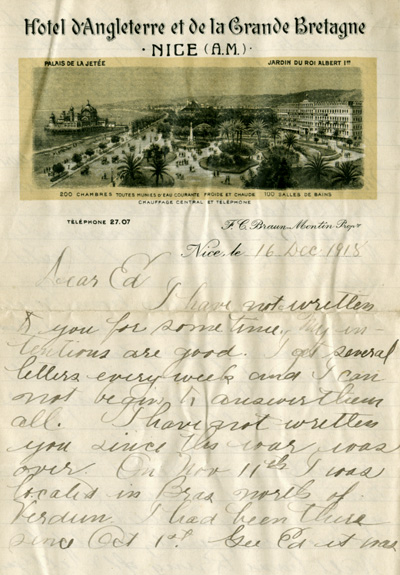 EXTENT: One box.
ORGANIZATION: One series.
BIOGRAPHY: Michael J. Dee was born in Concord, Massachusetts in 1877, the son of Joseph and Julia (Fitzgerald) Dee. His youngest brother, Edward D. Dee, was born in 1882.
Michael Dee's life was defined by devotion to duty: to his hometown, his church, his work, his family and his country. He began his work at the Concord Reformatory in 1907, eventually rising to the position of Superintendent, where he fought vigorously to maintain the institution as a reformatory, rather than a penitentiary for those who had committed more serious crimes. In a notable event, he once walked alone into the midst of three hundred rioting prisoners and talked them into returning to their cells.
In 1909 he enlisted in Company 1 of the Sixth Massachusetts Infantry and rose through the ranks, becoming Captain in 1914. When the U.S. entered World War I in 1917, Captain Dee reported for duty with his company at Camp Devens and was appointed Commanding Officer of the Military Police of the 26th Division in France, where he served for the duration of the war. He received a commendation for his efficiency, bravery and humanitarian interest in the men under his command, returning to Concord a war hero.
In addition to his career at the Reformatory and his war service, he was a civic-minded Concordian whose leadership abilities propelled him to the top of many of the organizations with which he was associated, including the American Legion and the Knights of Columbus.
Michael J. Dee and Margaret McManus (also of Concord) were married in 1906 and together had nine children, six daughters and three sons. They made their home on Elm Street. Captain Dee died in 1946 at the age of seventy.
SCOPE & CONTENT: Five letters written by Michael J. Dee to his youngest brother, Edward D. Dee, between 23 December 1917 and 16 December 1918 while he was serving in France with the American Expeditionary Force. The letters include descriptions of camp life and of events on the front lines. They also include news and comments regarding Concordians whom the brothers knew in common, as well as Captain Dee's observations and reflections regarding his wartime experiences. Michael Dee's letters offer an informative, descriptive and humane view of daily life on the front lines.
The collection includes one letter written on 12 November 1918, the day after the Armistice was signed, signifying the end of the war. The fifth and final letter was posted from Nice, France, and contains a description of Captain Dee's travels through France and Italy prior to returning to the states.
SOURCE OF ACQUISITION: Donated by Michael Dee and Lucy Dee Kinsey, September 2013.
RELATED COLLECTIONS: Algeo/Dee Concord-Related Spanish-American War Collection, 1898-1962 (bulk 1898-1899).
PROCESSED BY: C. Manoli-Skocay, January 2015.
Container List
Folder 1: Letter from Michael J. Dee to Edward D. Dee, 23 December 1917
Folder 2: Letter from Michael J. Dee to Edward D. Dee, 11 March 1918
Folder 3: Letter from Michael J. Dee to Edward D. Dee, 22 June 1918
Folder 4: Letter from Michael J. Dee to Edward D. Dee, 12 November 1918
Folder 5: Letter from Michael J. Dee to Edward D. Dee, 16 December 1918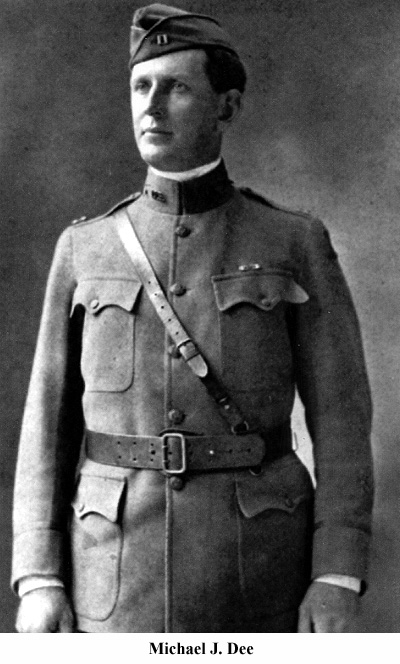 Images not to be reproduced without permission from the Curator of the William Munroe Special Collections, Concord Free Public Library, Concord, Mass.
Mounted 21 January 2015. rcwh.