Concord Mariner Girl Scouts Collection, 1956-1973
Vault A75, Con. Mar., Unit 1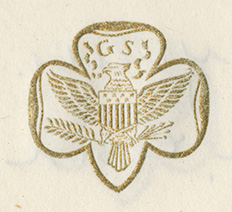 EXTENT: One box.
ORGANZATION: Organized into four series:
I. Organizational records, 1956-1973 [and undated]
II. Informational materials, 1964 [and undated]
III. Newspaper clippings, 1958-1963 [and undated]
IV. Internal note [undated]
All arranged chronologically.
HISTORY: The Mariner Girl Scout program was launched by the Girls Scouts of the United States of America in October 1934. Similar to the Boy Scouts of America's Sea Scouting program, Mariner Scouts are Senior Scouts with nautical leanings. Since the Sea Scouting program became coed in 1971, Mariner Scout programs have dwindled.
SCOPE AND CONTENT: This collection contains materials related to all facets of the Concord Mariner Girl Scouts Troop between 1956-1971.
Series I: Organizational records in the collection include: cruise schedules; financial records and treasurer reports; attendance records; troop rosters; telephone lists; membership registrations; and notes, letters, and thank you cards regarding Mariner activities. Most notes, letters, and cards are addressed to or from Mrs. Wilbur Walworth (Vivian Walworth), co-leader of the troop from 1955-1970. Letter contents focus mainly on arranging cruises at "Starlight" Cruises and Mystic Seaport, as well as communication with the local Girl Scout Council.
Series II: Mariner-issued informational materials include: a Sea Witch Mariner Scout packet with introductory information about the Mariner Scout Program, requirements for rank advancement to Midshipmate and Jack Tar, sailing nomenclature and diagrams, and troop songs; a copy of a scouts' handwritten and illustrated Mariner's Log from one of the cruises; a Welcome Aboard pamphlet with information about the U.S.S. SHAD; copies of a picture of the Clipper Ship Sea Witch and of a Concord Mariner photo collage; instructions for making a sea bag; and a list of canoeable rivers in Sudbury and Concord.
Series III. Newspaper clippings contain photocopies of articles related to Mariner Troop activities or members including cruises, fundraisers such as movies and lectures, and member announcements like former troop member engagements and awards.
Series IV: consists of a handwritten note from the donors regarding the collection of materials.
SOURCE OF ACQUISITION: Materials donated by Vivian Walworth, Nancy Temple Pickens, and Carol Temple Hildreth.
NOTES/COMMENTS: Original clippings discarded at time of processing.
PROCESSED BY: M. Kilidjian, April 2018; additional processing, C. Manoli-Skocay, December 2018
CONTAINER LIST
SERIES I. ORGANIZATIONAL RECORDS (1956-1973, plus undated):
Folder 1: Organizational records and internal documents, 1956-1964
Folder 2: Organizational records and internal documents, 1964-1973
Folder 3: Undated records: "Troop Topics," notes, thank you cards, and other undated letters to Vivian Walworth
SERIES II. INFORMATIONAL MATERIALS (1964, plus undated):
Folder 4: Sea Witch Packet: overview of Mariner Scouts, terminology, permission slips, and songs [undated]
Folder 5: Photocopy of Concord Mariner's Log (1964); photocopy of painting of Clipper Ship Sea Witch [undated]; photocopy of Concord Mariners photo collage [undated]; Welcome Aboard U.S.S. SHAD pamphlet [undated]; "Making A Sea Bag" instructional with sketch of ditty bags on graph paper [undated]; typed list outline of canoeable rivers in Sudbury and Concord [undated]
SERIES III. NEWSPAPER CLIPPINGS (1958-1963, plus undated):
Folder 6: Newspaper clippings related to Mariner activities and members
SERIES IV. INTERNAL NOTE (undated):
Folder 7: Internal note about collection materials from donors