Chief Thomas D. Tombeno Scrapbook, 1946-2000
(bulk late 1950s-mid 1970s)
Vault A45, Tombeno, Unit 1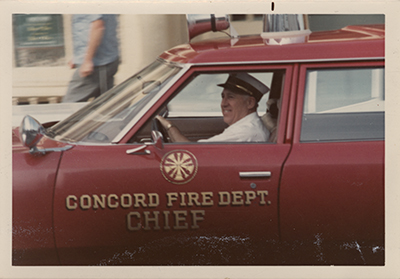 EXTENT: One scrapbook; six folders of loose materials found in scrapbook.
ORGANIZATION AND ARRANGEMENT: As mounted by compiler; not in chronological order.
BIOGRAPHY: Thomas D. Tombeno was born in Nahant, Massachusetts in 1909, graduating from Concord High School in 1928 and marrying Agnes L. Olsen of Carlisle. During World War II he served as a U.S. Army staff sergeant in the European theatre, earning a Bronze Star. Tombeno was appointed to the Concord Fire Department in 1935, rising to the rank of captain in 1943. In 1959 he was appointed chief, a position he held for fifteen years, until his mandatory retirement in 1974 at age sixty-five. In all, he served with the Concord Fire Department for thirty-nine years. Chief Tombeno's extensive public service also included positions as a member and past president of the Massachusetts Fire Chief's Association, a member of the International Association of Fire Chiefs, a charter member of the Central Middlesex Fire Academy Association, and a number of other organizations. For twenty-one years during his retirement he served as the Fire Marshall for the New England Deaconess Association and for sixty-six years as a member of the Concord Independent Battery.
SCOPE AND CONTENT: Chief Tombeno's scrapbook contains both personal and professional materials, the latter relating to his work with the fire department, as well as social events associated with the position. The bulk of the materials date from the late 1950s through the mid-1970s, roughly his tenure as Concord Fire Chief (1959-1974), and record many of the events that took place during those years. Materials include newspaper clippings and photographs on subjects both personal and professional. Professionally, they include fire department activity such as local structures impacted by fires, fire equipment newly-acquired and in use, the building of a new fire department headquarters, and related community activities. Many of the newspaper clippings and photographs focus on social events related to his position in the community. A significant number of the clippings are undated. The majority of the photographs are neither identified nor dated. Materials also include certificates, awards and honoraria relating to organizations in which he took part. Letters and cards mostly refer to Chief Tombeno's accomplishments. Family and personal materials include family-related documents (birth, baptism and death certificates, social security cards, Sleepy Hollow deed), and ephemera.
RELATED COLLECTIONS: Concord Engine Company No. 3, 1849-1861 (uncatalogued). Donated by Chief Tombeno to the Concord Free Public Library's William Munroe Special Collections, 1985.
SOURCE OF ACQUISITION: Paul Macone, 3 November 2016.
PROCESSED BY: C. Manoli-Skocay, November 2016.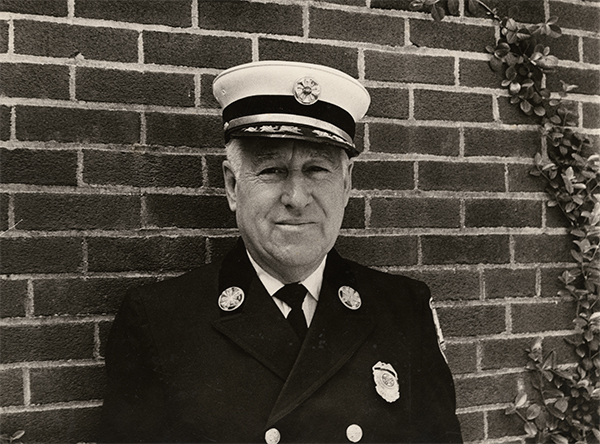 Concord Fire Chief Thomas Tombeno, 1981
CONTAINER LIST
Scrapbook contents:
Newspaper clippings, 1954-1993 (bulk undated). Clippings include fire-related events in Concord, among them the Morency house on Holden Spring Road (1960), the Colonial Inn (1961), Howard Johnson's restaurant (1961), Our Lady Help of Christians Church (1969), the Comeau barn (1972), and the Old Pickard House (date unknown). Other events include train accidents/derailments and small plane crashes; also included are clippings highlighting fire department-related activities. Many clippings are of social events, a few personal, but a large number related to Chief Tombeno's position as a public figure in Concord, and include the Patriots Ball and the Concord Firemen's Ball.
Photographs, 1946-1999 (bulk undated). Images related to Chief Tombeno's work include the new fire station (1959/1960), fire department vehicles and equipment, Concord building fires and transportation-related accidents. There are many photographs of social events related to his position with the Concord Fire Department, a number of images associated with appointments, awards, and honoraria related to both professional and volunteer positions, and a small number of family/personal images.
Certificates, awards and honoraria, 1970-1996, mostly relating to professional accomplishments and duties.
Letters and cards, 1959-1974, mostly related to professional accomplishments.
Family and personal materials, 1954-1964 and 2000. Birth, baptism, and death certificates, social security cards, Sleepy Hollow deed, work-related administrative documents and genealogical information.
Folders (loose documents): 1. Newspaper clippings; 2. Photographs; 3. Certificates, awards and honoraria; 4. Family and personal papers; 5. Letters and cards; 6. Ephemera.
Back to the Special Collections homepage
Not to be reproduced in any form, including image, without permission from the Curator of the William Munroe Special Collections, Concord Free Public Library, Concord, Mass.