CONCORD DEMOCRATIC TOWN COMMITTEE (CDTC) RECORDS, 1968-2004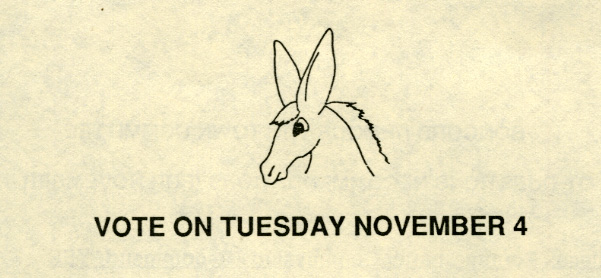 Vault 75, Con. DTC, Unit 1
EXTENT: 1 container.
ORGANIZATION: Four series: I. CDTC by-laws, minutes 1968-1999, and committee member lists, 1968-2004 (not inclusive). II: Correspondence, 1969-1998. III. Outreach and other activities, 1968-1998. IV. General materials relating to the platform of the Massachusetts Democratic Party.
HISTORICAL NOTE: The Concord Democratic Town Committee was established in 1968 in Concord, Mass., and has been an active force promoting Democratic candidates and views on a wide variety of issues since its inception. Writing letters to political leaders is a significant part of its mission; the Committee has corresponded with representatives, senators, and presidents on local and national issues. The CDTC is associated with the Commonwealth of Massachusetts Democratic Party, and advocates political awareness, participation and action among the citizens of Concord.
SCOPE AND CONTENT: Materials, 1968-2004, generated and collected by the CDTC. The first series contains bylaws of the committee, minutes of committee meetings from 1968-1999, and lists of committee members from 1968-2004 (not inclusive). The second series contains correspondence from 1969-1998. The third series includes invitations, public statements, press releases and reports related to outreach and other activities sponsored by the CDTC, 1968-1998. The fourth series includes booklets and papers related to the platform of the Massachusetts Democratic Party.
ACQUISITION: Gift, 2014.
PROCESSED BY: Leslie Thayer Piper, April 2015; finding aid completed April 2015.
CONTAINER LIST
Series I: Materials generated by the Concord Democratic Town Committee, 1968-2004

Folder 1: Bylaws and proposed amendments, 1981, 1989 and 1998
Materials include: proposed amendments to the bylaws; copies of the bylaws from 1981, 1989 and 1998; rules governing nominations and vacant positions on the committee as specified in the bylaws.
Folder 2: Minutes of CDTC meetings, 1968-1987
Materials include: Minutes of CDTC meetings from 1968-1987, some with corrections or notes added.
Folder 3: Minutes of CTDC meetings, 1988 - 1999
Folders 4: Lists of committee members, 1977-2004 (not inclusive)
Series II: Correspondence of the CDTC, 1969-1998

Folder 5: Materials include: correspondence from state and local politicians, including Senator Edward Kennedy, Senator John Kerry, Hillary Rodham Clinton, and Congressman Chester Atkins, as well as letters to Concord school and town officials; two newspaper articles appended to letters regarding the attendance record of a local representative.
Series III: Outreach and other activities, 1968-1998

Folder 6: Materials include: reports, posters, press releases and announcements regarding candidates and policy issues; a list of the towns and populations of the 54 Middlesex County towns and cities (1976); statements in support of U.S. aid to El Salvador; a paper entitled "Concord Conscience Day Statement" to be read at a Service of Mourning in support of El Salvador; a resolution urging the Democratic delegation to stand against the funding of the Nicaraguan contras; a paper by Paul Horwitz and Charles Rader called "The Entitlements Crisis" given in 1997.
Series IV: Booklets and papers related to the Massachusetts State Democratic Party

Folder 7: Materials include: a proposal regarding domestic and foreign policy to be taken to the 1968 Chicago Convention; a summary of the 1980 Democratic Delegate selection plan; the Platform of the Democratic Party of the Commonwealth of Massachusetts for 1983; the Platform and Charter of the Massachusetts Democratic Party for 1985.
Mounted 30 April 2015. rcwh.
Back to Special Collections homepage