The Special Collections pages are currently under review. Please report any observed problems by clicking
.(JavaScript must be enabled to view this email address)
. Thank you for your patience and understanding.
Robert L. Carter Letters, 1943-2006 (bulk 1943)
Vault A45, Carter, Unit 1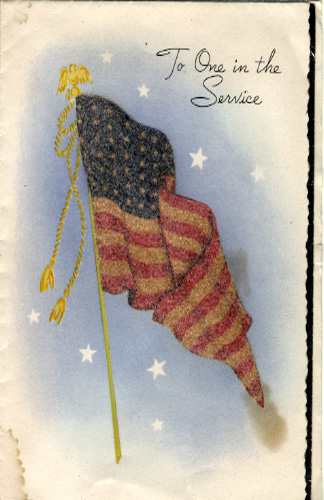 EXTENT: 10 items (1 container, 1 folder)

ORGANIZATION AND ARRANGEMENT: Organized into two series: I. World War II letters, January – December, 1943, plus undated; II. Other correspondence, 2005-2006. Series are arranged chronologically.

BIOGRAPHY: Robert L. Carter was born June 28, 1922 in Concord, Massachusetts to Robert W. and Winifred French Carter. Lifelong resident of Concord, with the exception of three years, three months, and two days spent serving in the Navy during World War II. Robert L Carter served aboard the attack transport ship U.S.S Frederick Funston. His military service included the invasion of Sicily, the transportation of the 82nd Airborne to Belfast, Ireland, and the invasions of Saipan and Guam. He subsequently applied for the Navy Officer Training Program and left the ship. Mr. Carter's father, Robert W. Carter, owned a furniture store, Carter Furniture Company. Robert W. Carter passed away in 1935. Winifred Carter assumed the responsibility of running the business while Robert L. Carter was in the Navy. When Robert L. Carter returned from his military service in 1946, he took over the store and ran it for forty years before closing it. In 2005, Mr. Carter, along with fellow members of the tambourine group the Concord Senior Shakers, appeared on the Tonight show with Jay Leno.

SCOPE AND CONTENT: The collection consists primarily of letters and cards sent to Robert L. Carter during his service in World War II. The letters are focused on business and personal news and wishes for Mr. Carter's welfare. Many of them mention Mr. Carter's mother, Winifred. They describe wartime Concord as being very empty (so many young men were gone), and often refer to the draft. Also included are two letters written to Mr. Carter in later life, one offering congratulations on his appearance on the Tonight show with the Concord Senior Shakers and one from a former classmate discussing their upcoming 66th reunion.

SOURCE OF ACQUISITION: Presented by Robert L. Carter on 2010 July 20.

NOTES/COMMENTS: Accessioned 2010 August 26 (AMC 189).

ASSOCIATED MATERIALS: The Concord Free Public Library Special Collections also holds several interviews with Robert L. Carter in the Concord Oral History Collection.

PROCESSED BY: RR, finding aid prepared 2010 November 4.
CONTAINER LIST
Series I. World War II correspondence to Robert L. Carter, 1943:
ALS, from Myra Cleaves, 1943 January 21.
ALS, from Stanley Gerow, 1943 January 27.
Signed card, from Mrs. Hicks, 1943 February 8.
Program from church service at West Concord Union Church, 1943 April 4 – probable enclosure, envelope missing.
Signed Christmas card, from Marguerite Leighton, 1943 November 25.
Signed card, from Mr. and Mrs. Hicks, 1943 December 6.
Signed Christmas card, from Stanley Gerow, 1943 December 13.
ALS, from Lillian Miner, [n.d.]
Series II. Other correspondence to Robert L. Carter, 2005-2006:
TLS, from Ruth Eggleston Ziriax, 2005 November 10.
Signed card, from June Woleslagle, 2006 June 25.
c2010 Concord Free Public Library, Concord, Mass.
Not to be reproduced in any form without permission of the Curator of the William Munroe Special Collections, Concord Free Public Library.
Mounted 6 November 2010; rev. 101113. rcwh.
Back to Special Collections homepage