Elizabeth Wheeler Concord Boot and Saddle Club Scrapbooks, 1934-1940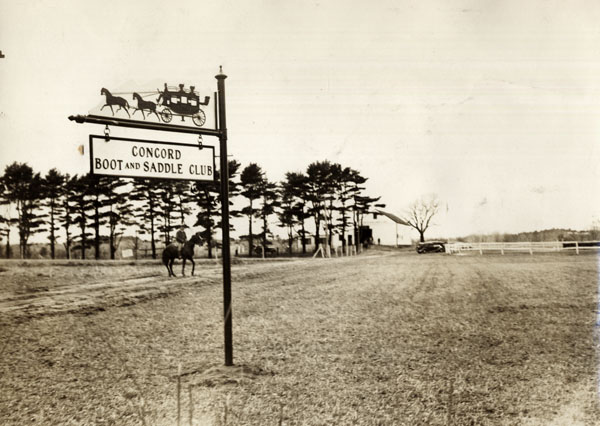 Vault A75, Con.Boot Unit 1
EXTENT: 2 bound volumes organized into scrapbooks; one stapled folio; miscellaneous loose clippings.
ORGANIZATION AND ARRANGEMENT: Organized into two scrapbook volumes as mounted by the compiler, with additional items laid in.
HISTORY: The Concord Boot and Saddle Club was a Concord, Massachusetts social club for equestrian men and women from Concord and surrounding communities. It was started in 1934 by Concord residents Laurence and Barbara Clark and located at their Green Ridge Riding Stables (Sudbury Road). Several times a week the club organized trail rides for its members and once a year it staged a large horse show at the Green Ridge Riding Stables. This attracted equestrians from all over the Boston area. The Concord Boot and Saddle Club went out of existence in the early 1940s and the Clarks sold the stables and three acres of land to Edythe Weed, who changed the name to Victory Lee Stables. Victory Lee Stables was sold to Sudbury Road neighbor Mary Ogden Abbott in 1959. Between 1934 and 1940, the club had between 26 and 40 members, who organized such special events as white elephant fundraisers, "wienie" roasts, Christmas parties, etc.
Member lists include Esther Anderson, Leslie Anderson, Robert Appel, Dr. Andrew Belanger, Howard Bierer, Barbara Clark, Laurence Clark, Roland Crouse, William Cull, Grace Day, Gertrude Devorss, Joseph Devorss, Delphine Francis, Paul Francis, Clara Graveson, Charles Gushee, Doris Hemming, Sandra Hemming, Maye Hurley, Edith Jones, Elfrida Kevorkian, Doris Lester, Harry Lester, Edward McDonald, Evelyn McDonald, Alice Murphy, Walter Murphy, James Murphy, Lillian Pelton, Thomas Pelton, Everett Pert, Marion Pert, Charles Picard, Frances Picard, Marguerite Pote, Gertrude Reed, Ivy Rennie, Edmund Roche, Alice Smith, Alpheus Smith, Anna Thorpe, Everett Thoroe, Eileen Tolin, William Tolin, Beatrice Wheeler, and Elizabeth Wheeler.
SCOPE AND CONTENT: Two scrapbooks containing materials dating from between 1934 and 1940, including clippings, photographs, handwritten notes, timelines, typed journal entries, and fliers, 1934-1940. Newspaper clippings detail events of the club, among them public events, holiday parties, and fundraisers. Photographs depict members, their horses, stables/clubhouse and grounds (before, during, and after construction), and riding competitions attended by members. Handwritten descriptions document rides, dinners, business meetings, and general events that the club participated in and hosted. The scrapbooks include poems written by members mainly concerning the joys of riding. Elizabeth Wheeler, club librarian and creator of the scrapbooks, compiled a stapled folio included with the scrapbooks, documenting events and offering personal opinions. She included weather observations, information about where members traveled with their horses on a given day, how long excursions took, and sometimes the names of participating members. Often, she offered extraneous facts (i.e. gossip—who recently got married, who wore what, etc.).
SOURCE OF AQUISITION: Gift of Susan Revis, 2012.
NOTES AND COMMENTS: Accessioned October 31, 2012 (AMC 207).
PROCESSED BY: Carolyn Lucas; finding aid completed October 31, 2012.
c2012 Concord Free Public Library, Concord, Mass.
Not to be reproduced in any form without permission of the Curator of the William Munroe Special Collections, Concord Free Public Library.
Back to the Special Collections homepage
Mounted 31 October 2012 rcwh.