ANNIE KEYES BARTLETT LETTERS TO EDWARD JARVIS BARTLETT, 1860-1865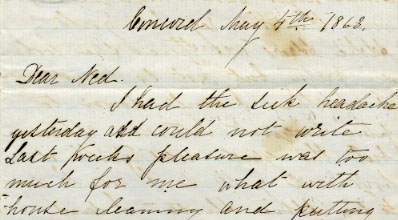 Vault A45, Bartlett, Unit 2
24 items (1 container)
ORGANIZATION AND ARRANGEMENT: Organized into two series: I. Original letters, 1860-1865; II. Photocopy, and typed transcripts by C. Rivard. Arranged chronologically.
BIOGRAPHY: Annie Keyes Bartlett (1840-1890) and Edward Jarvis Bartlett (1842-1914) of Concord, Mass., were among the nine children of Dr. Josiah Bartlett and his wife Martha Tilden Bradford Bartlett (sister of Sarah Alden Bradford Ripley and of George Partridge Bradford). Edward Jarvis Bartlett ("Ned") lived and worked in Boston in 1860, enlisted in Company F, Forty-Fourth Massachusetts Infantry, in 1862. While a soldier, Ned corresponded regularly with family members to assure them of his safety. After serving the term of his enlistment, he recruited for the black regiments. In 1864, he went to Washington to assist the Sanitary Commission, and was commissioned as Second Lieutenant in Company E, Fifth Massachusetts Cavalry (a black regiment). In the Spring of 1865, the Fifth Cavalry left Richmond to join Grant's army; they were afterward ordered to Texas. Ned later returned to the Sanitary Commission. Annie Bartlett never married; Edward married Sarah Flagg French in 1873. He was a member of the Social Circle in Concord.
SCOPE AND CONTENT: Letters, 1860-1865, describe events in the Bartlett family and the social life of young people in Concord during Ned's absences. Include references to the Emersons, the Alcotts, Sophia and Henry Thoreau (the 1860 Feb. 10 letter referring to Thoreau's lecture "Wild Apples"), F.B. Sanborn, the Manns, and the Hawthornes (the [1864] May 26 letter describing the funeral of Nathaniel Hawthorne). The 1865 Apr. 16 letter records Annie's response to Lincoln's assassination.
SOURCES OF ACQUISITION: Eighteen of the letters presented by Dr. William Bartlett, six (as marked on container list and folder) by Sarah R. Bartlett.
ASSOCIATED MATERIALS: The Concord Free Public Library Special Collections also holds Bartlett Family Papers and Bartlett-Jackson Family Papers.
NOTES/COMMENTS: Patrons are requested to use photocopy or typed transcripts. Letters transferred from Letter File (old Letter File 14, in entirety), Mar. 1995.
PROCESSED BY: LPW; finding aid prepared 1/15/96, revised 7/24/99 and 12/13/04.
CONTAINER LIST
Folder 1
SERIES I. ORIGINAL LETTERS, 1860-1865:
1860 Jan. 6
1860 Jan. 8
1860 Jan. 25
1860 Feb. 5
1860 Feb. 10
1860 Feb. 20
1860 Apr. 1
1864 Mar. 31
1864 May 26*
1865 Jan. 1
1865 Feb. 26
1865 Apr. 16*
1865 Apr. 19
1865 Apr. 20*
1865 Apr. 23
1865 May 4*
1865 May 7*
1865 May 11*
1865 July 17
Plus: three undated items at end of sequence.
*All items presented by Dr. William Bartlett, except for starred items, which were presented by Sarah R. Bartlett.
Folder 2
SERIES II. PHOTOCOPIED LETTERS.
Folder 3
SERIES II. TYPED TRANSCRIPTS BY C. RIVARD.
Back to the Special Collections homepage

c1996-c2004. Concord Free Public Library. No part to be reproduced without permission from the Curator of the Concord Free Public Library.