COLLECTION OF CARLETON WATKINS STEREOGRAPHS
OF YOSEMITE VALLEY, [ca. 1861]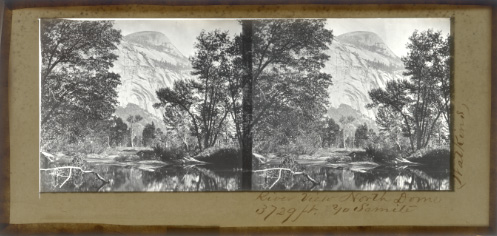 Vault B5, Unit 16
EXTENT: Thirteen glass stereographs.
ORGANIZATION/ARRANGEMENT: Organized in a single sequence.
BIOGRAPHY: Carleton Eugene Watkins was born on November 11, 1829 in Oneonta, New York. Drawn by the Gold Rush, in 1851 he headed west to California. Watkins settled in San Francisco, where in 1854 he met daguerrotypist and gallery owner Robert Vance, who trained him in photography. By 1858, Watkins had established his own studio. He took commissions from local entrepreneurs, documenting mining operations and land claims in the burgeoning young state. This business ultimately led him to the Yosemite valley, where he traveled in July 1861 with one of his clients, a gold miner. Ironically, Watkins' photographs of this area would result in its protection by the Yosemite Act of 1864.
On his photographic expeditions, Watkins transported a "traveling studio," including the stereoscopic camera used to create the images from this collection; his mammoth plate camera; and a makeshift darkroom. Mules hauled the equipment from site to site. Many of the exposures required as long as an hour.
Watkins ultimately made a career out of photographing the American West, extensively documenting the growth of San Francisco, and traveling to the Sierra Nevada mountains, the Farallon Islands, Oregon, Utah, and Arizona. Such was his renown due to his images of Yosemite that in 1871, he opened the Yosemite Art Gallery on Montgomery Street in San Francisco. Watkins' fortunes declined with the arrival of the banking crisis of 1875. In that year, his business was claimed by a creditor. He responded by repeating his photographic expeditions, producing new images based on his earlier ones, and rebuilding his collection of negatives.
Watkins married Francis Sneade in 1879. They had two children. He continued to photograph until the mid-1890s, when deteriorating eyesight forced him to retire. Further misfortune came when the San Francisco earthquake and fire of 1906 destroyed the negatives of his life's work. Carleton Watkins died in the Napa State Hospital for the Insane on June 23, 1916.
Watkins' photographs of the Yosemite Valley were admired by Ralph Waldo Emerson and Oliver Wendell Holmes, who had learned of them through Unitarian minister, lecturer and nature writer Thomas Starr King. Following a trip to Yosemite, in 1860 King had written eight letters that appeared in the Boston Evening Transcript. Soon after, Holmes received a selection of Watkins' stereoscopic images of Yosemite from King, which he presumably shared with Emerson, who remarked that Watkins' images of the "Grizzly Giant," a colossal sequoia in Yosemite, "made the tree possible." Watkins was a predecessor of American landscape photographers like Herbert Wendell Gleason, whose photographic negatives are held by the William Munroe Special Collections of the Concord Free Public Library.
SCOPE AND CONTENT: These thirteen images are believed to have been created during Watkins' first visit to the Yosemite Valley, in the summer of 1861. Although Watkins made subsequent trips to the area in the 1860s and 1870s, identical images with known dates from collections in other repositories, combined with the format of these plates, suggest their dating. All of the images on the glass stereographs in this collection are surrounded by white mattes, on which the photographer's name and identifying information for each image are handwritten. (Images reproduced after 1863 are mounted on either yellow or orange cards, and have printed labels.)
SOURCE OF ACQUISITION: Unidentified.
PROCESSED BY: Angelina Altobellis; finding aid prepared 04/29/06.
ITEM LIST
"Pohono," Bridal Vail.
View from Coulterville Trail.
"The Ladders" from above the cliff.
"The Mono Pass."
Distant view "Nevada Fall" 700 ft. Glass cracked.
River view below the Nevada. Glass broken.
River view North Dome, 3729 ft. Glass cracked.
Sentinel 3270 ft.
The Foot of Tasayac.
Tutucanula taking a bath.
On the trail from the Vernal Fall.
The corner of the Merced from the Vernal fall.
Distant View Yosemite.
c2006 Concord Free Public Library, Concord, Mass.
Not to be reproduced in any form without permission of the Curator of Special Collections, Concord Free Public Library.
Back to Finding Aids Page

Back to Special Collections homepage

Home
Mounted 3rd May 2006. rcwh.