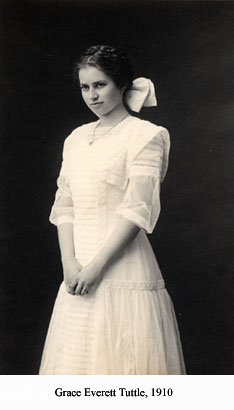 EXTENT: 1 linear foot (one record carton)

ORGANIZATION AND ARRANGMENT: Six series: I. Everett family ledgers; II. George Everett papers; III. Property records; IV. Correspondence; V. Tuttle family papers; and VI. Photographs and sketches. Arrangement of materials in most series is chronological.

family biography:
George Everett (November 13, 1825 – November 24, 1885), a seedsman, was born in Boston, Mass. He was a partner in two businesses: Schlegel, Everett, & Co. (1870-1880) and Everett & Gleason (1880-1885). In 1850, George married Mary Ellen Maria Price (March 12, 1833-November 22, 1894) in Boston. Their children include George Aaron (September 23, 1851-September 5, 1910), Elizabeth (b. April 20, 1855), Grace Otis (March 15, 1867-March 12, 1892), Florence Evelyn (b. May 9, 1869 – ca. 1941), Edward Capen (April 10, 1872-April 18, 1875), and Mary Louise (b. 1880 – d. [ca. 1953]). By late 1852 or early 1853, the Everetts had sold their house in Boston and moved to Concord, Mass.

Mary Ellen Maria Price was the daughter of Henry Price (July 28, 1791- November 8, 1863) and his first wife Mary Pratt (d. 1836/37). Henry had two other children with his first wife, Henrietta Charlotte Ann (b. about 1834/5) and Stephen Price (b./d. 1836/7). Henry married Sarah Everett (1810-1839) on November 27, 1837; they had no children. On June 10, 1840, Henry married Caroline Everett (1820-1892). They had three children, Caroline Augusta (b. May 18, 1841), George Henry (September 24, 1843), and Margaret Hall (April 12, 1857). Sarah and Caroline Everett were the sisters of George Everett.

George Everett moved his family to Concord in the early 1850s. He purchased a farm on the present day Sandy Pond Road from Edmund Hosmer in 1852. He also bought properties and sizeable acreage on Walden Street in Concord in 1878. After George's death in 1885, the Everetts began selling the land in his estate to individuals and to the Town of Concord. In 1886, the Town of Concord created Everett Street, connecting Walden and Thoreau Streets. In 1887, Mary Everett sold what is now 110 Walden Street (the Timothy Wheeler House) to the Town of Concord for the Home for the Aged. At that time, Mary moved into the present 128 Walden Street to live with her daughters Florence and Mary Louise, a teacher at the West Concord School.

Florence Evelyn Everett married Samuel Hanscom Tuttle (December 1, 1864 – March 19, 1939), a clerk, teacher, postmaster, and captain in command of the Militia Company, on June 11, 1890. (On this same day, Grace Otis Everett married Charles Derby, a farmer.) Samuel and Florence lived at the present 128 Walden Street and had a daughter Grace Everett (September 25, 1893-January 28, 1973). Grace graduated from Concord High School in 1910, Mt. Holyoke College in 1914, and the Massachusetts General Hospital Training School for Nurses in 1918.

Scope and Content:

Papers, 1828- [ca. 1965], of or relating to three families: the Everetts (George Everett, his wife Mary Ellen Maria Price Everett, and their children George Aaron, Elizabeth, Grace Otis, Florence Evelyn, Edward Capen, and Mary Louise); the Prices (Henry Price, his first wife Mary Pratt, and their children Mary Ellen Maria, Henrietta Charlotte Ann, and Stephen Price; Henry's second wife Sarah Everett; and Henry's third wife Caroline Everett; and their children Caroline Augusta, George Henry, and Margaret Hall); and the Tuttles (Samuel Hanscom Tuttle, his wife Florence Evelyn Everett, and their daughter Grace Everett). There is some correspondence from relations of George Everett (Edward F. Everett) and Henry Price (Sarah Ann Pratt and Eliza Jane Pratt).

The collection includes: ledgers (1846-1886) pertaining to Everett family finances, expenses, farm income, farm expenses, and livestock records, a day book, and a manuscript book of recipes; also includes items from George Everett's schooling (1834-1841); land records and deeds for the Everett-Tuttle properties in Boston and Concord (1828-1925); correspondence (1836 – 1910); and Tuttle family papers (1890-1910). There is a collection of 160 photographs of the Tuttle family, mainly of Grace Everett Tuttle and locations in and around Concord [ca. 1880- ca.1965].

SOURCE OF ACQUISITION: Acquired in two accessions, one (manuscripts) presumably from Grace Tuttle, the other (photographs) from her estate.

NOTES/COMMENTS: The daybook is in very fragile (deteriorating) condition; the binding is loose and the front cover is not present.

PROCESSED BY: Peter K. Steinberg; finding aid completed 10/24/2005.
SERIES DESCRIPTIONS:
Series I: everett family Ledgers, 1846- [ca. 1892]:

This series contains eleven items, mostly ledgers pertaining to the personal and family finances and farm-related business of George Everett. The ledgers are titled: Family Expenses (1846-1872); Household and Personal Finances (1848-1886); Farm Expenses (1852-1863); Farm Income (1853-1863); Record – Farm Animals (1854-1861); Geo. Everett in a/c with Wm. Underwood & Co. (1855-1857); Ledger (1860-1886); Account Book (1880-1881); Time Book of help employed (1882-1885). Other items include a manuscript volume of recipes (1872- [ca. 1888]) maintained by Henrietta Charlotte Price and daybook maintained by Florence Evelyn Everett (Mrs. Samuel H. Tuttle) from February 21, 1887 to [ca. 1892]. Included with this series is an obituary for an Edward F. Everett; the daybook includes an obituary for Grace Everett Derby.

Series II: George Everett Papers, 1834-1885:

This series contains records pertaining to George Everett's schooling, his professional life, and his personal affairs: a list of George Everett's schoolmates (1834-1841); a reward of merit (1835); a letter from Paris, France regarding plants (1877); checks drawn on Maverick National Bank (1880); a judge's ticket for Middlesex Agricultural Society exhibition (1885); estate inventory (1885); and notes on his farm, personal finances, and household purchases.

Series III: Property records, 1828-1925:
Two subseries:

A) Deeds: Deeds for property purchased and sold by George Everett in 1850, 1852, and 1853. Deeds present are for residences in Boston (Carver Street) and for farm and land in Concord. Purchases and sales took place between George Everett and Augustus Tuttle, Edmund Hosmer, and Silas M. Holden.

B) Other property records: This series contains petition letters, property descriptions, and receipts, generated by or relating to the Everett family.

Series IV: Correspondence, 1836-1910:

This series contains Everett, Price, and Tuttle family correspondence. Arrangement of correspondence is chronological. Correspondents include George Everett, Mary Ellen Maria Price Everett, Mary Louise Everett, Florence Evelyn Everett Tuttle, an unidentified aunt (sister of George Everett), L. J. Hunt (Secretary of the Hiawatha Colony), Edward F. Everett, Henry Price, Sarah Ann Pratt, and Eliza Jane Pratt. Included in this series is an undated, unidentified handwritten page of Price family marriages, births and deaths, including one Everett family marriage.

Series V: Tuttle Family Papers, 1890-1910:

This series contains a benefit certificate from the Royal Arcanum; a picture postcard from Manomet, Mass.; and an undated newspaper clipping about Samuel Tuttle's appointment as postmaster of Concord.

Series VI: Photographs and Sketches, [ca. 1880 - ca. 1965]:
This series of 160 photographs is organized into four subseries. Most photographs are undated and unidentified. Identified people are Samuel H. Tuttle, Florence Evelyn Everett Tuttle, Grace Everett Tuttle, Grace Otis Everett Derby, and Mary Louise Everett:

A) Tuttle Family: This subseries contains photographs of the Tuttle homestead, and various members of the Tuttle and Everett families.

B) Grace Everett Tuttle: This subseries contains photographs of Grace Everett Tuttle, 1893-1918. Grace Tuttle wrote "Carpe Diem" on the verso of her Concord High School photographs, 1910. Also included in this subseries is a photograph album [ca. 1900-04] from a Tuttle family visit to the seaside.

C) Other people: This subseries contains photographs of classmates and one teacher of Grace Everett Tuttle, and photographs of unidentified men and women. Classmates and teacher are Marion L. Towne, Leslie O. Anderson, Kenneth B. Cook, Elizabeth P. Hunter, Dorothy Tewksbury, Julian W. Ballou, Gladys R. Clark, Norman L. Torrey, Eleanor Johnson, M. Rockwood (Class of 1913), and George S. Miller (teacher).

D) Other pictures and sketches: This subseries contains photographs of buildings and scenes in Concord and the Greater Boston area. Also contains five pencil sketches from around Concord, two of them by Grace Everett Tuttle (1907). Another item is a reproduction of Mary Wheeler's sketch of the birthplace of Henry David Thoreau on Virginia Road. Identified places include Thoreau's cairn, Howe's Store, the Concord Antiquarian Society, Red Bridge, the "Mill stream," Sleepy Hollow Cemetery, the Concord Post Office, the Minute Man Statue, the Wayside, the Colonial Inn, the Middlesex Hotel, Veteran's Building, First Parish Church, Bullet Hole House, the Concord Free Public Library, Library corner, the Minot House, the Home for the Aged, and South Margin Farm, Sandy Pond Road.

CONTAINER LIST

Series I: Everett Family ledgers, 1846- [ca. 1892]:
Folder 1
Family Expenses (1846-1872)
Household and Personal Finances (1848-1886)

Folder 2
Farm Expenses (1852-1863)
Farm Income (1853-1863)
Record – Farm Animals (1854-1861)

Folder 3
Geo. Everett in a/c with Wm. Underwood & Co. (1855-1857)
Account Book (1880-1881)
Time Book of help employees (1882-1885)
Ledger (1860-1886)

Folder 4
Manuscript volume of recipes, Henrietta Charlotte Price, 1872-[ca. 1888]

Folder 5
Daybook, Florence Evelyn Everett Tuttle, February 21, 1887- [ca.1892]

SERIES II: George Everett Papers, 1834-1885:
Folder 6
Reward of Merit (November 29, 1835)
George Everett's list of scholars whom attended school at Mr. Samuel Tolman's boarding school, Stoughton, Mass (1834-1841)
Receipt for purchase of agricultural implements and machines from Ruggles, Nourse & Mason (March 28, 1846)
Judge's Ticket, Middlesex Agricultural Society (1885)
Statement of account of money received and expended for Estate of George Everett (Admin Mary E. M. Everett)
Notes on farm, personal finances, and household purchases
Letter regarding plants from E. Verdier Fils Ainé (1877)
Fourteen checks drawn on Maverick National Bank (1880)

Series III: property records, 1828-1925:
Folder 7
Deed of release for Carver Street, Boston (1850)
Deed of sale from Edmund Hosmer to George Everett (1852)
Mortgage deed, George Everett to Edmund Hosmer (1852)
Deed of sale from J Augustus Tuttle to George Everett (1853)
Deed of sale from George Everett to Silas M. Holden (1853)
Memo regarding historical ownership of South Margin Farm (1828-1852)
Promissory note between George Everett and Edmund Hosmer (1852; annotation noting release of debt in 1853)
Partial release of mortgage from Middlesex Mutual Fire Insurance Company to Mary E. M. Everett Et. Al. (1889)
Deed of sale from George A. Everett et. al. to Inhabitants of Concord (1891)
Deed of sale from George A. Everett et. al. to Hollis S. Howe (1901)
Deed of sale from George A. Everett et. al. to Hollis Howe (1901)
Deed of sale from Mary Louise Everett et. al. to Inhabitants of Concord (1913)
Folder 8
Petition letter for a town way (1890)
Lars Peterson lot (n.d.)
Mrs. Alma Peterson, second lot (n.d.)
Hollis S. Howe (1901)
Description of land owned by Mary Louise Everett (1901)
D. F. Potter (1904)
Description of three parcels of land owned by Mary Louise Everett (1923)
Description of land owned by Mary Louise Everett (1925)
Description of four lots of land owned by Mary Louise Everett (1925)
Mortgage bills and receipts (1886-1892) of Mary E M Price Everett (Mrs. George Everett) and Mary Louise Everett, arranged chronologically

Series IV: Correspondence, 1836-1910:
Folder 9
Correspondence between Everett, Price and Tuttle family members (1836-1910), arranged chronologically:
Letter to Henry Price from his mother, June 19, 1836
Letter to Sarah Pratt from Henry Price, March 12, 1837
Letter to Sarah Ann and Eliza Jane Pratt from Henry Price, March 18, 1837
Letter to George Everett from Henry Price, February 1, 1838
Letter to Mary Ellen Maria Everett from Henry Price, July 8, 1862
Letter to Mary Louise Everett from Edward F. Everett, November 29, 1896
Letter to Mary Louise and Florence Evelyn Everett from an aunt, December 21, 1902
Letter to M. Louise Everett & Sister, from L. J. Hunt, September 10, 1910
A list of Price and Everett marriages, births and deaths

Series V: Tuttle Family Papers, 1890-1910:
Folder 10
Royal Arcanum Benefit Certificate presented to Samuel H. Tuttle (1890)
A picture postcard from Manomet, Mass., (1904)
An undated newspaper clipping regarding Samuel H. Tuttle's appointment as Postmaster of Concord
Grace Everett Tuttle's card

Series VI: Photographs and sketches, [ca. 1880 – ca. 1965]:
Folder 11
Photographs of the Tuttle homestead

Folder 12
Photographs of Samuel H. Tuttle, Florence E. Everett Tuttle, and the Tuttle Family

Folder 13
Photographs of Grace Everett Tuttle

Folder 14
Photograph album of Tuttle family members, houses, and beach scenes, [ca. 1900-04], 50 pages, 62 photographs

Folder 15
Photographs of Grace Everett Tuttle's classmates and one teacher at Concord High School
Marion L. Towne
Leslie O. Anderson
Kenneth B. Cook
Elizabeth P. Hunter
Dorothy Tewksbury
Julian W. Ballou
Gladys R. Clark
Norman L. Torrey
Eleanor Johnson
M. Rockwood
George S. Miller

Folder 16
Photographs of unidentified people from Grace Everett Tuttle

Folder 17
Photographs of buildings and places around Concord
Minute Man Statue
First Parish Church
Wayside
Colonial Inn
Concord Antiquarian Society
A parade
Middlesex Hotel
Concord Free Public Library
Library corner
Colonial Inn
Veterans building
Bullet hole house
Minot house
Home for the Aged
South Margin Farm, Shady Pond Road

Folder 18
Photographs of buildings and places around Concord, continued
Drug store
Fire wagon in front of Howe's store
Red Bridge
Street cars
"Mill Stream" in flood
Thoreau's cairn
Sleepy Hollow cemetery
The Post Office
Two unidentified pictures

Folder 19
Sketches of places in the Concord area
Mounted, 26 Oct. 2005. rcwh
Back to Special Collections homepage