KING AND ALLIED FAMILY PAPERS, [ca. 1780]-1879 (BULK 1827-1853)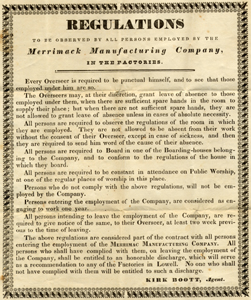 Regulations to be observed by all persons employed at the Merrimack Manufacturing Company ... (n.d.)
Vault A45, King, Unit 1
EXTENT: .17 linear ft. (1 container, 1 oversize folder)
ORGANIZATION: Organized into four series: I. King and Gannett Correspondence; II. Property and Financial Records; III. Allied Family Papers; IV. Ephemera and Artifact.
BIOGRAPHY: The King family of Littleton and Westford, Mass., descended from Richard King and his wife Elizabeth, through their son Rogers King. Rogers married Lydia Woods in 1767, in Westford. They had three children: Asa; Lydia, who died at age 24; and Rogers, Jr. In 1799, Rogers married Mary (Polly) Tilden in Scituate, Mass. Rogers became a captain by 1800, and a major between 1804 and 1807. This collection is mainly concerned with the children of Rogers and Mary King (all born in Westford): Lydia Woods King (named for her grandmother), b. 1800; Maria King and Mary King (twins), b. 1802; George Rogers King, b. 1804; and Rufus Tilden King, b. 1807. Lydia Woods King never married. She worked in a factory at Lowell, Mass., for a short time, and lived many years with her sister Mary King, who married Joy Gannett in Littleton. Lydia also lived in Littleton, Scituate, Cohasset, and Jamaica Plain with the Gannett family, and was living with William Osgood, M.D., in Boston when she died. Maria King married Timothy Prescott in Littleton (Concord, Mass., Prescott family), the father of Martha Prescott. George Rogers King died young in 1828. Rufus Tilden King attended school at Harvard and completed certification to be a teacher in 1834. He became Principal at Yarmouth Academy, later moved to Philadelphia to recover from illness, and tutored young men there. Rufus lived in Lexington and Salem, Mass., as well, and resided in Florida in 1879. Family members mentioned by Rufus in letters include Uncle Joseph at Cohasset, Aunt Nabby, and Uncle Thomas.
The Cole family is related through the Gannett, Lincoln, and Tilden families of Scituate and Hingham, Mass. A widow Mary Gannett of Scituate married Mordecai Lincoln in Hingham, before 1711. The daughter of Mordecai married Ambrose Cole, Jr., of Scituate, and died in 1724. Also, a Luther Lincoln born in Westford, but later of Hingham, was witness to the bond of John Tilden for the estate of Lydia Woods King in 1826. More Lincoln witnesses appear in the undated will of Ambrose Cole, Sr., in Hingham [ca. 1780]. Beyond this it is unclear how a Cole will came to be with these King papers.
SCOPE AND CONTENT: King and Gannett Correspondence, 1785-1879, includes letters written to Lydia King, Rufus King, Joy Gannett, Mary Gannett, and Caleb Gannett. Most letters are between family members, especially from Rufus to Lydia. The collection includes a few recommendation letters for Rufus King concerning his teaching qualifications. Property and Financial Records, [ca. 1780]-1850, consists mainly of the probate papers of Rogers King, Sr., his wife Lydia Woods King, and Ambrose Cole, Sr., and include financial accounts for both the younger and elder Lydia Woods King. Allied Family Papers, 1828-1842, includes a poem written upon the death of George Rogers King and a Concord Freeman newspaper containing the obituary of Timothy Prescott and bearing the autograph of Martha Prescott. Ephemera and Artifact consists of newspapers (1853 and 1874), as well as the small trunk in which the collection arrived at the archives.
SOURCE OF ACQUISITION: Presented by Theodore K. Osgood, June 21, 2001.
NOTES/COMMENTS: Accessioned June 22, 2001; AMC 066.
PROCESSED BY: Colette Rasmussen; finding aid prepared October 17, 2002.
CONTAINER LIST
SERIES I. KING AND GANNETT CORRESPONDENCE, 1785-1879:
Box 1, Folder 1.
Letters to Lydia King, 1828-1879
Box 1, Folder 2.
Letters to Rufus King, 1834-1844
Including recommendation letters regarding Rufus' teaching.
Box 1, Folder 3.
Letters to various family members, 1785-1828
Including Gannett family letters.
SERIES II. PROPERTY AND FINANCIAL RECORDS, [ca. 1780]-1850:

Box 1, Folder 4.
Probate records of Rogers King, 1793
Box 1, Folder 5.
Probate records of Lydia King, 1826
Box 1, Folder 6.
Probate records of Ambrose Cole [ca. 1780]
Box 1, Folder 7.
Financial, 1809-1850
SERIES III. ALLIED FAMILY PAPERS, 1828-1842:

Box 1, Folder 8.
Poetry, Scituate Baptist Church, Timothy Prescott Obituary, Martha Prescott Autograph
Obituary and autograph in Concord Freeman, Mar. 4, 1842, in OVERSIZE FOLDER.
SERIES IV. EPHEMERA AND ARTIFACT:

OVERSIZE FOLDER
Regulations of Merrimack Manufacturing Company
Newspapers:
Christian Watchman & Reflector, Dec. 29, 1853
The Norfolk County Gazette, Oct. 17, 1874
Plus:
Oversize items from Series III.
TRUNK
11.5 x 5.5 x 6.5 inches
Back to the Special Collections homepage