HAWTHORNE BOOKS: VOLUMES FROM THE LIBRARY OF NATHANIEL HAWTHORNE AND THE HAWTHORNE FAMILY, OR OTHERWISE ASSOCIATED WITH THE HAWTHORNES, 1820-1852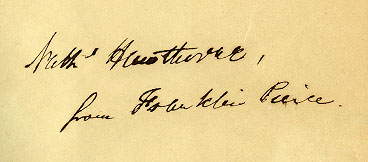 A finding aid including volumes from the "Hawthorne Books" section of the CFPL's Concord Authors Collection.
EXTENT: Nine titles (ten volumes).
ORGANIZATION AND ARRANGEMENT: Items are listed in a single file, arranged alphabetically by author.
BIOGRAPHY: Nathaniel Hawthorne—American author, writer of romances, stories and juvenile works—was born in Salem, Mass., on July 4, 1804. He lived in Concord, Mass. at three different periods of his life (1842-1845; 1852-1853; 1860-1864). In 1825, Hawthorne graduated from Bowdoin College, where his life-long friendship with Franklin Pierce began. He wed Sophia Amelia Peabody (1809-1871) in 1842, and began married life in the Old Manse in Concord. (The Manse was situated across Monument Street from the home of George Lincoln Prescott, to whom Sophia Peabody presented the copy of La Fontaine described in the item list, below.) The Hawthornes had three children: Una (1844-1877); Julian (1846-1934); and Rose (1851-1926). In 1852, Hawthorne wrote a campaign biography for Franklin Pierce. After Pierce's election to the presidency, Hawthorne was appointed American Consul at Liverpool (1853-1857), following which he and his family spent two additional years traveling in Europe. They returned to Concord, to the Wayside, in 1860. Nathaniel Hawthorne died in Plymouth, New Hampshire in 1864.
SCOPE AND CONTENT: Titles published between 1820 and 1852, including a biography of Franklin Pierce, a Latin textbook, student editions of Cicero and Eutropius, the fables of La Fontaine in English translation, an exercise book for learning Italian, a volume on fruit culture, a Diamond Edition New Testament, and an edition of Wordsworth's poems. The collection includes four American and five English imprints. Seven of the titles bear evidence of having belonged to Hawthorne or the Hawthorne family; one was an inscribed gift from Sophia Hawthorne to her young Monument Street neighbor George Lincoln Prescott (1829-1864). The biography of Franklin Pierce by David Bartlett was presented by Pierce to Nathaniel Hawthorne, as indicated by the inscription in Hawthorne's hand in the first of the two volumes. The Wordsworth volume was a New Year's (1839) gift from Sophia Peabody to Nathaniel Hawthorne.
SOURCES OF ACQUISITION: As noted in the item list, five of the titles were presented to the CFPL by Henry L. Whitcomb; one was a gift from the estate of George Lincoln Prescott; one was presented by Imogen Howe. The sources of two titles (the New Testament and the Sayers) are unidentified.
RESTRICTIONS ON USE: No photocopy permitted from this collection.PROCESSING NOTE: The Hawthorne Books in the Concord Authors Collection were cataloged individually through a grant from the National Endowment for the Humanities, 1980-1983, this finding aid adapted from the cataloging in 2006 by Bette Aschaffenburg (preliminary preparation) and LPW.
ITEM LIST
Bartlett, David Vandewater Golden (1828-1912). The life of Gen. Frank. Pierce, of New-Hampshire, the Democratic candidate for President of the United States. By D.W. Bartlett (Auburn [N.Y.]: Derby & Miller; Buffalo: Geo. H. Derby & Co.; Geneva: Derby, Orton & Co., 1852). 300 pages; plate.
Inscribed by Nathaniel Hawthorne on front free endpaper: "Nathl Hawthorne, / from Franklin Pierce." Presented by Henry L. Whitcomb, 1873. Bound in purple cloth. Accession no. 7392.
Bible. New Testament. The Diamond New Testament: with notes, explanatory and practical, by the Rev. Henry Stebbing … Illustrated with plates (London: Allan Bell & Co. and Simpkin & Marshall, [etc.], 1834). 338 pages; plates, including added illustrative t.p. A miniature book (11 cm.).
Inscribed in ink on blank reverse of frontispiece plate: [in one hand] "Hawthorne. / [in a second hand] Elizabeth J. Weir / From Mrs. Hawthorne / Autumn 1868." Note in pencil on back paste-down endpaper. Source unidentified. Bound in leather; edges gilt. Unaccessioned.
Cicero, Marcus Tullius. Epistolae M.T. Ciceronis excerptae, et ad optimorum fidem exemplorum denuo castigatae. Editio quarta (London: "In aedibus Valpianis" [etc.], 1820). 116 pages (pages 113-116 consisting of booklist).
Inscribed on t.p.: "Hawthorne / Oct. 1859 / Leamington." Printed lists of schoolbooks published by Longman, Rees, Orme, Brown, & Green (London) pasted to front and back paste-down endpapers. Presented by Henry L. Whitcomb, 1873. Bound in leather. Accession no. 9557.
Eutropius. Eutropii Breviarium historiae Romanae, ab urbe condita, ad annum ejusden urbis DCCCL Accedit Sex. Aurelii Victoris de Romanis illustribus liber. Ad usum juventutis accommodata, editio nova, emendata (Eton: E.P. Williams, 1843). viii, 155 pages.
Inscribed in ink on verso of front free endpaper: "Hawthorne." Incised in leather of front cover: "Hawthorne. / Bath, 1860." Presented by Henry L. Whitcomb, 1873. Bound in sheepskin. Accession no. 9558.
… An Introduction to the Latin tongue; for the use of youth. Eton: Printed 1758. [From head of t.p.] 1839. A new edition, thoroughly revised and corrected (Derby: Printed and published by Henry Mozley and Sons; and sold in London by Cowie and Co. Poultry, 1839). 189 pages.
Poem (signed by Julian Hawthorne) inscribed in pencil on front free endpaper. Inscriptions (including—"Julian Hawthorne" in pencil and "Hawthorne" in ink—covered by library bookplate on front paste-down endpaper. "… / Leamington" stamped on front paste-down endpaper. Presented by Henry L. Whitcomb, 1873. Bound in leather. Accession no. 9559.
La Fontaine, Jean de (1621-1695). Fables of La Fontaine, translated from the French, by Elizur Wright, Jr. … Third edition (Boston: Tappan and Dennet, 1842). Two volumes.
Inscribed in ink on front free endpaper of Vol. 1, in hand of Mrs. Hawthorne: "George Prescott / from his friend / S.A. Hawthorne / January 1st. 1844." Gift from the estate of G.L. Prescott, 1942. Bound in purple cloth. Accession nos. 87274, 87275.
Rota, Pietro Ricci. A key to Bottarelli's Italian exercises, referring to Veneroni's grammar. With a few extracts in prose and verse. By P.R. Rota. A new edition carefully corrected and greatly improved (London: Printed for J. Collingwood, Longman, Hurst, Rees, Orme & Brown, Simkin & Marshall, G. & W.B. Whittaker, T. Boosey & Sons, and J. Booker, 1822). iv, 91 pages.
Inscribed in ink on t.p.: "Hawthorne." Presented by Henry L. Whitcomb, 1873. Bound in sheepskin. Accession no. 9570.
Sayers, Edward. The American fruit garden companion, being a practical treatise on the propagation and culture of fruit, adapted to the northern and middle states. By E. Sayers … Second edition (Boston: Weeks, Jordan and Company, 1839). 174 pages.
Inscribed in ink on front free endpaper: "Hawthorne." Bound in plum cloth. Source unidentified. No accession no.
Wordsworth, William (1770-1850). The complete poetical works of William Wordsworth: together with a description of the country of the lakes in the north of England , now first published with his works … Edited by Henry Reed … (Philadelphia: James Kay, Jun. and Brother, 1837). 551 pages; plate.
Inscribed by Sophia Peabody, in pencil, on front free endpaper: "Nathaniel Hawthorne Esq. / from his very true & affectionate / friend / S.A. Peabody / January 1st 1839 . / 'For we have waking empire, wide as dreams; / An ample sovereignty of eye and ear, / Rich are our walks with supernatural cheer. / The region of our inner spirit teems / With vital sounds & monitory gleams / Of high astonishment & pleasing fear.['] / Page 193." Items throughout table of contents marked in pencil. Pencil markings on pages 435 and 436. Pressed leaves found between pages 190 and 191. Bookplate of H.A. [Henry Amelung] Hawthorne on front paste-down endpaper. Signature of H.A. Hawthorne on title page. Presented by Imogen Howe, 2006 June 26, on the occasion of the reinterment of Sophia and Una Hawthorne in Sleepy Hollow Cemetery in Concord . Bound in leather. Accession no. AMC 143.
2006 Concord Free Public Library, Concord, Mass.
Not to be reproduced in any form without permission of the Curator of Special Collections, Concord Free Public Library.
Back to Finding Aids Page

Back to Special Collections homepage

Home
Mounted 17th May 2006. rcwh.