Massport Hangar 24 Collection, 1948-2010
Vault A50, Massport, Unit 9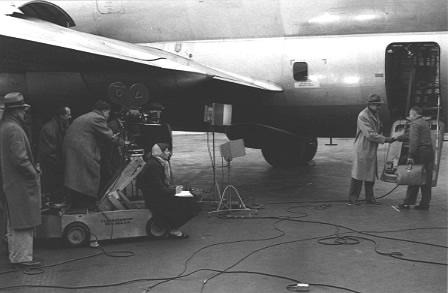 CBS news journalist Eric Sevareid shaking hands with Charles Stark Draper
in front of a Boeing C-97 aircraft prior to a flight test of
SPIRE, Jr. equipment, March 6, 1958.
EXTENT: One container.
ORGANIZATION: Organized in a single series.
HISTORY: Massport's Hangar 24 was erected in 1948 at Hanscom Field in Bedford, Massachusetts to support defense- and space-related electronic navigation testing conducted first by the Massachusetts Institute of Technology (MIT) Instrumentation Laboratory and later by the Charles Stark Draper Laboratory and MIT Lincoln Laboratory. The labs developed and tested groundbreaking inertial navigation and flight guidance systems.
A 39,840 sq. ft., two-bay steel structure, Hangar 24 was built at Hunter Army Airfield in Savannah, GA (ca. 1930s), where it was later disassembled, transported north, and reassembled at Hanscom Field in 1948. In addition to the pioneering work of MIT and Draper Labs, in 1986 the hangar was the site of the construction of the human-powered Eagle, an aircraft with a wingspan of 102 feet, but weighing only 69 pounds. Loosely based on the Greek myth of Daedalus and Icarus, it successfully completed a flight between Crete and the Greek mainland.
In 2001 MIT established a new flight facility at Hanscom Field and all operations at Hangar 24 ceased. It is currently Massport's desire to raze the building, while various area organizations are seeking to preserve it for its historic value. The structure is designated as eligible for landmark status by the National Register of Historic Places.
SCOPE AND CONTENT: The collection includes a report on Massport Hangar 24 prepared by Public Archaeology Laboratory (PAL), July 2010. There are two copies of the report, one bound and one unbound. There are two sets of photographs, one set contains thirteen historical images of the facility, 1948-1975; the other contains thirty-six images taken in July 2008 by Matthew M. Kierstead for PAL.
SOURCE OF ACQUISITION: Gift of Town of Concord Planning Department, 18 August 2010
NOTES/COMMENTS: AMC #188
PROCESSED BY: C. Manoli-Skocay, 20 August 2010
Container List
Report
Archival Photographic Documentation. MIT Instrumentation Laboratory Flight Facility (MIT Lincoln Laboratory Flight Test Facility), (Massport Hangar 24), Concord, Massachusetts, July 2010. (One bound copy, one unbound copy).
Photographs
13 historical images relating to Hangar 24, 1948-1975. Various photographers. Images from MIT Museum and Lincoln Laboratories, Cambridge and Lexington, Massachusetts. 11 B&W, 2 color.
36 views of Hangar 24 (exterior and interior), July 2008. Photographed by Matthew M. Kierstead for PAL. B&W.
c2010 Concord Free Public Library, Concord, Mass.
Not to be reproduced in any form without permission of the Curator of Special Collections, Concord Free Public Library.
Back to Finding Aids Page

Back to Special Collections homepage

Home
Mounted 28 August 2010. rcwh.