REVEREND EDMUND FOSTER PAPERS, 1781-1876 (BULK 1781-1806)
Vault A45, Foster Unit 1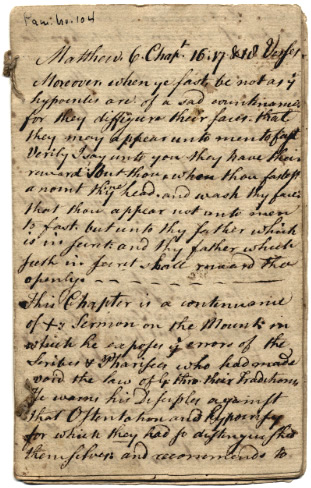 EXTENT: 7 items (1 container)

ORGANIZATION AND ARRANGEMENT: Organized into two series: I. Original sermons and oration by Reverend Edmund Foster, (1781-1806); II. Letters regarding the gift of papers by Nathaniel Seaver, Jr., 1876. Materials arranged chronologically.

BIOGRAPHY: Reverend Edmund Foster (1752-1826) was born in North Reading, Massachusetts. He was orphaned at seven. As a young adult, Reverend Foster attended Yale, where he studied for the ministry. Later, he received honorary degrees from Yale and Harvard. While a divinity student in April 1775, Reverend Foster marched among the ranks of the minutemen, at Concord and Lexington. In 1781, he was ordained as minister of the Littleton parish, (subsequently known as the First Congregational Church and the Unitarian Church). An outspoken opponent to the introduction of new churches into the Littleton community, Reverend Foster served his parish for 46 years. He was also politically active, representing his district in the Massachusetts Senate and the House of Representatives after the War of 1812, and serving as a delegate to the Constitutional Convention in 1820. Reverend Foster had three sons who held commissions in the War of 1812. His daughter, Sarah, married Reverend William H. White, of the Littleton. Reverend Foster died in 1826.

SCOPE AND CONTENT: Papers consist of four handwritten sermons and one printed oration, 1781-1806; and two letters written in 1876, by Reverend Foster's granddaughter's husband, Nathaniel Seaver, Jr.

The four hand-bound sermons span 25 years. Three sermons relate to Bible passages and religious topics; one is political in nature.

The printed oration, written for the 30th anniversary of America's independence, is an ode to the U.S. government and American democracy. The content is political and social; there are very few religious references. The inside cover is inscribed by Samuel Reed of Littleton, John Leighton of Westford and Josiah Taylor of "Lyttleton."

The accompanying letters were written to the Concord Free Public Library at the time the collection was given and includes detail about the Reverend Foster's life.

SOURCE OF ACQUISITION: The sermons and oration were presented to the CFPL in 1876 by Nathaniel Seaver, Jr.

PROCESSED BY: mbf; finding aid completed November 2, 2010.

NOTES/COMMENTS: Sermons accessioned November 2, 2010 (AMC 191).
CONTAINER LIST:
Folder 1:
Series I. Original Sermons and oration by Reverend Edmund Foster, 1781-1806:
Sermon, (Proverbs 3.5 and Peter 5.7), 28 pages; 1781 May 20 and November 18
Sermon for Thanksgiving, (Psalms 147.14), 11 pages; 1783 December 11
Sermon, (6 Matthew 16.17), 17 pages; no date
Sermon, (John 14.26), 12 pages; no date
Oration, "An Oration Pronounced at Littleton: The 30th Anniversary of American Independence," 23 pages; 1806 July 4
Folder 2:
Series II: Letters by Nathaniel Seaver, Jr., 1876:
Letter, 1876 March 11
Letter, 1876 May 4
c2010 Concord Free Public Library, Concord, Mass.
Not to be reproduced in any form without permission of the Curator of the William Munroe Special Collections, Concord Free Public Library.
Mounted 3 November 2010. rcwh.