MARY R. FENN COLLECTION OF CONCORD-RELATED MATERIALS, [1843] - 1966
Vault A45, Fenn, Unit 1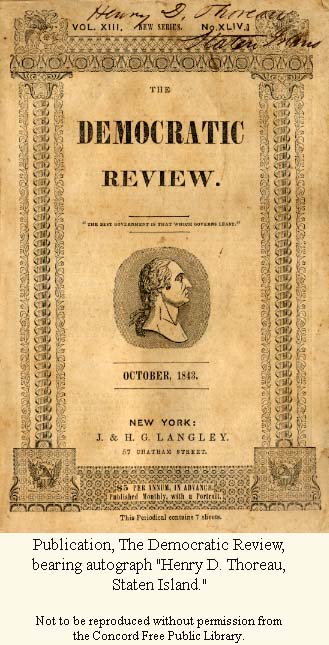 EXTENT: 15 items in one box.
ORGANIZATION AND ARRANGEMENT: All items contained in one box. Item listing below is in alphabetical order by prominent name (in bold), with other names in italics.
BIOGRAPHY: Born in Williamsport, Penn., in 1908, and raised during her early life in Philadelphia, Mary Rosselle (Fenn) moved to Malden, Mass. with her family at the age of ten. She married Edmund Winthrop Fenn, also of Malden, in the mid-1930s, and in 1952 the family moved to Concord, Mass., where Mary developed an interest in Concord history. Over the years, she served on the boards of the Old Manse, the Emerson House, the Concord Antiquarian Society, the Orchard House and the Thoreau Society. She lectured throughout New England on Concord authors, Concord history, New England history and horticulture. Mrs. Fenn was also the author of several booklets on Concord, and wrote articles for the Thoreau Society Bulletin and the Concord Journal. She was a member of a committee which designated historic Concord homes with plaques, and served as president of the Concord Garden Club. She was also a board member of the New England Wild Flower Society, and held virtually every office in the Concord Woman's Club during her long and active membership in that organization. (From information provided by Mrs. Fenn's daughter, Mary Gail Fenn.)
SCOPE AND CONTENT: Contains correspondence, a photograph, one publication, and artifacts relating to notable Concord figures. Names represented in the collection include A. Bronson Alcott, Lousia May Alcott, Brook Farm, Annie Shepard Keyes Emerson, Ellen Emerson, Ralph Waldo Emerson, Edith Emerson Forbes, Daniel Chester French, Rev. Frederic Henry Hedge, Bessie Keyes Hudson, Woodward Hudson, Harriet M. Lothrop [Margaret Sidney], Margaret M. Lothrop, Sarah E. Richardson, Roland Wells Robbins, and Henry David Thoreau.
PROVENANCE: Acquired by Mary Fenn over time from multiple sources, including gifts from Miss Margaret Lothrop and Roland Wells Robbins.
SOURCE OF ACQUISITION: Gift of Mrs. Mary Fenn, November 1995.
ASSOCIATED MATERIALS: The Concord Free Public Library Special Collections include extensive holdings relating to Concord's 19th century authors, Transcendentalism, and sculptor Daniel Chester French. Consult the Library's Web site or contact the Special Collections staff for additional information.
NOTES/COMMENTS: The following items were removed to the Ralph Waldo Emerson Papers, 1835-1871 (Vault A35, R.W. Emerson, Unit 2): Two MS fragments in the hand of Ralph Waldo Emerson ("The dim lantern…" and "A mulatto girl…"), apparently received by Mary Fenn from Margaret Lothrop, by Margaret Lothrop from Mrs. Edward Waldo Emerson [Annie Shepard Keyes Emerson], and by Mrs. Emerson from the papers of her sister Alicia Keyes.
PROCESSED BY: RJA; finding aid completed 2004 Apr. 22
ITEM LISTING
Autograph of A. Bronson Alcott, "Truly Yours."
MS fragment in the hand of Louisa May Alcott: one page, from novel Jack and Jill, Chapter 16, "Up at Merry's."
Facsimile of note from Margaret Lothrop to Mary Fenn regarding identification of Louisa May Alcott MS fragment.
"Brick from Brook Farm, West Roxbury, Mass. Burned March 27, 1977."
Green leather card case (with gold embossing and red cloth interior) belonging to Ellen Emerson. Given at death of Ellen Emerson by sister Mrs. Edith Emerson Forbes to Margaret Lothrop. Contains note from Mrs. Forbes to Miss Lothrop on one of Ellen Emerson's cards. Also contains two cards for "Miss Margaret Mulford Lothrop," and a note from Margaret Lothrop to Mary Fenn, 1966 February 21, explaining the history of the case.
Letter from Margaret Lothrop to Mary Fenn, 1966 February 21, regarding gift of green card case belonging to Ellen Emerson, and relating recollection of Ellen Emerson placing a "crown of white roses" on Miss Lothrop's head on the occasion of her fifth birthday.
Bible with olive wood covers, bought by Margaret Lothrop's mother [Harriet M. Lothrop] in Jerusalem in 1906. Contains note (Margaret Lothrop to Mary Fenn, 1958 April 13) attached to inside front cover.
ALS, R.W. [Ralph Waldo] Emerson to "My dear Hedge" [Rev. Frederic Henry Hedge], Concord, Mass., 1877 Dec. 20, regarding Hedge's "The Ways of the Spirit."
ALS, Annie S. Emerson to [cousin by marriage] Woodward [Hudson], Concord, Mass., [year not specified] Dec. 28.
Photograph, "Mrs. Edward Emerson, ne [sic] Annie Keyes," [n.d.].
ALS, Dan. C. [Daniel Chester] French to Bessie [Keyes Hudson] on "Chesterwood" letterhead, Glendale, Mass., 1907 Aug. 7, referring to Mr. Brunner, architect [Arnold Brunner?].
ALS, Dan. C. [Daniel Chester] French ("affectionately your cousin") to Bessie [Keyes Hudson], [New York], 1920 Apr. 23, regarding French's recent birthday.
Publication, The Democratic Review (New York: J. & H. G. Langley, October 1843), bearing autograph "Henry D. Thoreau, Staten Island." (Issue contained "The Landlord" by Henry David Thoreau; this was removed prior to donation to Concord Free Public Library.)
Note by Harriet M. Lothrop [n.d.] regarding her purchase of The Democratic Review "from Miss Sarah E. Richardson of Concord Mass., May 17th 1898, on the day of the sale of her household articles."
"Brick & plaster from [Henry David] Thoreau's Walden Pond house, excavated by Roland Wells Robbins 1945"; gift to Mary Fenn from R. W. Robbins.


Mounted 24th Apr. 2004 -- Webmaster note: use FrontPage to edit.
Back to Special Collections homepage