CONCORD LYCEUM RECORDS, 1828-1928
Vault A75, Con. Lyc., Unit 1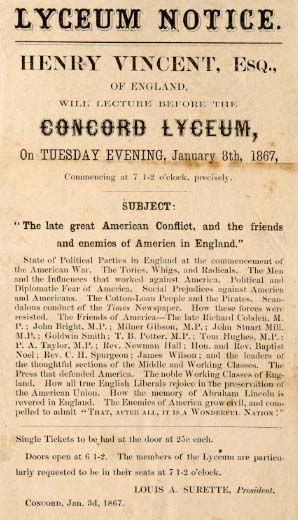 EXTENT: 1 linear ft. (6 bound volumes plus one container)
ORGANIZATION: Three series: I. Bound record volumes (A. General; B. Financial), 1828-1924; II. Unbound records, 1859-1928; III. Printed programs and tickets, 1860/61-1920/21.
HISTORY: Organization of Concord, Mass., formed for the purpose of "improvement in knowledge, the advancement of Popular Education, and the diffusion of useful information throughout the community." On December 3,1828, at a meeting in the Centre District schoolhouse, a committee (Nathan Brooks, Samuel Burr, Samuel Hoar, John Keyes, Daniel and Lemuel Shattuck, Daniel Southmayd, Daniel Stone) was chosen to write a constitution, which was adopted January 7, 1829. First officers of the Lyceum: Ezra Ripley, President; Deacon Reuben Brown and Josiah Davis, Vice Presidents; Ephraim Merriam, Treasurer; Lemuel Shattuck and Phineas Allen, Secretaries; Samuel Burr, Cyrus Hosmer, Daniel Stone, Curators. The Concord Debating Club merged with the Lyceum on March 11, 1829. Early programs consisted of lectures and debates, later (post-Civil War) programs increasingly of musical and other entertainments. The Lyceum met in the old Academy building, the Centre schoolhouse, the vestries of the Congregational and Unitarian churches, and (finally) the Town Hall. Programs, held in the winter season of each year, were at first free to all town residents. In 1856, the ticket system of admission was adopted. Ralph Waldo Emerson was the Lyceum's most frequent speaker; Henry David Thoreau also spoke. Other speakers included Wendell Phillips, Oliver Wendell Holmes, James Russell Lowell, James T. Fields, Louis Agassiz, Horace Greeley, Theodore Parker, Orestes Brownson, Frederic Henry Hedge, Henry Ward Beecher, James Freeman Clarke, and Jones Very. During its first fifty years, the Concord Lyceum had some difficulty maintaining solvency. After World War I—the effective end of the Lyceum—other musical and dramatic organizations in Concord took over the Lyceum's entertainment functions.
SCOPE AND CONTENT: Records, 1828-1928, include: bound volumes of general records (constitution; lists of officers; minutes; reports; records of programs, lectures, entertainments), 1828-1922; bound volumes of financial records ("Cash Books"), 1829-1924; unbound records, 1859-1928 (certificate of incorporation; bylaws; financial records; correspondence with lyceum/entertainment bureaus, 1881, 1889-1891; printed Proceedings of the Fiftieth Anniversary…, 1879); and printed programs and tickets for lectures and entertainments, 1860/61-1920/21.
PROVENANCE: Some unbound items were formerly part of the Concord Antiquarian Society Collection.
SOURCES OF ACQUISITION: Bound volumes deposited by the Concord Lyceum (the first deposit made in 1879), converted to gift following closing of the Lyceum. Unbound Concord Antiquarian Society items deposited by the Society in 1971, converted to gift in 1974.
SECONDARY SOURCE BASED ON THE USE OF RECORDS: Low, Alvah H. "The Concord Lyceum." Old-Time New England, v. 50, no. 2 (Oct.-Dec., 1959).
PROCESSED BY: LPW; finding aid prepared 11/15/96; revised 6/14/97; prepared for mounting on the Web by CM, 05/04.


CONTAINER LIST
SERIES I. BOUND RECORD VOLUMES, 1828-1924 (all shelved unboxed):
A. General records, 1828-1922:
A1. 1828-1859.
A2. 1859-1881.
A3. 1881-1922.
B. Financial records ("Cash Books"), 1829-1924:
B1. 1829-1858.
B2. 1859-1920.
B3. 1920-1924.

SERIES II. UNBOUND RECORDS, 1859-1928 (all boxed):
Folder 1:
Certificate of incorporation.
Folder 2:
Printed bylaws (multiple copies).
Folder 3:
Financial records, 1861-1928 (bulk 1911-1928).
Folder 4:
Correspondence with lyceum/entertainment bureaus, etc., 1881, 1889-1891.
Folder 5:
Miscellaneous ms., typescript, and printed records, 1859-1922.
Folder 6:
Proceedings of the Fiftieth Anniversary… (printed), 1879. 3 copies, plus clipped newspaper account.

SERIES III. PRINTED PROGRAMS AND TICKETS, 1860/61-1920/21:
Programs:
Folder 7:
1860/61-1877/78.
Folder 8:
1878/79-1886/87.
Folder 9:
1887/88-1893/94.
Folder 10:
1894/95-1901/02.
Folder 11:
1902/03-1908/09.
Folder 12:
1909/10-1916/17.
Folder 13:
1917/18-1920/21.
Tickets:
Folder 14:
1861/62-1920/21.
c2004 Concord Free Public Library, Concord, Mass.
Not to be reproduced in any form without permission of the Curator of Special Collections, Concord Free Public Library.
Mounted 22nd May. 2004 rcwh.
Back to Special Collections homepage