RECORDS OF THE CONANTUM GARDEN CLUB, 1953-<1997>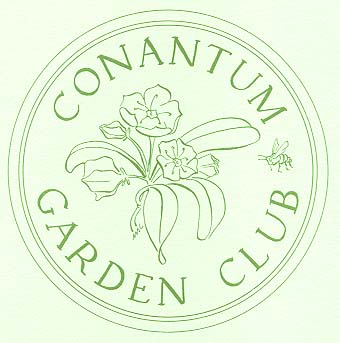 VAULT A75, Kalm., Unit 3
EXTENT: 1.25 linear feet (1 container)
ORGANIZATION: Eighteen series: I. Club formation, 1953; II. General business, 1953-1997; III. Subcommittee information, 1954-1977; IV. Financial information, 1959-1995; V. Newsletters, 1953-1993; VI. Other bulletins, 1953-1992; VII. Programs and activities, 1958-1995; VIII. Fundraising, 1964-1985; IX. Harvest Supper information, 1956-1992; X. Emerson Umbrella information, 1984-1986; XI. Club award information; XII. Questionnaires, 1953-1986; XIII. Club publications, 1958-1967; XIV. Information on related organizations, 1948-1993; XV. Conservation information, 1962-1993; XVI. Newspaper/magazine clippings, 1954-1991; XVII. Stationery, logo, ephemera; XVIII. Photo albums, 1954-1985.
HISTORY: The Conantum Garden Club was founded in 1953, not long after the real estate development by the name of Conantum was constructed (1951). The members helped to landscape the 104 private properties and approximately 100 acres of common land in the new planned community. Over the years club members involved themselves in various landscaping projects, both in Conantum and in other parts of Concord. Some examples of their community service projects are landscaping at the Thoreau School in 1957, the landscaping of Heath's Bridge in 1967, and the landscaping of Emerson Umbrella in 1984-1986. Apart from these big projects, the club has held smaller events such as plant exchanges, field trips, fund-raisers, and the annual Harvest Supper that is enjoyed by the whole neighborhood. Since the 1960s club members have also concerned themselves with conservation issues, both in their involvement in local projects and in their efforts to affect policy. The club is one of five garden clubs in Concord today, and its membership is open to all Concord residents. Associate membership, which does not include the right to vote or hold office, is open to non-residents of Concord.
SCOPE AND CONTENT: Records include: Club bylaws, 1954-1990; membership lists, 1953-1993; annual business meeting minutes, 1955-1989; monthly board meeting minutes, 1955-1993; agendas, 1954-1987; correspondence, mainly containing fundraising requests and thank you letters, 1955-1997; information on various subcommittees, 1954-1977; financial records, 1959-1995; club newsletters (distributed monthly), 1953-1993; other bulletins containing information on special events and meetings, 1953-1992; yearly programs and information on various club activities, 1958-1995; fundraising information, 1964-1985, with detailed records from an auction held in March of 1983; information on annual Harvest Supper, 1956-1992; detailed records about Emerson Umbrella Project, 1984-1986; club award information, 1958-1992; club questionnaires, including records of responses, 1953-1986; club publications, such as "Things to do in the Garden," "Plants and animals found in Kalmia Woods," and transcripts of a panel discussion held in 1964 about history, farming, and social life in Conantum, 1958-1967; information on related organizations, such as the Massachusetts Audubon Society and the New England Wildflower Society, 1948-1993; conservation information, both general and in direct relation to Concord, 1962-1993; newspaper and magazine clippings about both the club and relevant issues, 1954-1991; stationery, a copy of the club logo and ephemera, which consists of a bankcard from the club bank account; two photo albums, one of various club activities, 1954-1985, and one specifically about the Emerson Umbrella Project, 1984-1986.
SOURCE OF ACQUISITION: Gift of Conantum Garden Club via Bette Aschaffenburg, Winter 1999/2000.
NOTES/COMMENTS: Records ongoing, future additions to collection likely; accessioned November 25, 2000, AMC 047.
ASSOCIATED MATERIALS: Records of Kalmia Woods Corporation, 1951-<1996>; Kalmia Woods Water District Records, 1953-1983.
PROCESSED BY: Erica Bicchieri; finding aid prepared 12/8/00.


CONTAINER LIST
Folder 1.
Series I. Club Formation, 1953

Series II. General Business, 1953-1997
Folder 2.
Bylaws, 1954-1990.
Folder 3.
Membership lists, 1953-1993.
Folder 4.
Annual business meeting minutes, 1955-1989.
Folder 5.
Monthly board meeting minutes, 1955-1984.
Folder 6.
Monthly board meeting minutes, 1985-1993.
Folder 7.
Agendas, 1954-1987.
Folder 8.
Correspondence, 1955-1997.

Folder 9.
Series III. Subcommittee Information, 1954-1977

Folder 10.
Series IV. Financial Information, 1959-1995

Series V. Newsletters, 1953-1993
Folder 11.
Newsletters, 1953-1959.
Folder 12.
Newsletters, 1960-1969.
Folder 13.
Newsletters, 1970-1979.
Folder 14.
Newsletters, 1980-1993.

Folder 15.
Series VI. Other Bulletins, 1953-1992

Folder 16.
Series VII. Programs and Activities, 1958-1995

Series VIII. Fundraising, 1964-1985
Folder 17.
General fundraising information, 1964-1985.
Folder 18.
Auction, March 1983.

Series IX. Harvest Supper Information, 1956-1992
Folder 19.
Harvest supper information, 1956-1979.
Folder 20.
Harvest supper information, 1980-1992.

Folder 21.
Series X. Emerson Umbrella Information, 1984-1986

Folder 22.
Series XI. Club Award Information, 1958-1992

Folder 23.
Series XII. Questionnaires, 1953-1986

Folder 24.
Series XIII. Club Publications, 1958-1967

Folder 25.
Series XIV. Information on Related Organizations, 1948-1993

Folder 26.
Series XV. Conservation Information, 1962-1993

Folder 27.
Series XVI. Newspaper/Magazine Clippings, 1954-1991

Folder 28.
Series XVII. Stationery, Logo, Ephemera

Series XVIII. Photo Albums, 1954-1985
Photo Album of Club Activities, 1954-1985, housed unfoldered in container.
Photo Album of Emerson Umbrella Project, 1984-1986, housed unfoldered in container.
Finding Aid c2000 Concord Free Public Library.
Back to Special Collections homepage