Concord Roll of Honor Committee Records, [1917]-1924
Vault A65, Unit E2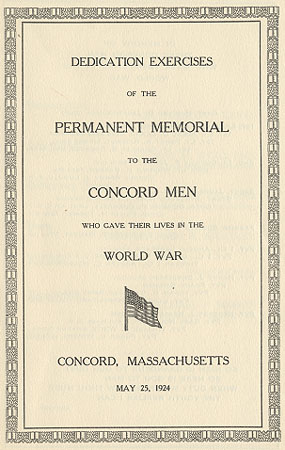 EXTENT: 2.8 linear feet (6 boxes)
ORGANIZATION: Organized in four series: I. General Committee records (Correspondence; Reports; Financial), 1921-1924; II. Names of those who served in the war (Biographical file, A-Z; Typed list), [1917]-1924; III. Permanent memorial to war dead (boulder), 1923-1924; IV. Memorial Day observances, 1924.
HISTORY: The Concord Roll of Honor Committee, a subcommittee of the Public Safety Committee, was formed in 1917 to erect a Roll of Honor as a memorial to those who served in World War I. The chairman was Prescott Keyes. The efforts of Committee Recorder Florence W. Richardson in compiling a listing of and biographical information on those who served were acknowledged in the 1919 annual town report. Roll of Honor resulting from the Committee's early work, including names of all who served, was erected in Monument Square in 1919. Designed by Harry Little, it was intended as a temporary memorial only (the panels forming it were made so they could later be transferred to the Concord Armory). A temporary memorial to the war dead (gold star) was also put up. As indicated in the 1920 town report, a permanent granite and bronze memorial to those who had died in the war was planned. This memorial, a boulder with a bronze tablet bearing the names of the dead, was dedicated on 25 May 1924 (Memorial Day), in Monument Square.
SCOPE AND CONTENT: Records, [1917]-1924, include: correspondence (ms., typed; plus blank sheet of letterhead), 1922-1924, primarily to/from Prescott Keyes; Committee reports (ms., typed, and printed), 1921, 1923; financial records, 1923-1924; biographical card file of those who served in World War I, including clippings, photographs, letters, etc. kept by Florence W. Richardson ([begun in 1917?]); typed list of those who served, with ms. additions and corrections, 1918; material 1923-1924 relating to permanent memorial (boulder with bronze tablet) dedicated in 1924, copy of town vote authorizing Committee to proceed; state permit to move boulder over roads from Lincoln; photographs; clippings; ms., typescript, and printed versions of text on tablet; dedication programs in ms., partial typescript, and printed versions; Prescott Keyes' notes for dedication; programs, etc., relating to 1924 observances of Memorial Day by American Legion, GAR, British & Military Veterans Association of Massachusetts
PROCESSED BY: LPW, 1996; finding aid prepared for the web by C. Manoli-Skocay, April 2007.
Container List
Series I: General Committee records, 1922-1924
Box 1, Folder 1:
General Committee records:
a) Correspondence (ms.; typed; also 1 sheet blank Committee letterhead, 1922-1924 (correspondence primarily to/from Prescott Keyes)
Box 1, Folder 2:
General Committee records:
b) Committee reports (ms., typed, printed, 1921, 1923 (Prescott Keyes))
Box 1, Folder 3:
General Committee records:
c) Financial, 1923-1924
Series II: Names of those who served in Great War, [1917]-1924

Box 1, Folder 4
Typed list, with ms. additions and corrections.
Box 2. Series IIa. Cards, A-E
A
Abbott, Henry Livermore
Allen, Roger Keene
Allen, Thomas Lamb
Ames, John Worthington Jr.
Andersen, Alfred Sigur
Andersen, Arthur C.
Andersen, Jerry B.
Andersen, Leslie Grear [sp?]
Archibald, Leroy
B
Babbitt, George King
Ballou, Murray Jr.
Barr, Joseph
Bartlett, Owen
Bartlett, William Bradford
Berg, Christian
Bernier, Frank
Berry, Nathaniel L. Jr
Blanchard, Wells
Blood, Kenneth Thompson
Blood, Prentice Walker
Borland, James Post
Bowse, James J.
Bowse, Leander Archibald
Brackett, Edwin Labaree
Bradley, Paul Woodward
Bradley, William Rowland
Brennan, Edward, J.
Bresnahan, Maurice F.
Brooks, David Elwell
Brooks, Francis
Brooks, Henry
Brooks, John Gray
Brooks, Thomas Perkins
Brown, Herbert Whittemore
Brown, Percy Whiting [sp?]
Brown, Wilbur Joseph
Buckheim, Alwin F.
Burgess, Henry
Burke, William E.
Butcher, Albert Morrison
Butcher, Ambery M. Jr.
Butcher, George Carlton
Butcher, Murdock L.
C
Cabot, Chelton Richardson
Cabot, Herold
Carger, Edward B.
Caldwell, Jamers Jr.
Caldwell, Lewis Gillespie
Caldwell, Malcolm Gillespie
Caldwell, Thomas Gillespie
Cann, James L.
Carlsen, Edwin F.
Carroll, Ernest F.
Chamberlain, Julian I.
Chisolm, Leo V.
Christian, Napoleon
Christiansen, Charles
Clark, Benjamin F.
Clark, Dana Brooks Jr.
Clark, Edgar G.
Clark, Kenneth McR.
Clark, Myron Harrison
Clark, Wilfred H.
Clarke, Thomas A. Jr.
Coan, John E.
Cocrane, Thomas B.
Collins, Edward J.
Connell, Richard J.
Connelly, Edward J.
Connelly, William
Coolidge, Edmund
Coolidge, Frank Pelham
Coolidge, Harold B.
Coolidge, Henry James
Coolidge, Sidney Jr.
Coughlin, William C. Jr.
Cowlard, George A.
Coy, George Everett
Craig, James H.
Cross, Richard Blodgett
Crossley, John K.
Crown, Samuel
Cull, Edward F.
Cull, John Leo
Cullinane, Corneilus C.
Cullinane, Daniel B.
Cullinane, Edward J.
Cullinane, James C.
Curtis, Alfred
D
Daley, Frank Joseph
Damon, John Carver
Damon, Philip
Damon, Thervn [sp?]
Damon, Winslow Johnson
Davis, Clayton W.
Davis, William Lincoln
Dee, James Hugh
Dee, Joseph Michael
Dee, Michael James
Dee, Richard L.
Dee, William L.
Delany, Edward John
Delany, Henry T.
Delfino, Dominick
Dempsey, John Michael
Derby, Jarvis
Dolan, John C.
Donovan, Edward Francis
Doucett, William
Douglas, Marion (Miss)
Doyle, Dugal P.
Driscoll, William J.
Dumaine, Mary Thomas (Miss)
Dustan, Earnest Barthelow
Dye, Henry I.
E
Eaton, Frederick W.
Eaton, Henry Taft
Eaton, Richard Jefferson
Eckfeldt, Roger Weed
Eckfeldt, Thomas Hooper Jr.
Edgarton, Charles G.
Edmands, Horton
Edwardsen, Edward M.
Edwardsen, Paul
Elmes, Chester Howard
Emerson, Raymond
Box 3. Series IIa. Cards, F-L
F
Fallon, John Joseph
Fallon, William T.
Feehan, David Bernard
Feehan, Frank J.
Feehan, Peter E.
Fewry, Joseph L.
Fitzpatrick, John C.
Fitzpatrick, Joseph W.
Fitzpatrick, William P.
Flavin, William Pierce
Flynn, Thomas Edward
Foley, Henry Mahlon
Foley, Patrick Chester
Ford, Clement R.
Ford, Wallis B.
Foss, Frederick Leon
Frawley, Thomas E. Jr.
Fuller, Ralph Prosser
G
Gage, Daniel Ripley
Garland, Chauncey S.
Garrett, Jackson R.
Garvey, John A.
Gaudet, E. J.
Gaudet, Joseph S. Jr.
Gaudet, Sylvester F.
Gaudet, William John
George, Arthur
George, Freeland Ralph
Gerrity, Thomas Frank, Jr.
Girardi, Horace E.
Gleason, Jerome J.
Goodwin, Robert E.
Grant, George P.
Grant, Hugh B.
Gravesen, Graves Ale
Green, Hurley L.
H
Hagerty, Elizabeth A. (Miss)
Hall, Herbert Hudson
Hammond, Matthew
Hanlon, John Patrick
Hanlon, Joseph W.
Hanlon, Thomas F.
Hannah, Henry King Jr.
Hannah, Siegfried
Hansen, Edwin
Harmon, Henry W.
Hart, Bertrand K.
Harvest, Robert A.
Hatch, Robert
Housman, Esther H. (Mrs.)
Hayes, Daniel J. Jr.
Hayes, John J.
Hayes, Joseph Michael
Helsher, Wilfred R.
Hewitt, Clarence H.
Hewitt, Ralph Elmer
Hickey, Kiernan
Hitchcock, Arthur Brainard
Hoagland, Webster
Hoar, John
Hoar, Roger Sherman
Hoar, Samuel
Hoar, Stedman Buttrick
Holden, Gertrude Agnes (Miss)
Holden, Philip C.
Hollis, Howard C.
Hollis, John C.
Hollis, Thomas
Hood, Frank
Hopkins, James P.
Hopkins, John J.
Hopkins, Michael Joseph
Hopkins, Thomas F.
Hopkins, Thomas William
Hosmer, Herbert Buttrick
Hosmer, Louie Frances (Miss)
Hosmer, Merton
Houston, Philip K.
Howard, Elliot R.
Howe, Ralph Waldo
Hubbard, Frank Simmons
Hughes, Francis J.
Hunt, Herbert
Hunt, John Parkhurst
Hurley, William L.
Hutchinson, Leonard
J
Johnson, Charles Berkeley
Jones, John Jacob
Jones, Grace (Miss)
Joslin, Elmer Levi
Judge, Eric Charles
Judkins, Harold I. Jr.
K
Keese, Leslie Lewis
Kelley, Edward Pierce
Kelley, Michael
Kelley, Thomas H.
Kent, Samuel Goddard
Keyes, Joseph Boyden
King, Charles B.
King, J. Frank
King, Joseph F.
Knight, Walter H.
Knowles, G. Walter
Knowles, George William
Knultzer, Marlin
Kullberg, Frank
Kullberg, Harold A.
L
Lane, James J.
Lawrence, Austin
Lee, Axel Maurice
Leighton, Merton
Lockwood, Frederick G.
Loftus, John H. Jr.
Lothrop, Margaret M. (Miss)
Lovell, Endicott R.
Lovell, Philip G.
Lovell, Walter
Lund, Harry J.
Lund, John J.
Lynah, John
Lyons, Edward G.
Box 4. Series IIa. Cards, M-P
M
MacCallar, John Donald
MacDonald, Angus, P.
MacEachern, Alexander F.
MacEachern, John D.
MacKenzie, Gordon K.
MacLeod, Earl W.
MacLeod, Murdock
Macone, Augustine William
Macone, Augustus G.
Macone, John C.
Maguire, George E.
Magurn, Arthur A.
Magurn, Charles T.
Mahon, John J.
Mahoney, Richard F.
Malmstrom, Nels Henry
Mansfield, Thomas H.
Mara, Charles F.
Mara, William F.
Marrs, Purrington
McBurney, Charles J.
McCabe, Richard W.
McCabe, Thomas F.
McCarthy, Ernest Paul
McCormack, Leon
McDermott, Thomas
McHugh, Francis C.
McKenna, Bernard A.
McKenna, Edward L.
McLain, Roland French
McPhillips, Patrick
McWilliams, Albert
McWilliams, Thomas R.
McWilliams, W. Percy
Middleton, Nathan A.
Miller, Charles R., Jr.
Miller, Frank P.
Miner, Murray,
Mixer, John Miller, Jr.
Montague, Everett Nelson
Moore, John B.
Moore, Mildred Pope (Mrs.)
Moreau, Freddie B.
Moreau, John F.
Moreau, Leo T.
Moreau, Louis J.
Moreau, Philip Eugene
Morgan, Reginald A.
Morison, Samuel E.
Morse, Kenneth
Mulcahy, John F.
Mulcahy, Thomas J.
Mulcahy, William D.
Murphy, DuBose
Murphy, Gardner
Murphy, John W.
Murray, Joseph D.
Murray, Paul
N
Napolitano, Clemente
Napolitano, Pasquale
Nashe, Magna (Miss)
Nealy, Harbert J.
Nelson, Adolph C.
Nelson, Emil C.
Nelson, Martin
Noble, Henry C.
Nolen, Carl
Nolen, Frederick
Norwood, Walter H.
INSERTED HERE:
Concord 1917-1918-1919 Roll of Honor Committee Records
Also Malcome Homer Committee
O
O'Brien, John Thomas
O'Connell, Simon T.
O'Grady, John J.
O'Keefe, William F.
Olsen, Alfred
Olsen, Charles
Olsen, John Henry
Olsen, Olga
Olsen, Martin Oscar
Olsen, Arcar Albert
Olsen, Oscar M.
Outis, George F.
P
Paine, Charles H.
Paine, Florence L. (Miss)
Park, Charles, R.
Parker, Whipple Harris
Parmenter, George Wilbur
Parmenter, J. Robert
Parmenter, Walter G.
Parsons, Russell F.
Patch, Edwin Orlando
Patulso, Torry
Payson, Stanley W.
Peckham, Earl W.
Pederson, Oscar E.
Pepper, Stephen Coburn
Petersen, Edwin
Petersen, Herbert L.
Petersen, John A.
Petersen, Paul
Petersen, Peveril O.
Pierce, Everett Eaton
Pierce, Frank A.
Porter, James Otis
Porter, Rosamund Howland (Miss)
Potter, David
Potter, Jesse
Potter, John Sherman
Potter, Philip
Potter, Richard
Pratt, Bronson Alcott
Pratt, Burleigh L.
Pratt, Edmund W.
Box 5. Series IIa. Cards, R-V
Rankin, Elmer D.
Rankin, Preston G.
Raymond, Andrew J.
Reed, Harry E.
Reed, Murray B.
Reed, Samuel A.
Reid, Robert P.
Reilly, Thomas J.
Richardson, Joseph L.
Richardson, Laurence E.
Richardson, N. Ellis
Richardson, Robert L.
Richardson, Wilbur P.
Rider, Harry
Rider, James
Ridley, Clarence M.
Rideout, Percy A.
Riefkohl, Frederick L.
Riefkohl, Rudolph W.
Robinson, Mary (Miss)
Roeder, Nelson R.
Roscoe, Joseph L.
Rose, John A.
Russell, Gardner W.
Ryan, Alphonsus
Ryan, George V.
Ryan, Henry M.
Ryan, John F.
Ryan, Mary B. (Miss)
Ryan, Thomas W. Jr.
Ryan, Timothy J.
Ryan, William C.
Ryan, William G.
S
Sanford, John D.
Santoro, Louis
Sargent, Raymond E.
Saunders, Anton A.
Saunders, Chandler W.
Schuyler, Philip L.
Shaw, Frederick K.
Shaw, Thomas M.
Shepard, Harold B.
Shepley, John
Siegfried, Lawrence B.
Simpson, Charles H.
Simpson, John J.
Small, Sebastian
Smith, Edward N.
Smith, Morgan K.
Smith, Paul Revere
Smith, William Edgar
Smith, William Leo
Snelling, Henry B.W.
Snow, Charles L.
Snow, George B.
Spencer, Charles S.
Stefanelli, Charles
St. Martin, Albert
Stobbart, Frederick
Sullivan, Thomas James
Swain, Roger D.
Swan, Joseph A.
Sweet, Percy S.
T
Tallon, Joseph P.
Thompson, A.L. Neville
Thompson, Henry S.
Thompson, L.H. Neville
Thompson, L. Neville [duplicate??]
Thompson, T.C. Neville
Thorpe, Henry Paul
Titcomb, Francis Rodman
Tobin, George Edward
Tobin, Lawrence Bernard
Tobin, Mary C. (Miss)
Tobin, Walter F.
Tobin, William Joseph
Toomey, Philip H.
Towler, David P.
Towler, Michael J.
U
Upham, Walter A.
Urquhart, George R.
V
Vanderhoof, Philip W.
Varley, George B.
Varley, James B.
Box 6. Series IIa. Cards, W
W
Walcott, John
Walcott, Roger N.
Wallace, John
Walsh, Patrick
Warren, Edward H.
Warren, William Van Voast
Wetherbee, Elmer D.
Wetherbee, Howard E.
Wetterberg, Eleanore
Wheeler, Berkeley
White, Edward Henry
White, Robert James
White, William
Wilkie, Herbert F.
Willare, Edgar L.
Williams, Frederick G.
Wilson, Edwin H.
Wilson, Stark Dana
Winsor, Charles Paine
Winsor, Frederick
Wood, Arthur
Wood, George Godwin
Wood, James Barrett
Wood, Robert A.
Woodworth, Burton Emerson
Woodworth, Randall Nelson
Worcester, Robert J.H.
Wright, Frank E.
Wright, Robert E.
+ Small leatherbound notepad with notes and names for honor roll; most pages blank
Series III: Permanent memorial to war dead, 1923-1924
Box 1, Folder 5
Permanent memorial to war dead (moving of boulder, preparation of bronze tablet listing names, dedication, etc)
Series IV: Memorial Day observances, 1924
Box 1, Folder 6
Memorial Day observances (American Legion, GAR, British Naval & Military Veterans Association of Mass.)
c2019 Concord Free Public Library, Concord, Mass.
Not to be reproduced in any form without permission of the Curator of Special Collections, Concord Free Public Library.
Mounted 18th April 2007. Updated 5 July 2019. rcwh.
Back to Special Collections homepage