CONCORD FARMERS' CLUB RECORDS, 1852-1883
Vault A10 Unit 3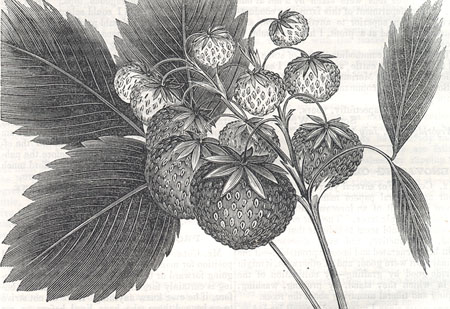 "Jenney's Seedling Strawberry,"
from New England Farmer, July 19, 1851
Not to be reproduced without permission from the Concord Free Public Library.
2.75 linear ft. (13 bound volumes plus 3 containers)
ORGANIZATION AND ARRANGEMENT: Organized into four series: I. Bound records; II. Manuscript essays; III. Printed programs; IV. Clippings. Entries in bound volumes, programs, and clippings arranged chronologically; essays arranged alphabetically by author.
HISTORY: Organization of Concord, Mass., composed largely of working farmers. Formed to provide a forum for discussion of topics of practical value and interest and to encourage experimentation. First assembled at home of Simon Brown (editor of The New England Farmer) on Jan. 30, 1852. Formally established with election of officers and adoption of constitution shortly thereafter. First officers: President, Jacob B. Farmer; Vice President, James P. Brown; Secretary, Simon Brown; Treasurer, Charles A. Hubbard. Meetings were held at the homes of various members. Each meeting included discussion of a previously established topic. An essay prepared by a designated member (the individual at whose home the particular meeting was held) formed the basis for discussion. Twelve standing committees (Manures; Hoed Crops; Root Crops; Grain Crops; Grass Crops; Live Stock; Farm Buildings and Farms; Farming Tools; Reclaiming Waste Lands; Garden Fruits; Ornamental Gardening; Fruit and Ornamental Trees) were established by constitution. Select committees were appointed as the need arose. Members who made major contributions to agriculture and related fields included Simon Brown, Ephraim Wales Bull, John Brooks Moore, and Minot Pratt.
SCOPE AND CONTENT: The series Bound volumes contains material dating from 1852 to 1883, including manuscript minutes of meetings, the constitution (in printed and manuscript forms), clippings about the club and about topics of interest to members (pasted in), manuscript transcripts of essays read at meetings, committee reports, programs for meetings (in manuscript and printed forms), manuscript indexes of subjects covered within the volumes, and manuscript lists of members. The series Manuscript essays includes essays dated 1854 to 1882, and many undated, by forty-six members. There are significant numbers (five or more) of essays by Henry T. Brown, Henry F. French, Marcellus Houghton, Charles A. Hubbard, Hiram Wilkins Jones, John S. Keyes, F.G. Pratt (among Pratt's essays a history of the club), Minot Pratt, Alfred B. Warren, George F. Wheeler, and Elijah Wood (Jr.). There are a smaller number of essays by prominent members Simon Brown, Ephraim Wales Bull, Edward Carver Damon, John B. Moore, and Joseph Reynolds. The series Printed programs contains a near-complete run of listings for the years 1855 to 1883 (each listing including date of meeting, name of member at whose house meeting was held, and topic of discussion). The series Clippings includes dated (1854 to 1872) and undated loose clippings (most containing the texts of members' essays, one containing extracts from the club's records).
SOURCE OF ACQUISITION: Gift of F.G. Pratt, 1887/1888.
PROCESSED BY: LPW; finding aid prepared 6/24/95, revision 8/4/99.
CONTAINER LIST
SERIES 1. BOUND RECORDS (UNBOXED):
Volume 1. 1852-1855
Volume 2. 1855-1857
Volume 3. 1857-1859
Volume 4. 1859-1860
Volume 5. 1860-1861
Volume 6. 1861-1862
Volume 7. 1862-1864
Volume 8. 1864-1866
Volume 9. 1866-1869
Volume 10. 1869-1872
Volume 11. 1872-1875
Volume 12. 1875-1882 [labelled: 1875 to 1881]
Volume 13. 1882-1883 [labelled: 1881 and 1882]
SERIES II. MANUSCRIPT ESSAYS:
Box 1
Folder 1 Barker, C.A.: "Practical Methods of Fertilizing Land".
Folder 2 Barrett, James A.: "Report on Poultry," Mar. 8, 1855.
Folder 3 Bean, L.W.: "Soiling," Feb. 14. 1866.
Folder 4 Brown, B.W.: "Hay & Its Substitutes"; "Management & Raising of Stock"; "Crops of 1871."
Folder 5 Brown, Henry Taylor: "The Cultivation of Potatoes"; "The Grass Crop"; "Weeds: How Shall We Destroy Them"; "Crops and Experiences of 1875"; "Fences--What Changes," Nov. 16, 1876; "Root Crops and Their Value," Dec. 6, 1877.
Folder 6 Brown, J.P.: "Pumpkins & Squash"; "Restoring Worn Out Lands"; "Report: Management of Farms," Nov. 16, 1854; "Premiums by Agricultural Societies," 1860.
Folder 7 Brown, Joshua W.: "Hoed Crops"; "Draining."
Folder 8 Brown, Simon: "Farm Buildings and Farms"; "Culture of Fruit Trees"; "Birds--Their Habits and Value on Agriculture," Nov. 23, 1871; "Soils, Variety," Jan. 24, 1873.
Folder 9 Bull, Ephraim Wales: "Culture of Forest Trees."
Folder 10 Carr, J.F.: "Best Breeds of Cattle for New England." Dec. 23, 1880; "Silos," Jan. 26, 1882.
Folder 11 Clark, A.D.: "Indian Corn As a Field Crop," Feb. 16, 1882.
Folder 12 Currier, B.: "Preparing and Marketing Produce."
Folder 13 Damon, Edward Carver: "Small Fruits."
Folder 14 Damon, Henry T.: "A Summer's Experience in Gardening."
Folder 15 Dennie, F.M.: "Poultry Breeding," Feb. 21, 1878; "The Cultivation of Vegetables," Jan. 12, 1882.
Folder 16 Farmer, Jacob B.: "New Plants"; "Report on Grain Crops," Mar. 2, 1854; "Report of Experiments," Nov. 23, 1854; "Corn," Dec. 15, 1859.
Folder 17 Farrar, W.T.: "The Root Crop."
Folder 18 Flint, Lewis: "Improvement of the Highways," Dec. 29, 1870.
Folder 19 Flint, Waldo: "Milk"; "Carrying Our Produce to Market by Cars"; "Swine: Their Breeds, Management & Feeding."
Folder 20 French, Henry F.: [Ornamental gardening]; [Government legislation regarding agriculture]; "Capital in Agriculture"; "Drainage"; "Subsoiling & Draining," Dec. 8, 1870; "Farm Accounts," [1875].
Folder 21 Hornblower, E.T.: "Education of Farmers' Sons, and Farmers' Daughters."
Folder 22 Hosmer, Joseph: "Manure."
Folder 23 Hosmer, P.H.: "Milch Cows and Our Best Methods of Feeding Them"; "Changes in Farming in the Last Twenty Years," Dec. 1, 1870; [Green Soiling], Dec. 16, 1875.
Folder 24 Houghton, Marcellus: "Muck, Its Value and Its Effects"; "Special Fertilizers & Results of Their Use"; "Manures and Their Application," Jan. 21, 1875; "Trees for Shelter and Ornament," Jan. 6, 1876; "Money," Mar. 2, 1876.
Folder 25 Hubbard, Charles A.: "Position of the American Farmer"; "Grass and Grass Lands"; "Grain Crops"; "Can Farmers Reorganize the Ten Hour System?"; "What Shall We Pay for Farm Labor?"; "Are Farmers' Wives and Daughters Obliged to Work Harder Than the Wives and Daughters of Other Classes?," Dec. 18 [no year given]; "On Renovating Worn-Out Pasture Land," Dec. 2, 1875; "Cows and the Profits of Them," Dec. 21, 1876; "Indian Corn: Its Origin, Culture and Uses," Nov. 8, 1877.
Folder 26 Hunt, George W.: "Sheep-husbandry"; "Barns: Plans and Specifications of Barns, with the Details"; "Opportunities for Young Farmers"; "In-and-In Breeding," Feb. 28, 1878.
Box 2
Folder 1 Jones, Hiram Wilkins: "Reclaiming Wast [sic] Lands"; "Profits of Farming"; "Farming Today Compared with Twenty Years Ago"; "Improvements Made on the Farm"; "The Farmer and the Highered [sic] Man"; "Rotation of Crops," Dec. 15, 1859; "Manure," Nov. 15, 1877.
Folder 2 Keyes, J.S.: "Proper Objects of Agricultural Exhibitions"; "Our Experiences This Season"; "Economy of Small Farms as Compared with the Large Ones"; "Market Fairs," Mar. 9, 1860; "How Shall Our Meetings Be Conducted?," Mar. 31, 1870; "Rail Roads in Their Effects on Farming," Dec. 1873; "Trees for Shelter," Jan. 6, 1876; "Effect of Rural Life on Health, Material Prosperity, and Longevity," Dec. 27, 1876; "What Can Be Done to Improve the Agr. Exhibitions of the State," Dec. 30, 1880; "Road Making," Nov. 17, 1881.
Folder 3 Lang, D.G.: "Care and Diseases of Horses", Jan. 18, 1877.
Folder 4 Moore, John B.: "Probable Future of Farming in Concord"; "Alternation of Crops Reduced to a System"; "Root Crops and their Comparative Value," Feb. 9, 1860; "Hybridization and Other Methods of Improving Plants," Jan. 1, 1874.
Folder 5 Pratt, F.G.: "Health and Disease of the Farmer"; "Winter Food of Stock"; "Drainage of Farm Buildings"; "Disintegration of Rocks in an Agricultural Point of View"; "Recourses of the Farm in Fertilizing Material"; "Insects"; "Are Swine Profitable?"; [Management of stock]; "Peculiarities of Plant Growth"; "Root Crops and Their Cultivation."
Folder 6 Pratt, F.G.: [New fruit varieties], Dec. 9, 1875; "Trees for Shelter," Jan. 6, 1876; "Best Methods of Saving and Applying Barnyard Manures," Jan. 27, 1876; [Milk], Feb. 17, 1876; "Remarks on Cultivation of Market Vegetables," Nov. 23, 1876; "How Shall We Feed for Milk?," Feb. 15, 1877; "History of the Concord Farmers' Club," [1877]; "Insects Injurious to Vegetation," Jan. 17, 1878; "Some New Departures in Agriculture," Feb. 3, 1881; "The Scientific Feeding of Stock," Jan. 19, 1882.
Folder 7 Pratt, Minot: "Our Discussions--What Subjects Shall We Select and How Discuss Them?"; "Muck, Its Value, Use, and Effect"; "Wood-Lands and Forest Trees," Oct. 27, 1870; "Trees of Concord, Indigenous and Introduced," Mar. 6, 1873; "Roast Beef and Plum Pudding, or, the Science of Living and Enjoying Life," Mar. 9, 1876.
Folder 8 Reynolds, J.: "Small Fruits"; "Horse's Hoof"; "Forest Culture," [1861 or 1862].
Folder 9 Rhoades, Samuel H. "Preparation and Marketing Farm Products"; [Pasturelands].
Folder 10 Robbins, S.D.: "Culture of the Farmer".
Folder 11 Shaw, K.A.: "Live Stock," Dec. 18, 1856.
Folder 12 Stacy, A.: "Garden Walks and Borders."
Folder 13 Tarbell, Daniel: [Soiling stock]; "Feeding of Stock," Dec. 13, 1855.
Folder 14 Thomas, J.P.: "Feeding, Breeding, and General Management of Dairy Stock."
Folder 15 Tuttle, C.D.: "Butter and Cheese Factory," Feb. 2, 1871.
Folder 16 Warren, Alfred B.: "Insects Injurious to Fruit Trees and Flowering Shrubs, and the Remedy," Nov. 16, 1871; "Insects Injurious to Vegetation," Jan. 1873; "Insects," Mar. 19, 1874; "Muck is the Method of the Meal Chest," Mar. 26, 1874; "Cultivation of the Farmer," Dec. 31, 1874; [Position of the farmer], Mar. 18, 1875; "In What Ways Can a Farmer Waste His Capital?," Jan. 22, 1880.
Folder 17 Warren, N.H.: "Articles of Food for the Family, Their Preparation".
Folder 18 Wheeler, A.H.: "Soiling,"; "Cultivation of Vegetables"; "Report on Hoed Crops," Feb. 16, 1854.
Folder 19 Wheeler, C.: "Farms and Farm Buildings."
Folder 20 Wheeler, George F.: [Winter occupations of farmers]; "The State's Prison. It's Effect on the Agriculture of Concord"; "Small Fruits, Raised for Family and Market"; "Agr. Books & Papers," Feb. 19, 1874; [Fruit culture], Dec. 9, 1875; "Barnyard Manure," Jan. 27, 1876; "How to Utilize Our Hay," Dec. 20, 1877; "Small Fruit Culture," Jan. 5, 1882.
Folder 21 Wood, Elijah: "Agricultural Experiments"; "Draining"; "Soiling"; "Sheep Husbandry"; "Systems of Winter Feeding Stock"; [Relative profit of keeping winter and summer cows]; "Root Crops," Mar. 9, 1854.
Box 3:
Folder 1 SERIES III. PRINTED PROGRAMS, 1855-1883.
Folder 2 SERIES IV. CLIPPINGS, 1854-1872.
Finding Aid c1995-c1999 Concord Free Public Library.
Back to Special Collections homepage