CONCORD DANCE HOSTESS COMMITTEE RECORDS, 1941-1946
Vault A75, Con. Dan., Unit 1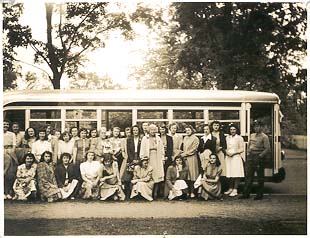 Image not to be reproduced without permission of the Concord Free Public Library
.84 linear ft. (2 containers) plus one oversize folder
ORGANIZATION/ARRANGEMENT: Six series: I. Reports of CDHC, 1942-1946; II. Correspondence, 1941-1946; III. Announcements, notices, and policies, 1942; IV. Publicity and press releases, 1942-1945; V. Ephemera and artifacts, 1942-1944; VI. USO Boston, 1946. Reports and letters arranged chronologically.
HISTORY: The Concord Dance Hostess Committee was formed in April 1942, during World War II, for the purpose of entertaining servicemen (and occasionally women) stationed in the area. The CDHC was a subsidiary of the Committee on Public Safety. Mrs. Herbert (Gladys) Hosmer, of the Committee on Public Safety, oversaw the CDHC, and appointed Joan Miller as its first chairman. The CDHC's leadership, including Miss Miller and succeeding chairmen, was drawn from the young women who volunteered to be part of the group. The CDHC had between 80 and 150 active members during its existence. Generally about thirty young women (referred to in the records as "girls") and three chaperones attended a function, and there were about six functions a month, mostly dances at United Service Organization clubs in Ayer and Shirley, at Fort Devens, and the hospitals at Fort Devens. The young women danced and played games with the men. Occasionally, the CDHC sponsored events in Concord. Hiring a bus for transportation was the group's major expense. Each young woman paid fifty cents per function, and the participants often also contributed food and gifts for the men. Private contributions helped support the committee, and the CDHC also held fund-raising events. The CDHC received funds, beginning in June 1944, from the USO Greater Boston Soldiers and Sailors Committee. The CDHC's chairmen were Joan Miller, Barbara Miller, Julie Ann Foote, Helen Deacon and Gloria Audette (later Gloria O'Brien). The CDHC ceased to function in June 1946, after the war had ended.
SCOPE AND CONTENT: Records, 1941-1946, as follows. Reports, April 21, 1942-March 21, 1946, include dates and descriptions of functions, and numbers and lists of young women and chaperones. Correspondence, June 30, 1941-June 4, 1946, is comprised of two main types of correspondence: correspondence with the service clubs, USOs and hospitals the young women visited; and correspondence in support of these activities. Bulk of correspondence is from April 1942 through 1944. Correspondence before April 1942 was to Mrs. Gladys Hosmer, thanking her for entertaining servicemen in Concord. There is also a report from Mrs. Hosmer dated 9/20/41, in which she describes support of Concord citizens to servicemen at Fort Devens, including the two hospitals there. Correspondence with places the young women visited includes Service Clubs Number 1 and Number 3; The USOs in Shirley and Ayer; and Lovell General Hospital and Station Hospital, both at Fort Devens. There are newspaper clippings from the Fort Devens Digest, and a program for a USO Fort Devens Area Conference 11/12/44. There is also a policy letter for game and dance parties at Lovell General Hospital. Supporting correspondence includes letters to the Federal Security Agency and Lovell Bus Lines to arrange bus transportation for the women (gasoline was rationed and special permission had to be obtained); thank-you letters from CDHC chairmen to donors of money and facilities and to chaperones; general correspondence relating to CDHC; and correspondence in 1944 with the Greater Boston USO to request funds to continue the program. There is one set of meeting minutes for 7/20/44. (These are the only minutes in the collection.) A letter dated 1/10/43 from Barbara Miller to Marvin Taylor describes the personnel and functions of the CDHC. Announcements, notices and policies consist primarily of rules of conduct for the young women. Publicity and pressreleases include typed submissions to The Concord Journal, and newspaper clippings of articles and photographs from the Fort Devens Digest. Ephemera and artifact include photographs, tickets, a play program, a government brochure cautioning civilians not to speak about what they know of the war effort in case of spies, a list of Concord men in the service, a "War Price and Rationing" pin, and a large USO certificate. USO Boston contains the USO Boston Annual Report for 1946, presented to Gloria Audette, which describes USO activities from 1940-1946.
SOURCE OF ACQUISITION: Gift of Mrs. Gloria (Audette) O'Brien, via the Concord Museum, 1999.
NOTES/COMMENTS: Enclosures have been kept with correspondence and include news clippings. Accessioned March 28, 2000; AMC 038.
PROCESSED BY: Margaret Anderson; finding aid prepared 4/11/00.

CONTAINER LIST
Series I. Reports of CDHC, 1942-1946
Box 1, Folder 1
4/21/42-3/31/4
Box 1, Folder 2
4/7/43-3/13/44
Box 1, Folder 3
3/18/44-3/21/46

Series II. Correspondence, 1941-1946
Box 1, Folder 4
Service Club Number 1, Fort Devens, 4/14/42-4/30/46
Box 1, Folder 5
Service Club Number 3, Fort Devens, 9/12/45-6/4/46
Box 1, Folder 6
USO, Shirley, 6/25/42-1/9/45
Box 1, Folder 7
USO, Ayer, 4/16/42-1/18/45
Box 1, Folder 8
Lovell General Hospital, Fort Devens, 1/23/42-9/25/45
Box 1, Folder 9
Station Hospital, Fort Devens, 5/7/42-6/6/43
Box 1, Folder 10
Federal Security Agency, 5/6/42-8/23/45
Box 2, Folder 1
Lovell Bus Lines, 5/27/42-4/30/46
Box 2, Folder 2
Donors, chaperones, committee advisors, 5/19/42-10/16/43
Box 2, Folder 3
General, including letters to Mrs. Hosmer, meeting notes, program, 1/10/42-4/25/44
Box 2, Folder 4
Letters from and to Gloria Audette, 7/20/44-3/30/46
Box 2, Folder 5
Letters from and to Gladys Hosmer, including her report of 1941 activities, 6/30/41-9/45
Box 2, Folder 6
USO Greater Boston Soldiers and Sailors Committee, including 1944 Annual Report, 3/28/44-4/23/45

Series III. Announcements, notices and policies, 1942
Box 2, Folder 7
7/42, 8/42, [n.d.]

Series IV. Publicity and press releases, 1942-1945
Box 2, Folder 8
3/27/42-2/18/45

Series V. Ephemera and artifact, 1942 & 1943
Box 2, Folder 9
Ephemera, 4/11/42-2/12/43
USO certificate stored outside box, in oversized folder
1 item (pin) boxed separately, stored in Box 2

Series VI. USO Boston, 1946
Box 2, Folder 10
Annual Report, 1946


MATERIALS OUTSIDE MAIN SEQUENCE OF FOLDERS:
Unfoldered, boxed separately:
Pin removed from Box 2, Folder 9
In oversize folder, outside Box 2:
USO certificate


Finding Aid c2000 Concord Free Public Library.
Back to Special Collections homepage