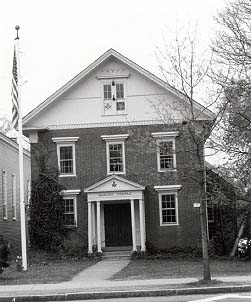 EXTENT: 51 items
ORGANIZATION: In two series. SERIES I: Summary statements, 1820; SERIES II: Receipted bills, 1820. The series Receipted bills is arranged alphabetically by last name of parties providing materials or services.
HISTORY: Located in Monument Square, in the Centre District of the public school system of Concord, Massachusetts, the brick schoolhouse was built in 1820 to replace a wooden predecessor, which burned on December 31, 1819. Requiring meeting space and hoping to use the new brick school building for the purpose, the Freemasons took an active interest in its construction. The school, sometimes called "Town School," was on the first floor, the Freemasons' meeting hall on the second. The school served as a grammar school and a forerunner of the town high school. Henry David Thoreau briefly taught at it in 1837 but—unwilling to administer corporal punishment—quickly resigned. The building was converted into a fire house in 1851. It is still standing today as Masonic Hall.
SCOPE AND CONTENT: The collection contains summary accounts and receipted bills (all dated 1820) for materials and services procured by the Town of Concord in building the brick school building on Monument Square. The original wrapper for the accounts and receipts is included in the collection.
PROCESSED BY: Michelle Shea; finding aid completed March 25, 2008.
CONTAINER LIST
SERIES I: SUMMARY STATEMENTS, 1820:
Folder 1:
Summary statements, 1820
SERIES II: RECEIPTED BILLS, 1820:
Folder 2:
Adams, John
Folder 3:
Balcom, Thaddeus
Barrett, Samuel
Bellows, Ephraim
Benjamin, Thomas
Biglow, Asa
Biglow, Jotham
Bragg, Nahum
Brown, Reuben
Burr, Samuel
Folder 4:
Carr, Andrew
Clark, Joseph
Cole, John
Cook, Samuel
Folder 5:
Davis, Josiah
Folder 6:
Fuller, Robert
Folder 7:
Hayward, Reuben
Hazeltine, Amos
Hodgman, John
Hosmer, Nathan
Howe, James
Hubbard, Thomas
Folder 8:
Jarvis, Francis
Folder 9:
Lincoln, Jackson
Folder 10:
Moore, Luther
Folder 11:
Patten, Rufus
Potter, Samuel
Priest, John
Proctor, Gaius
Folder 12:
Rogers, Luke
Folder 13:
Shattuck, Daniel
Stacy, John
Folder 14:
Underwood, Joseph
Folder 15:
Wood, Bradly
Wood, Samuel
Wood, Bradlee (Bradly) & Co.
c2008 Concord Free Public Library, Concord, Mass.
Not to be reproduced in any form without permission of the Curator of Special Collections, Concord Free Public Library.
Back to Finding Aids Page

Back to Special Collections homepage

Home
Mounted 26th March 2008. rcwh.