CONCORD, MASSACHUSETTS, 350TH ANNIVERSARY CELEBRATION PHOTOGRAPH COLLECTION, 1985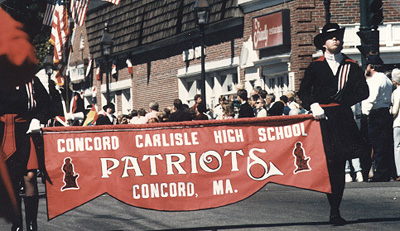 Photograph by Mark E. Connelly
Vault A15, Unit B4
EXTENT: 2 album volumes and 59 loose prints (foldered), in one box.
ORGANIZATION: Organized into two series: I. Albums. II. Loose prints.
HISTORY: A committee of nine was appointed in 1983 to plan the 1985 Sept. 11-15 public celebration in Concord of the 350th anniversary of the town's incorporation. Officers of the Committee: Richard C. Frese, Jr., Chair; Edgar W. Tucker, Vice Chair; Gail M. Marabello, Secretary. Subcommittees: Ball; Finance; Parade; Protocol and Hospitality; Public Relations; Town Gift; Public Health and Safety. The celebration was funded by the Hapgood Wright Semi-Centennial Trust Fund, private contributions, the sale of tickets and commemorative items, and municipal appropriations. Advance public interest was generated by logo and theme contests sponsored by the Public Relations Subcommittee and through the publication of a commemorative calendar. Ceremonies included an ecumenical service with an address by Rev. Peter Gomes (Professor of Theology, Harvard University ), a salute ceremony and flag raising, a civic ceremony with David Little as keynote speaker, a citizens' luncheon, a parade with Elizabeth Babcock as Grand Marshal, and a ball. Events ancillary to the official public celebration included the presentation of Our Town by the Concord Players, a quilt exhibition at the Town House by the Concord Piecemakers, and the publication by the Concord Historical Commission of Renee Garrelick's Concord in the Days of Strawberries and Streetcars . The final report of the committee and subcommittees appeared in the annual printed municipal report for 1985.
SCOPE AND CONTENT: Collection consists of images of the 1985 350th anniversary celebration of the incorporation of Concord, Mass. One of the two albums in the collection contains images by Mark E. Connelly, the other photographs by Alva Morrison and Miriam Coombs. The fifty-nine loose photographs (color and black and white) are by Alice Moulton, Concord Journal photographers (Larry Crowe, Gus Kayafas, Ann Ringwood, Mike Segar), Mark E. Connelly, Miriam Coombs, Martin Studio, and Alva Morrison.
SOURCES OF ACQUISITION: Presumed multiple.
ASSOCIATED COLLECTION: Concord 350th Anniversary Committee Records, 1984-1985.
PROCESSED BY : LPW; finding aid prepared 07/28/95 ; prepared for mounting on the Web by CM, 0 7/02/06.
CONTAINER LIST
SERIES I. ALBUMS (unfoldered in box):
Album of photographs by Mark E. Connelly.
Album of photographs by Alva Morrison and Miriam Coombs.
SERIES II. LOOSE PRINTS:
Folder 1:
Photographs by Alice Moulton (black and white; 4 items).
Folder 2:
Photographs by Concord Journal photographers (Crowe, Kayafas, Ringwood, Segar; black and white; 42 items).
Folder 3:
Photographs by miscellaneous photographers (Connelly, Coombs, Martin Studio, Morrison; black and white and color: 13 items).
c2006 Concord Free Public Library, Concord, Mass.
Not to be reproduced in any form without permission of the Curator of Special Collections, Concord Free Public Library.
Mounted 20 Dec. 2006. rcwh.
Back to Special Collections homepage