A Gentle Death: Tuberculosis in 19th Century Concord
by Constance Manoli-Skocay
Staff Assistant, William Munroe Special Collections, Concord Free Public Library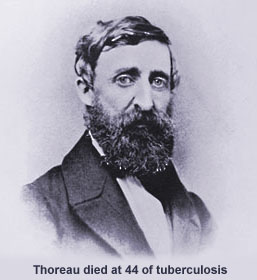 Tuberculosis is something we don't often think about anymore. But 19th century Concordians were frighteningly aware of the symptoms: the flushed cheeks, the bright eyes, fever, loss of appetite, and most of all, the cough. It was feared, but regarded with a peculiar resignation because it was so unavoidable. It was dreaded, but at the same time romanticized. It was a disease that reflected the culture of its time: the victim slowly, gracefully fading away, transcending their corporeal body, their immortal soul shining through.
In reality, tuberculosis, commonly called consumption in the 19th century, killed more people in New England, particularly in the Boston area, than any other disease. It affected the poor more often than the wealthy, females more than males, and people of all ages. Anyone could be a victim, but it was especially prevalent among young adults, cruelly striking down those in the prime of their lives.
Unfortunately for 19th century New Englanders, the disease was not well understood. Its cause would not be discovered until 1882. In the meantime, beliefs about the disease reflected the cultural and scientific thinking of the time. It was thought that it might be a vaguely environmental, "something in the air"; but more likely caused by the victim's own constitution, either physiologically, psychologically, or both. It was not believed to be contagious, so those suffering from the disease were not avoided.
Recommended steps toward prevention included fresh air, a wholesome diet, exercise, and healthy manual labor. In "Consumption in America," a series of three articles published in the Atlantic Monthly in 1869, Dr. Henry Bowditch theorized that damp soil was the main cause of consumption. He advised towns to drain wet areas and families to occupy only sunlit homes sited on dry soils.
The disease affected Concordians in two ways: by the sheer number of people who contracted it and by the way it descended upon certain families. Thanks to the record- keeping and analysis done by men like Lemuel Shattuck, Ezra Ripley, and Edward Jarvis, there are statistics on deaths in Concord which detail dates, ages, and causes. These records show that consumption was the leading cause of death in Concord in the first half of the 19th century. The same was true in neighboring towns: Acton, Billerica, Bedford, and Carlisle all exhibiting the similar results. Tuberculosis was everywhere.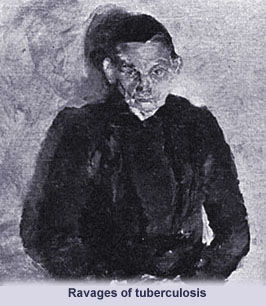 Concord families unduly affected by consumption included the Barretts, Buttricks, Melvins, Heywoods, and Hosmers. In these families, death from consumption took place both within as well as across generations. In the records can be found family tragedies, such as the case of Lucy and Lemuel Phillips, sister and brother, who died within a month of each other in 1802. She was 19 and he was 22. The Dudley family lost Rebecca in 1803 (age 19), Mary in 1804 (age 26) and their father, Samuel, in 1806. Mary E. Wright died in January of 1837 at age 42 and her daughter, Mary, in April at age 16. Cases like these are found throughout the records. Caring for each other and simply living in the same home were enough to spread consumption through a family.
Some of Concord's most revered families fell victim to tuberculosis. Both Emerson and Thoreau came from what were recognized as "consumptive" families- those with many cases. The first known case in the Emerson family was that of Reverend William Emerson, Ralph Waldo's father, who had the disease when he died in 1811 at the age of 42. Ruth Haskins Emerson went on to raise their children herself, and by her hard work the Emerson brothers grew to adulthood and went on to attend Harvard College. However, all had symptoms of tuberculosis. Both Edward and Charles died of it while in their late twenties. Waldo appeared to have symptoms of the disease at various times in his life, once writing of having "a mouse gnawing at his chest," but died of an unrelated illness at age 79.
Emerson's marriage to Ellen Tucker was prematurely ended by tuberculosis. Their relationship had a storybook quality to it: two gifted young people in the midst of passionate first love, a world of opportunity awaiting them. She was just 16 when they met, attractive, intelligent, and energetic, and within a year they were engaged. But both romantically and tragically, she was also from a consumptive family and already had the disease. They were married in September of 1829 and she died on February 8, 1831, only nineteen years old. Their relationship had been intensified by the knowledge that it would be necessarily brief. "My angel is gone to heaven this morning and I am alone in the world and strangely happy," he wrote to his Aunt Mary Moody Emerson two hours after Ellen had died. Her struggle was over. His second wife Lydian would later graciously name their first daughter after Ellen.
Henry David Thoreau succumbed to tuberculosis at the age of 44. For Thoreau, too, it was a family illness. His grandfather had died of it in 1801, and when Henry's father died in 1859 his symptoms were consistent with tuberculosis. His brother John was living with it, though tetanus took him first, and their sister Helen became a victim in 1849 at age thirty-six. Henry himself had developed a severe cold in the early winter of 1860 that kept him housebound and diminished his productivity. The following spring he took a trip to Minnesota (at the time thought to be a favorable place for recovery from respiratory problems), but when he returned two months later his health had further declined. He continued to work on various projects and papers, but he was failing. With his sister Sophia by his side, he died on the morning of May 6th, 1862.
Was there a citizen in 19th century Concord who had not been touched by the loss of a friend or family member to consumption? Sisters, mothers, sons, daughters, fathers were lost to this omnipresent disease. It was an intimate, if unwelcome, part of everyone's life. And not until the advent of antibiotics could the lurking fear of consumption be put to rest.
Editor's Note: Tuberculosis is not gone if forgotten. Since 1985, TB has slowly come back in the US. Though the number of cases reported in the US has been dropping 1992, there were more than 16,000 cases reported in 2000. See the Center for Disease Control and Prevention to find out more.
Sources:
Bowditch, M.D. Henry I. "Consumption in America," Atlantic Monthly 23 (1869): 51 (pt. 1), 177 (pt. 2), 315 (pt. 3).
Caldwell, Mark. The Last Crusade: The War on Consumption, 1862-1954. New York: Atheneum, 1988.
Dormandy, Thomas. The White Death: A History of Tuberculosis. New York: New York University Press, 2000.
Jarvis, Edward. Traditions & Reminiscences of Concord, Massachusetts, 1779-1878, edited by Sarah Chapin. Amherst: The University of Massachusetts Press, 1993.
Jarvis family account book,1798-1840, which includes records of Concord deaths, 1778-1850, originally recorded by E. Ripley, H. Goodwin, and B. Frost, transcribed by Capt. Francis Jarvis & daughters Louisa & Lucy. (Courtesy of the Concord Free Public Library Special Collections).
Myerson, Joel, editor. The Selected Letters of Ralph Waldo Emerson. New York: Columbia University Press, 1997.
Richardson, Jr. Robert D. Henry Thoreau: A Life of the Mind. Berkeley: University of California Press, 1986.
-- Emerson: The Mind on Fire. Berkeley: University of California Press, 1995.
Photos: Top - Special Collections, Concord Free Public Library.
All others - courtesy of ArtToday.

Article appeared in the Concord Magazine, by Hometown Websmith, Concord, Mass., Winter 2003.
©2015. William Munroe Special Collections, Concord Free Public Library, Concord, Massachusetts.
Back to the Special Collections homepage