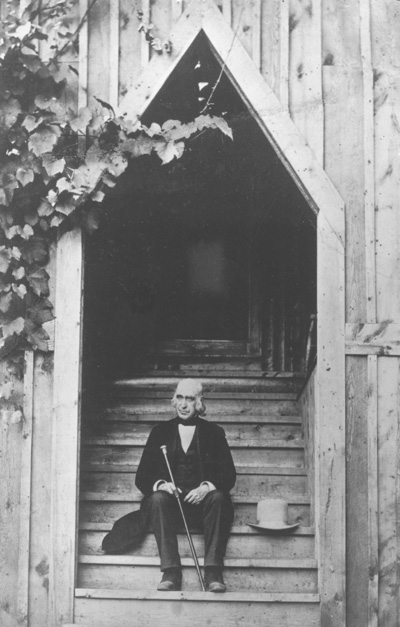 Photographic print in CFPL Photofile. Source undetermined.
This photograph shows Bronson Alcott on the steps of Hillside Chapel, the lecture hall constructed in 1880 on the Orchard House property for sessions of the Concord School of Philosophy. Founded by Alcott, the school opened in 1879 (the lectures for that year were held in Orchard House) and was managed with the assistance of William Torrey Harris and Franklin Benjamin Sanborn. It featured yearly summer programs of lectures primarily on literature, education, and philosophy. The final session was held in 1888, the year of Alcott's death. Alcott, Harris, Sanborn, Elizabeth Peabody, Emerson, Ednah D. Cheney, Julia Ward Howe, and Thomas Wentworth Higginson were among the school's many speakers.
Next Image Previous Image
Back to Essay
Back to Table of Contents
Special Collections Home
Library Home
This image may not be reproduced in any form, including electronic, without permission from the Curator of the William Munroe Special Collections, Concord Free Public Library, Concord, Mass.