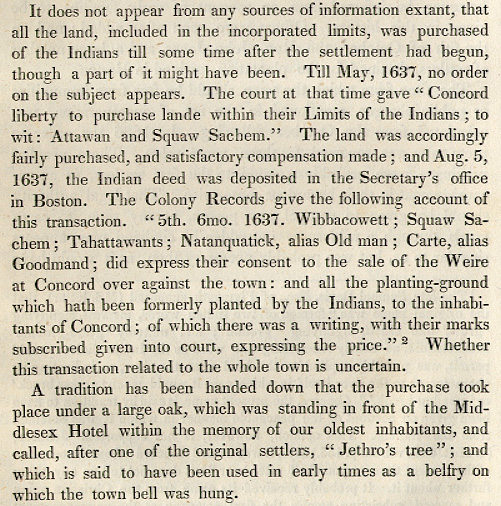 1. Lemuel Shattuck on the Site of the Middlesex Hotel
Historian and social statistician Lemuel Shattuck - a Concord resident during the 1820s and 1830s, and brother of storekeeper Daniel Shattuck - wrote the first comprehensive history of Concord. His A History of the Town of Concord, Middlesex County, Massachusetts, from Its Earliest Settlement to 1832 was published in 1835, shortly after the town's celebration of the two hundredth anniversary of its incorporation. The passage from it here shown refers to the August 5, 1637 deposit of a deed recording the purchase of land by Concord's English settlers from the Native Americans. The document was signed on what would much later become the Middlesex Hotel site.
The date of the deed's filing as cited by Shattuck from the Colony Records is presented in old, or Julian, style, reflecting a calendar in which the year began on March 25th, as opposed to new style dating (based on the Gregorian calendar), in which the year begins on January 1st. Britain adopted the new style calendar in 1751, and implemented it on January 1, 1752.