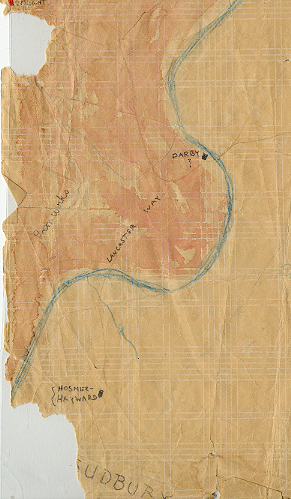 1. Early West Concord
Before the existence of the Damon Mill, there were a number of mills and small manufactories in the area we now call West Concord. The current of the Assabet River encouraged the growth of water-powered industries, as the more slow-moving Sudbury and Concord Rivers did not. The Concord Iron Works was established along its banks in 1660. A branch of the Saugus Iron Works, it covered hundreds of acres along the river, extending into Acton and Sudbury, and included the 1,000 acre Iron Works Farm. In this operation, bog ore was mined from local swamps and processed at the forge, located on or near the site of the Damon Mill. Bar iron, the resulting product, was used in everyday objects like nails and hinges, or as Lemuel Shattuck called them, "the customary purposes of life." Not long after 1700 the iron works was abandoned, probably as a result of the inferior quality of the ore.
George Heywood began operating a sawmill on a brook near the river around 1664, later adding a grist mill, which was used for grinding corn into meal. He ultimately met his end in the river that provided his living, drowning in the Assabet in 1671. Before 1700 Edward Wright built a fulling mill, which he also used as a sawmill. Fulling is the final step in the process of weaving cloth, in which the cloth is cleaned, stretched, and smoothed. By 1715 Lot Conant was running a grist mill, which his descendents continued to operate throughout most of the eighteenth century.
The image on this page shows the West Concord section of a map of the town around 1690, hand-drawn by local historian Ruth Robinson Wheeler.