Gleason's Concord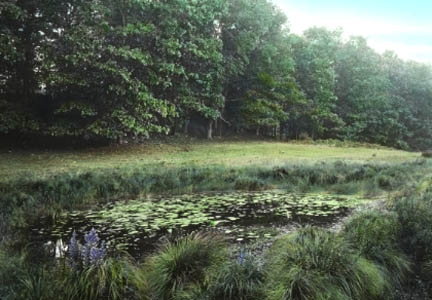 Pool in Conantum Pasture
Permission to reproduce these images in any form, including digital,
must be obtained from the Concord Free Public Library.
The Concord Free Public Library's Gleason Holdings
The Broad Scope of Gleason's Work
The Importance of Thoreau and Concord to Gleason
Gleason's Life, in Brief
For Further Reading
Acknowledgements

The Concord Free Public Library holds a rich and extensive archive relating to Herbert Wendell Gleason, an early 20th century American landscape photographer and environmentalist. The library's Special Collections include close to 7,000 Gleason negatives on glass and film, four cartons of documentation relating to the negatives, the only known surviving original Gleason slide lecture ("Thoreau's Country"), albums of Concord- and Thoreau-related images compiled by the photographer himself, Gleason correspondence and lecture notes, and printed and archival items containing photographs by or information about him.
Gleason's negatives were acquired by the library in two separate acquisitions. One group (about 700 images, all of Concord) was purchased in 1954 directly from Roland Wells Robbins--historian, archaeologist, and excavator in 1945 of the foundation of Thoreau's cabin at Walden Pond. The other group (about 6,000 images, some of Concord, the remainder of locations across the United States) was purchased in 1997 from Nick Mills and Heather Conover, who had bought them from Robbins in 1980.
These negatives--meticulously captioned and dated by the photographer--present tremendous and hitherto largely unrealized research possibilities. They constitute important primary documentation of Gleason's life and work, the meaning of Thoreau and Concord to the photographer, and the history of photography, the landscape, environmentalism, and the National Park Service. In 1997 and 2000, the library's Special Collections received grants from the National Historical Publications and Records Commission to arrange, describe, and create access to these collections. Gleason's Concord has been prepared to mark the completion of this work and to celebrate the availability of thousands of Gleason images for research purposes.
Top
Herbert Wendell Gleason's photographic work was informed by his commitment to preservation of the natural world. The Christmas card that he and his wife sent in 1930 succinctly expressed the connection between Gleason's photography and his environmental advocacy. Gleason illustrated the card with one of his own images, urged recipients in the greeting within to avoid using holiday evergreens that had been harvested from the wild without thought for the future of the species, and signed it "Yours, for the Conservation of Natural Beauty ..." This was no mere formal salutation. It was a statement of the unifying environmentalism that encompassed the various facets of the man and the many subjects of his photography.
Gleason has long been recognized as a major American landscape photographer. In his A Certain Slant of Light: The First Hundred Years of New England Photography, photographic historian William F. Robinson described Gleason as "the greatest, and certainly the most prolific, New England nature photographer." Although Gleason photographed Massachusetts (particularly Concord), Maine, New Hampshire, and Connecticut extensively, he was much more than a photographer of New England. He photographed places in New York State, Minnesota, Wyoming, Colorado, Utah, Arizona, California, Washington State, Alaska, and Canada as well. Even Ansel Adams, the great photographer of the American West, acknowledged the value of Gleason's wide-ranging work in raising public consciousness of the landscape.
As valuable as Gleason's photography is for documenting the unspoiled natural beauty of North America, it is arguably also impressive as an artistic achievement, although it has not generally been regarded as such. Much of Gleason's work is breathtakingly dramatic. All of it is rich in visual detail. Many images reveal the photographer's remarkable sense of composition. William F. Robinson characterized Gleason's distinctive synthesis of natural detail into a balanced whole as "the ability of suggesting order while retaining chaos."
Spectacular in its portrayal of nature untouched, Gleason's work is not without human interest as well. Gleason took photographs of well-inhabited cities and towns--Provincetown, Boston, New York City, Philadelphia, Santa Barbara, Los Angeles--as well as of unspoiled landscape features. Such images reflect on business, industry, architecture, and fashion. Some document the modes of transportation relied upon in the early 20th century--horse and buggy, bicycle, streetcar, automobile, train, boat. Others show groups of people enjoying recreational activities--ice-skating, swimming, hiking, snow-shoeing.
Some of Gleason's images of rugged wilderness include people--notably, a 1905 shot of a Sierra Club expedition up Mount Rainier, the landscape appearing all the more vast for the long line of tiny figures passing through it. Gleason produced a number of sensitive portraits of individuals, both the well-known and the obscure. Moreover, some of his Western, Alaskan, and Canadian images show Native Americans and the evidence of their cultures--their dwellings, canoes, and totem poles--against the background of encroaching development.
Top
The particular fascination that Gleason holds for Thoreauvians derives from the photographer's sympathy with the early environmentalism of Henry David Thoreau and his almost forty year quest to capture the places about which Thoreau had written. From 1899 to 1937, Gleason made numerous photographic trips to Concord, purposefully seeking out the landscape features, the plants, and the wildlife that Thoreau had known. As wide-ranging as Gleason's work was, there is strong evidence that Thoreau's Concord was the photographic subject to which he felt the most personally attached.
The Boston publishing firm of Houghton Mifflin asked Gleason to provide photographs for its 20-volume 1906 Walden and Manuscript Editions of Thoreau's writings. Gleason's work also illustrated Houghton Mifflin's 1917 Through the Year with Thoreau (a volume of selected passages from Thoreau). But Gleason's interest in Thoreau and Concord extended far beyond any publishing involvements. The photographer shot Concord images for other purposes as well, among them the compilation of albums and the preparation of illustrated slide shows (in particular, "Thoreau's Country," originally put together for the 100th anniversary of Thoreau's birth).
Gleason himself provided insight into his affinity for Thoreau. He wrote in the preface to Through the Year with Thoreau: "Nothing more deeply impresses itself upon the mind of one who reads Thoreau's Journal sympathetically, especially if that reading be in the atmosphere of the scenes which he describes, than the conviction that Thoreau possessed a profoundly religious nature. He would not have chosen the adjective, but it is abundantly evident that his walks afield were to him religious excursions, seasons of communication with the Unseen." Both Thoreau and Gleason responded to the landscape with a spirituality evident in the work of each. Both achieved and expressed this spirituality--this transcendent sense of the divine--through careful attention to minute natural detail, independently of institutional religion.
In his preface to Through the Year with Thoreau, Gleason also commented on the similarity of Concord in his own time to the Concord that Thoreau knew: "There are ... many sections of Concord which remain in practically the same state of wildness which made them so attractive to Thoreau, and one can easily find the same birds and flowers and witness the same phenomena of the advancing seasons. Best of all, Walden Pond--the one locality in Concord which is most closely associated with Thoreau in the public mind--is little changed from what it was when Thoreau built his ... hut by its shore and there lived the ... life of which he has given so full an account in Walden." The fact that Concord had in some respects changed little from Thoreau's time makes Gleason's work a window into the landscape that held so much meaning for Thoreau.
In tracking down Thoreau's haunts, Gleason was something of a Thoreau scholar as well as a photographer. He painstakingly identified and located the many places to which Thoreau had referred by his own names. Gleason used Thoreau's writings as his starting point. He consulted the 1852 and 1856 Walling maps of Concord and the extensive collection of manuscript Thoreau surveys in the Concord Free Public Library. He made many field trips, retracing Thoreau's footsteps through close reference to the author's own written accounts of his wanderings. He talked to Concord residents (Frank Sanborn, John Shepard Keyes, and Edward Waldo Emerson among them) who remembered Thoreau. Thoreauvians will always be indebted to Gleason for his careful research in preparing the map of Thoreau localities included in Volume 20 of the 1906 Manuscript and Walden Editions of Thoreau's writings.
Top
Herbert Wendell Gleason was born in Malden on June 5, 1855. He was educated at Williams College (Class of 1877), the Union Theological Seminary (1878-1879), and the Andover Theological Seminary (graduated 1882). His first career was in the Congregational ministry, to which he was ordained in 1887. He served as minister in Pelican Rapids, Minnesota, from 1883 to 1885, then as pastor at the Como Avenue Church and the St. Anthony Park Church in Minneapolis, and then, for over a decade, as a supply minister. From 1888 to 1899, he edited and contributed to the Northwest Congregationalist (later known as The Kingdom). In 1899, he made a major life change, permanently retiring from the ministry and taking up photography as his primary occupation. He practiced this second vocation until shortly before his death in 1937.
Gleason married Lulie Wadsworth Rounds--his childhood sweetheart--in 1883. Musically gifted, Mrs. Gleason was a talented woman in her own right. Moreover, she became an integral part of Gleason's life as a working photographer. She was her husband's traveling companion as well as his preferred colorist for tinting the lantern slides for his slide lectures. The Gleasons had no children.
In 1899, the couple moved from Minnesota back to Massachusetts, to Boston. Working as a court stenographer to make ends meet, Gleason began to make photographic trips to Concord in the fall of that year. Although Concord provided only one of Gleason's many subjects, it drew him back again and again throughout the rest of his life. He photographed many locations repeatedly, from different angles, in various seasons of the year, at different times of day. His is arguably the most comprehensive, thoughtful, coherent photographic documentation of the Concord landscape over an extended period of time.
Gleason provided images to illustrate Houghton Mifflin's 1906 Walden and Manuscript Editions of Thoreau's writings and the company's 1917 Through the Year with Thoreau. The connection with Houghton Mifflin was a significant source of income for him.
Appointed Interior Department Inspector by Stephen Mather (first Director of the National Park Service on its establishment in 1916, Gleason's close friend, and the subject of some of his photographs), Gleason was important in the national park movement. He made expeditions to photograph the country's established national parks and areas under consideration as possible parklands. Loaded down by the quantity of heavy equipment that necessarily encumbered an early 20th century photographer, he traveled to the Rockies, the Sierras, Yellowstone, Bryce and Zion Canyons, the Grand Canyon, the Pacific coast, Mount Rainier, and Alaska. He also photographed the Canadian Rockies. Gleason's 1921 Yellowstone images were used to protect the park from irrigation interests. Others were used by Mather in recommending the creation of new parks.
Gleason's western photographs were used in lectures by Mather, by the Park Service, and--most extensively--by Gleason himself. A printed listing of illustrated lectures that Gleason offered ("For terms, etc., address Herbert W. Gleason, 83 Pinckney St., Boston, Mass.") included thirty-three programs, among them "Our Great National Parks," "Yellowstone Park," "Yosemite Park and the Big Trees," "Glacier Park," "Mt. Rainier and Crater Lake Parks," and "Rocky Mountain and Mesa Verde Parks." In 1908, he gave a slide lecture entitled "Glories of the Sierras" to the Appalachian Mountain Club in Boston.
Gleason lectured not only on Concord and Thoreau and on the national parks, but also on the other subjects of his photography--on John Muir, on the Spanish missions of California, and on the trees and wild flowers of New England. Moreover, the photographer was a friend of horticulturist Luther Burbank, whose experiments with plants he photographed and presented in a slide lecture.
Like his involvement with Houghton Mifflin, Gleason's slide lecturing was lucrative. In a 1913 statement of his terms, he listed his per-lecture fee as between $75 and $100--good money at the time.
Gleason generated income in a variety of other ways. Some of his photographs appeared in National Geographic, some illustrated the writings of John Muir. He wrote for periodical publication. He took photographs of homes and gardens as work for hire for the well-heeled of New England, New York, and New Jersey. During the 1920s and 1930s, he was a photographer for the Arnold Arboretum in Boston. And he compiled albums of his prints for sale to specific institutions.
Lulie Rounds Gleason died in 1934, the photographer himself on October 4, 1937.
Herbert Wendell Gleason left behind a rich legacy in the form of thousands of negatives taken during his working life as a photographer. In the late 1940s, these negatives passed from the A.D. Handy Company, which had come into possession of them under circumstances now unclear, to archaeologist Roland Wells Robbins, who purchased part of them for a pittance and was given the remainder soon after. Robbins maintained the collection for decades, providing individual images for use in publications and selling off several portions of the collection to institutional buyers. He sold what remained of the collection to Nick Mills and Heather Conover in 1980. Mills and Conover sold off one group of the negatives before the Concord Free Public Library purchased the rest--about 6,000 negatives--from them in 1997.
The odyssey of Gleason's negatives since the photographer's death has ended at the Concord Free Public Library, where their recent grant-funded organization, description, and microfilming have opened them up for research use. These negatives constitute a rare resource--one of the richest coherent photographic archives in the country, well identified by the photographer himself. Gleason's vision as a photographer and an environmentalist can now be examined through the strongest kind of documentation--the photographer's cumulative creative output over the course of his entire professional life.
Top
Cooper, Ed. "H.W. Gleason (1855-1937)," Backpacker 1.3 (Fall 1973), 44-49.
Crossette, George. The Western Wilderness of North America. Photographs by Herbert W. Gleason. With a Foreword by Stewart L. Udall. Barre, Mass.: Barre Publishers, 1972.
Robinson, William F. A Certain Slant of Light: The First Hundred Years of New England Photography. Boston: New York Graphic Society, 1980.
Schwie, Dale. "Herbert W. Gleason: A Photographer's Journey to Thoreau's World," The Concord Saunterer N.S. 7 (1999), 151-165.
Thoreau Country. Photographs and Text Selections from the Works of H.D. Thoreau by Herbert W. Gleason. Edited by Mark Silber. Introduction by Paul Brooks. San Francisco: Sierra Club Books, 1975.
Wilson, Leslie Perrin. "The Herbert Wendell Gleason Negatives in the Concord Free Public Library: Odyssey of a Collection," The Concord Saunterer N.S. 7 (1999), 175-199.
Top
Gleason's Concord was prepared by the staff of the Concord Free Public Library Special Collections (Leslie Wilson, Joyce Woodman, and Robert Hall) as both a gallery display and this on-line exhibit. The gallery version was designed as a component of the collaborative four-venue exhibition, "Yours, for the Conservation of Natural Beauty": The Landscape Photography of Herbert Wendell Gleason, mounted at the CFPL, the Concord Art Association, the Minute Man National Historical Park, and Fruitlands Museums throughout the Fall of 2002.
Virginia McIntyre and David Prifti of the Concord Art Association, Nancy Nelson, Lou Sideris, and Melissa Saalfield of the Minute Man National Historical Park, and Mike Volmar, Ellen Harasimowicz, and Maud Ayson of Fruitlands Museums all worked hard on the collaborative exhibition. Dale and Kay Schwie, Frank Gohlke, and Brian Donahue were gracious in their willingness to participate in the related lecture series.
Thanks are due to the following for assistance and contributions of various kinds in the preparation of Gleason's Concord (both the gallery and the on-line display): Anderson Photo (particularly Tim Atkins and Mark Whitney); David Joyall of the Northeast Document Conservation Center in Andover; Deborah Bier of concordma.com and Windfall; Dave Dudley; Annette Ermini; Maurice Brodeur and Andrea Taylor; Rev. John Pastor; Barbara Powell; the Concord Free Public Library Corporation (particularly Melissa Saalfield); Luisa Granitto; Special Collections volunteers Reed Anthony, Bette Aschaffenburg, Marie Eaton, Gretchen Frasier, Jiro Ishihara, Constance Manoli-Skocay, and Jim Stoessel; and Barbara Powell's "Tuesday Morning Volunteers."
Gleason's negatives would remain inaccessible today were it not for generous funding to the Concord Free Public Library from the National Historical Publications and Records Commission to arrange, describe, catalog, and microfilm them, the support of the Massachusetts Historical Records Advisory Board, and the skilled efforts of Project Archivist Pamela Murray toward accomplishing this work.