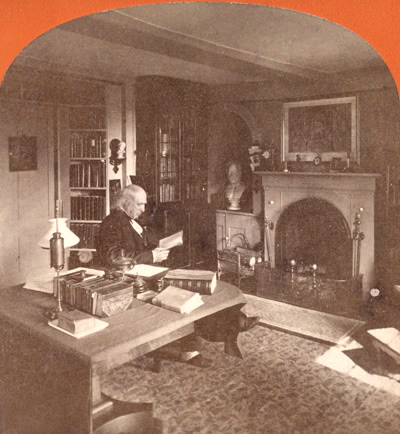 Stereographic image. Original card stereograph from CFPL Photofile. Source undetermined.

The original of this photograph of Bronson Alcott in his study comes from a card stereograph dating from the 1870s.

Card stereographs (also known as stereo cards, stereotypes, or stereoviews) consist of paired photographs of the same image side-by-side on a card backing. (Images in this format were also produced on glass.) Viewed through a stereoscope, the two images appear as a single three-dimensional image. Stereo cards were mass-produced and eagerly collected in the nineteenth century, serving as a form of home entertainment and self-education. A number of repositories have extensive stereograph holdings, the Concord Free Public Library included.

Next Image Previous Image
Back to Essay
Back to Table of Contents

Special Collections Home
Library Home

This image may not be reproduced in any form, including electronic, without permission from the Curator of the William Munroe Special Collections, Concord Free Public Library, Concord, Mass.