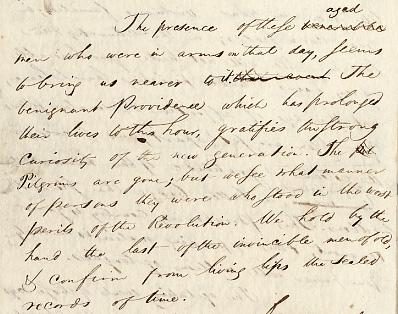 Ink on paper. From the Records of the Concord Committee of Arrangements for the Second Centennial Celebration of the Incorporation of Concord (part of the CFPL Vault Collection). Manuscript discourse gift of David Emerson, 1985.

At town meeting on March 2, 1835, the citizens of Concord appointed a committee to consider the celebration of the upcoming bicentennial of its incorporation in September. This committee recommended a public procession and an oration to commemorate the event. Ultimately, Ralph Waldo Emerson was asked to be the keynote speaker on this occasion. From our retrospective vantage point, the selection of Emerson as orator seems natural. But Emerson was not the first choice of the Committee of Arrangements, nor even the second. Despite his family ties to the town, he was, after all, a new resident, and not a native Concordian. Moreover, although he already enjoyed a considerable reputation as a lecturer, he was not yet the recognized representative of Transcendental philosophy that he would soon become with the publication in quick succession of his Nature (1836), his "American Scholar" oration (1837), and the "Divinity School Address" (1838).

Emerson took his charge as invited speaker seriously. Through the summer of 1835, he researched Concord history. He consulted the manuscript town and church records going back to the 17th century, Peter Bulkeley's Gospel-Covenant, Ezra Ripley's Half Century Discourse and A History of the Fight at Concord on the 19th of April, 1775, the proofsheets of Lemuel Shattuck's comprehensive history of Concord, and printed historical works by a number of other writers (Johnson, Shepard, Mather, Winthrop, Hutchinson, and Bancroft among them). The resulting discourse, which took an hour and three quarters to deliver, was the first of many public addresses he would make in Concord.

This manuscript was used not only for delivering the speech on September 12, 1835, but also (as the presence of footnotes suggests) as printer's copy for its 1835 first publication. It was given to the library in 1985 by David Emerson (great-grandson of RWE) in commemoration of the 350th anniversary of Concord's incorporation. Its provenance (history of ownership) has been partially established. It belonged to lawyer and judge John Shepard Keyes, who inherited it either from his father John Keyes (Chairman of the Committee of Arrangements for Concord's 1835 celebration) or directly from Emerson. From J. S. Keyes (whose daughter Annie Shepard Keyes married Edward Waldo Emerson in 1874), it passed to Edward Emerson, perhaps detouring through Prescott Keyes (son of J. S.). On his death in 1930, Edward Emerson left it to his son Raymond, who gave it to his wife Amelia Forbes Emerson in 1935. Amelia Emerson gave it to her son David—donor to the Concord Free Public Library—in 1979.

The presence in the Concord Free Public Library of both this manuscript and the 1835 first printing of Emerson's discourse supports the comparative process of textual scholarship. This manuscript has been consulted in establishing a definitive text for the ongoing Harvard edition of Emerson's writings.

The market value of an item like this would make its purchase impossible for many repositories. The Concord Free Public Library typically acquires major manuscripts through gift rather than purchase.

Next Image Previous Image
Back to Essay
Back to Table of Contents

Special Collections Home
Library Home

This image may not be reproduced in any form, including electronic, without permission from the Curator of the William Munroe Special Collections, Concord Free Public Library, Concord, Mass.