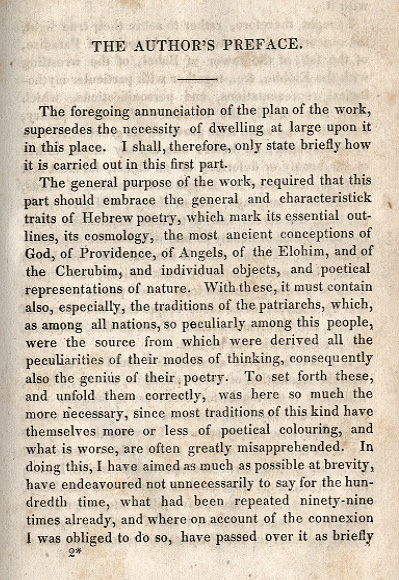 Religious Library of the First Parish in Concord bookplate pasted to front free endpaper of each volume. From the CFPL Special Collections. Concord Town Library volume, transferred to CFPL in 1873.

German literary critic, theologian, and philosopher Johann Gottfried Herder (1744-1803) was a student of Kant and an influence on the young Goethe. The Transcendentalists were inspired by a number of Herder's ideas, including his theories of language as meaningful rather than arbitrary in its origins and of imaginative language as expressive of spiritual truth. John Marsh (who prepared the 1829 American edition of Aids to Reflection) translated from the German for this American edition of Herder's The Spirit of Hebrew Poetry, a work of great interest to Elizabeth Peabody, among others.

Accession records show that this two-volume set was on the shelves of the Concord Free Public Library when it opened in 1873. It was one of many titles transferred from the Concord Town Library—the immediate predecessor of the Concord Free Public Library—into the new repository. It also bears the bookplate of the Religious Library of the First Parish in Concord, evidence that it was given by the First Parish either to the Town Library (established 1851) or to the Concord Social Library (the Town Library's predecessor, founded in 1821), the collection of which was absorbed by the Town Library.

Next Image Previous Image
Back to Essay
Back to Table of Contents

Special Collections Home
Library Home

This image may not be reproduced in any form, including electronic, without permission from the Curator of the William Munroe Special Collections, Concord Free Public Library, Concord, Mass.