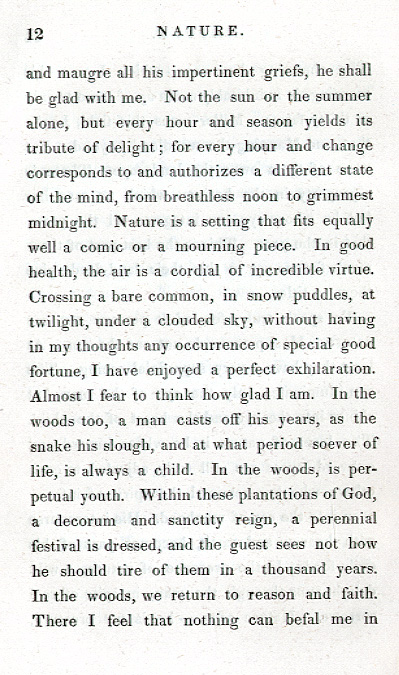 Page 12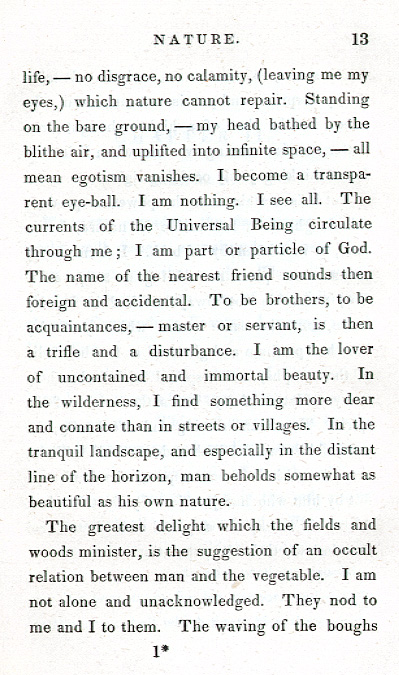 Page 13
From the Newton/Emerson Collection (part of the CFPL Concord Authors Collection). Gift of Edith Emerson Forbes and Edward Waldo Emerson, 1918.

William Taylor Newton's copy of Emerson's groundbreaking exposition of Transcendental philosophy, published in 1836 (the "Annus Mirabilis" of Transcendentalism, as American intellectual historian and Harvard professor Perry Miller described it). Soon after the publication of Nature, the Transcendental Club (also known as the Hedge Club) first gathered at George Ripley's house in Boston.

Next Image Previous Image
Back to Essay
Back to Table of Contents

Special Collections Home
Library Home

These images may not be reproduced in any form, including electronic, without permission from the Curator of the William Munroe Special Collections, Concord Free Public Library, Concord, Mass.