Dash & Dot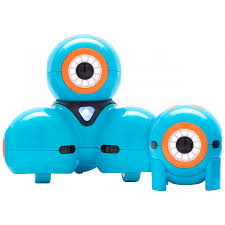 Dash and Dot are robots that allow kids ages 6 and up to develop fundamental coding and problem-solving skills. Use apps to develop new behaviors for Dash who responds to voice commands, navigates objects, dances and sings, all the while familiarizing your kids with the fundamentals of robotics.
Dot also responds to your commands via an app on your phone and has multiple sensors which give it the ability to play games involving crafting, storytelling, and construction. Dot aids kids in developing coding and problem-solving skills.
NOTE: Patron must be 18 or older and must sign the Lending Agreement to check out this item.
[Request this Thing] [Online User Tutorials] [Instructional Video] [Package Contents] [Back to Main Page]