Hoopla
Staff Picks (As of 4/8/2020) -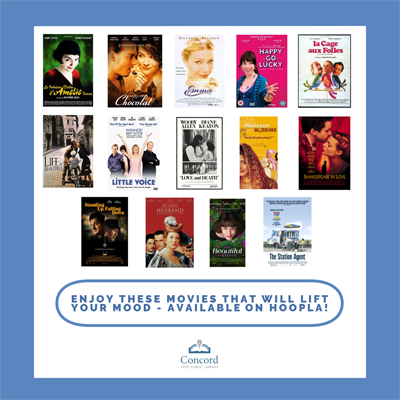 Our library staff has selected Hoopla movies, TV series and audiobooks for you to enjoy during the pandemic. The selections include movies that will lift your mood, let you lose yourself in a stranger world or alternative to "kids' movies"that parents can enjoy with children, TV series that Concord loves (or will), and movies set in small space but with a big story.
View Hoopla Staff Picks - Movie & TV Series
Hoopla is another digital media service made available to Concord patrons by the Library. It provides free access to thousands of movies (at least 2 years old), TV shows, music

albums and audiobooks that can be streamed or downloaded on your computer, tablet or smart phone. There is no waiting list and titles are always available.
Hoopla is available on Apple TV (4th generation or above) and Amazon Fire TV.
Hoopla also supports Amazon Alexa. Watch a short video on how it works.
With no wait lists, hoopla content is always available, and with these new additions your patrons will have the ability to stream over 40,000 movie and TV selections directly through their televisions.

Interested in learning more about hoopla?
Getting Started:
Sign up at http://www.hoopladigital.com with your Concord Library Card (Concord, MA residents only)
If you are using a mobile device (phone, tablet, etc.) download the app at the bottom of the Hoopla page or from the Apple App Store or Google play Store. No App is required for computer users.
Log in to Hoopla on your mobile device or PC
Browse, borrow and play! Enjoy up to 20 digital videos, music albums or audiobooks per library card each month during the library closure in response to the COVID-19 pandemic (an increase from 10 borrows per month).
Borrowed titles will be automatically returned when your lending period is over.
You may return items before due date.
Lending Periods:
Movies and TV shows: 3 days
Music albums: 7 days
Audiobooks: 21 days
For more information or assistance:
Email: digitalmedia@concordlibrary.org
-------------------------------------------------
An Update (3/26/2020) -
A special offer from the Hoopla service provider MidwestTape - In order to provide relief to Libraries and to provide more content to Patrons during this difficult time of sheltering at
home, Hoopla Digital has curated the hoopla Bonus Borrows Collection.
This list of more than 1,000 top titles will be FREE to Libraries - PLUS each Patron will be debited ZERO Borrows when they borrow any of the included titles!
In addition to these titles, patrons will also continue to have access to hoopla's full collection of over 750,000 eBooks, audiobooks, movies, TV shows, music, comics, and more.
The Collection will be free to Libraries and Patrons through 4/30/20.