Welcome Back to the Concord Free Public Library!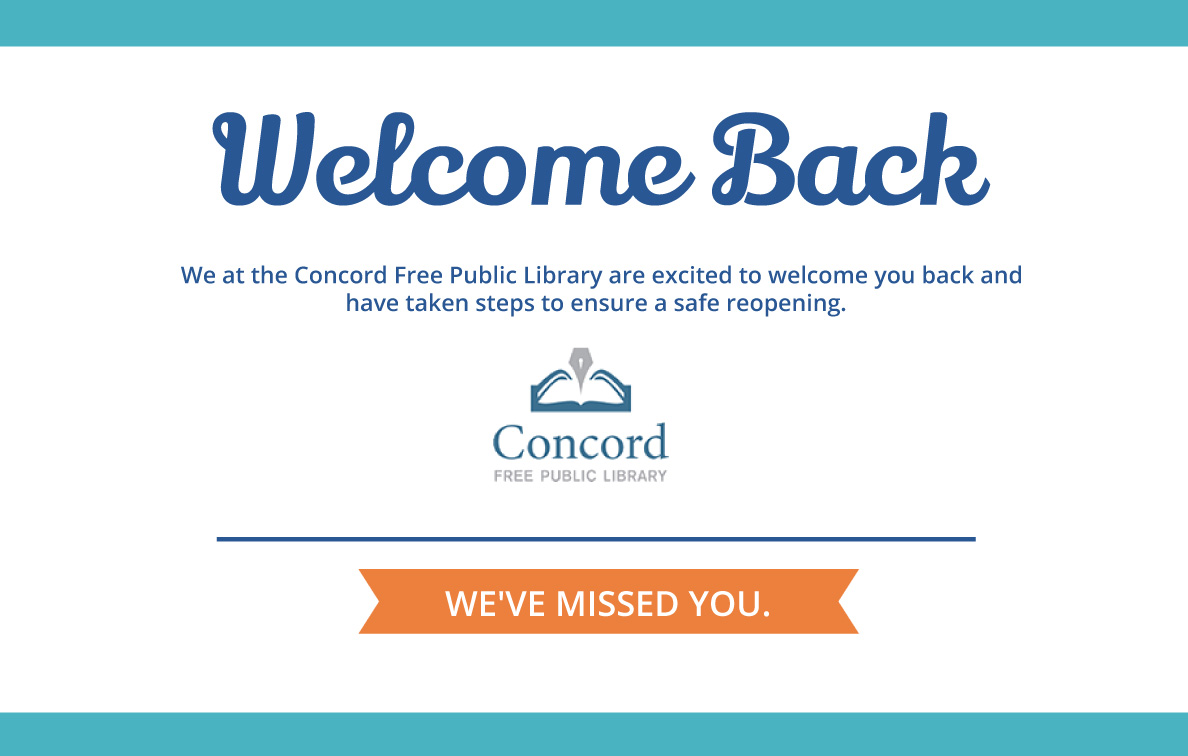 The Main and the Fowler Branch Library buildings are now open with modified hours and by advance registration after being closed since mid-March due to the COVID-19 pandemic. The new hours are 10:00 a.m. to 6:00 p.m., Monday through Friday. The Fowler Branch Library closes between 1:00 - 2:00 p.m. daily for cleaning. The first hour of the day at both locations is reserved for senior citizens and at-risk individuals. Curbside pickup service continues at the Main Library. [View Library Hours] [View Library's Phase 3 Service Restoration Plan]
ALL VISITORS MUST:
Follow traffic flow guidelines
Maintain a 6 foot distance from others
Sanitize hands at the entrance
Wear a mask or face covering - Patrons who cannot wear a mask for any reasons are welcome to sign up for our curbside service.
CURRENT AVAILABLE SERVICES AT THE MAIN LIBRARY:
Audiovisuals (Media Room)
Bathrooms
Lobby (Adult New Books & More)
Open Reserve Shelves
Special Collections (If you plan to visit Special Collections, please email specialcollections@concordlibrary.org or call 978-318-3342 ahead of your appointment.)
Staff to help you look up titles and retrieve books
Teen area
Thoreau Room (Art Books)
WiFi printing/photocopier/fax self-service
CURRENT INACCESSIBLE AREAS AT THE MAIN LIBRARY:
Children's Room
Study/Meeting Rooms
Public Computers
Public seating
2nd & 3rd Floors (Staff will retrieve books for you from the 2nd & 3rd floor stacks.)
CURRENT AVAILABLE SERVICES AT THE FOWLER:
Adult Fiction
Audiovisuals
Bathrooms
Children's Room (1 family at a time.)
Magazines
New Books
Photocopier
Teen Books
CURRENT INACCESSIBLE AREAS AT THE FOWLER:
Lower Level (Staff will retrieve books for you from Lower Level.)
Meeting Rooms
Public Computers
Public seating