Exhibits
Main Library Art Gallery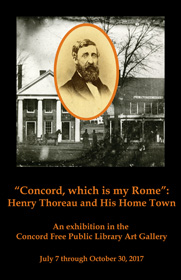 "Concord, which is my Rome": Henry Thoreau and His Home Town Exhibition
July 7 - October 30, 2017
"Concord, which is my Rome": Henry Thoreau and His Home Town : An exhibition drawn from the William Munroe Special Collections of the Concord Free Public Library (CFPL) to celebrate the bicentennial anniversary of Thoreau's birth from July 7 through October 30, 2017 in the Library's Art Gallery.

July 12, 2017 marks the 200th anniversary of the birth of Henry David Thoreau. The Library will commemorate the event with the first major exhibition of its kind, "Concord, which is my Rome": Henry David Thoreau and his Home Town.

The exhibition, the third of three CFPL exhibits commemorating the bicentennial of Thoreau's birth, explores Thoreau's life and work within the context of his home town through manuscript materials, documents, letters, photographs, maps, surveys, engravings, record and account books, and related artwork, all exclusively from the library's William Munroe Special Collections.
Gala Opening occurred on Friday, July 14, 2017 at 7:00-9:00 p.m.
Our opening speaker was Laura Dassow Walls, William P. and Hazel B. White Professor of English at the University of Notre Dame, where she is also affiliated with the History and Philosophy of Science program. A noted Thoreau scholar, Professor Walls is a prolific author whose works include the forthcoming Henry David Thoreau: A Life (University of Chicago Press, 2017). In her talk, "Our True Paradise": Thoreau's Concord and the Ecstasy of the Commons, Professor Walls asks, could recovering Thoreau's ideal of the commons renew our own vision of natural, political and cultural possibility—of the "true paradise" possessed by all?
The evening also included music from the Thoreau family flute books held by Louisa May Alcott's Orchard House (featuring flutist Judith Sherry Braude), refreshments, and an opportunity to view the exhibit
The accompanying lecture series continues in September and October with talks by Elizabeth Hall Witherell, Robert Thorson, Robert Gross, and Robert Hudspeth.
Gallery Tours with Leslie Perrin Wilson:
August 16th at 10:00 a.m.
September 9th at 10:00 a.m.
September 28th at 7:00 p.m.
October 2nd at 3:00 p.m.
If you are interested in booking a tour of the exhibit, contact the Special Collections staff at 978-318-3342 or lwilson@minlib.net
***********************************************************************
Fowler Branch Meeting Room Exhibit
Fowler Branch Display Case
The Library Special Collections Department showcases the historical materials in Fowler Display case.
Art Jury
Check back here for the next Art Jury announcement.
Sign up for Library eNewsletter