Current Exhibitions
Main Library Art Gallery
An Artist Journey: Paintings by Ivan Orlinsky
September 2023
Main Library Commons (Please note the location change.)
Reception: Saturday, September 2, 2:00 - 4:00 p.m.
FROM THE ARTIST: For the last few years I have focused on watercolor. I started my appreciation for the arts growing up in NYC studying at the Brooklyn Museum, and the School of Visual Arts. After completing a degree in Technical Communications from Northeastern University, I spent my professional career working in high tech. For the past five years, I have taught watercolor at the continuing education program at Lexington High School. I was past President of the Chelmsford Art Society and am a member of the New England Watercolor Society, with acceptance at a number of juried shows.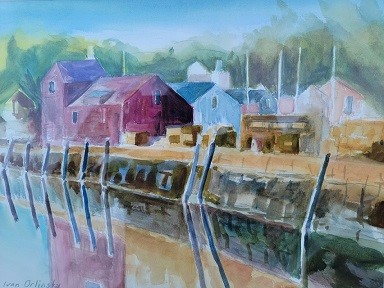 Please note - The Art Gallery is under renovation in August & September, 2023 and will reopen in October. The prescheduled September exhibit has been relocated to the Commons. Thank you for your attention.
-----------------------------------