3rd Graders - Check out the Book Eaters Club!
Meets the 3rd Wednesday of the month at the Main Library. See the Event Calendar for the dates.
Want to learn more? See the video below:
BookEaters Club (3rd Graders)
Meets at the MAIN Library the 3rd Wednesday of each month @ 4 p.m.
Let's share our favorite old and new books, while we play games, make crafts and enjoy snacks.
Please check the Event Calendar for the meeting dates.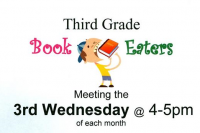 Read to Luna the Dog
Come to the MAIN Library the first Tuesday of every month starting at 4 p.m. to read to a great listener. She loves stories and wants to hear yours!
For kids ages 5-8
Please register for a 15 minute time slot by visiting the Event Calendar.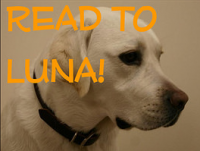 Nature Connect
Enjoy (mostly) self-directed, nature-themed activities at the MAIN Library every Sunday at 2 p.m. in the Children's Room. Grades K-5.
Collect and complete nature activity sheets to earn prizes, experience, and knowledge. A different theme every month!