Meet Your Children's Services Staff
Lauren McClure, Senior Library Assistant
Hello! I'm Lauren and I truly enjoy working at the Concord Free Public Library. It is a pleasure to help kids find the book that they've been hoping to find. Creating colorful displays to brighten the Children's Room is one of my favorite tasks. I've been an avid reader all my life. Growing up my mother would often tell me to stop reading and go outside to get some fresh air. I would go out of doors, but would bring a book along with me. I still enjoy being outside and getting lost in a good story. In addition to reading, I enjoy cooking- constantly trying new recipes. My family will tell you that sometimes my experiments are great and others need some work. I live in West Concord. You can often see me trying to locate our very boisterous goldendoodle, Hobbes, who likes to make unannounced visits at our neighbors' houses.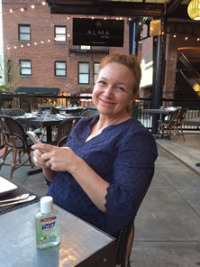 Cynthia DiRenzo, Library Assistant
We wear many different hats in the library. On Thursday nights Cynthia works in the Childrens room. Some nights she recovers books whose covers have been torn or have just been taken out so many times that they need a little freshening up. She likes the nights when she gets to do special projects for the Children's Room. We all work hard so that when you come to the library you will have a nice time and hopefully check out some special books.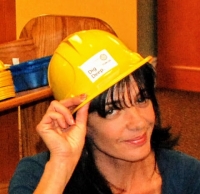 Cary Stough, Teen Librarian
Howdy! I'm Cary Stough. Library-obsessive, poet, movie lover, Playboi Carti superfan, and your brand new Teen Librarian. Even when I'm not "on the job," I spend a lot of time in libraries: reading, researching, soul-searching. I LOVE them. That's why I'm so happy to bring you the best service I possibly can. Whether you need help citing sources for a research project or need to decide what to read next after Naruto, I'm your guy. Let me help you earn volunteer hours by joining Teen Advisory Board.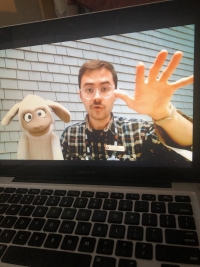 Henry T.
Who am I, you ask? I'm Henry T., the owl with the glasses! Supposedly, I'm named after some guy who lived alone in the woods. Couldn't be me—I love being around people! I'm very serious about reading. My favorite type of books are graphic novels. I love the way pictures and words work together. Visit me at the library, and I'll probably have a pencil and paper in my hand, drafting my next masterpiece comic strip. That is, when my sister is distracting me with her "jokes." I wish she would dedicate her time to more artistic matters.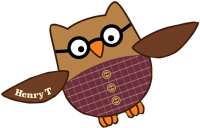 Weezie
Don't believe everything my brother tells you. I might not wear glasses but I'm just as smart! I'm Weezie, the funniest owl in Concord, Massachusetts. If you're walking in the Children's Library and hear hooting, that's probably me laughing at my own jokes. You're probably wondering about my name. No, I don't have bad allergies. I'm named after Louisa (Lou-weezie) May Alcott, the greatest author to ever live in these parts. Did you know she hung a painting of an owl above her fireplace? I can't help but adore my fans!