Give to the Library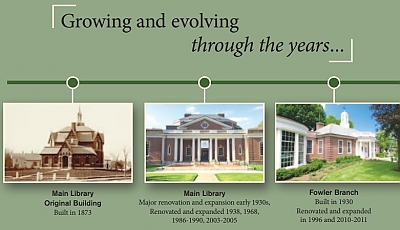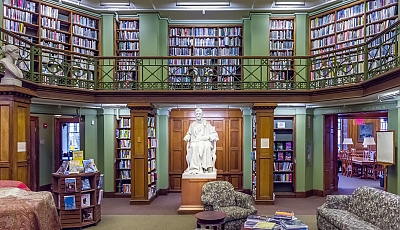 WHY GIVE?
The Concord Free Public Library is a forum for civic engagement, repository of heritage, center of imagination, and comfortable retreat to work, read, or meet. The Library is a remarkable community resource – your support helps us maintain and improve these treasured institutions.
The Trustees of the Concord Free Public Library Corporation are responsible for the maintenance, preservation, and enhancement of the historic library buildings and the grounds. In addition, this private corporation oversees the William Munroe Special Collections and provides funding for library books, magazines, CDs, technology upgrades, book conservation, and special events.
The Concord Free Public Library Corporation is funded exclusively through private donations.
GIVING OPPORTUNITIES
There are many ways for you to make a difference. Your support allows us to increase services and improve resources. The Concord Free Library Corporation is a 501(c) 3 charitable organization, and your gift to the Library is tax deductible.
Annual Fund - Support the daily operations of your Library!
The Annual Fund, which runs from July 1st to June 30th each year, raises funds to help maintain the building and grounds of both library locations; purchase new books, DVDs, CDs, audiobooks and downloadables; update technology; offer community-wide special events; and preserve and enhance the William Munroe Special Collections.
Contributions to the Annual Fund are accepted at anytime. Envelopes are available at both Main and Fowler Libraries and mailings are sent throughout the year. To make a gift right now, please click on the Give Now button at the end of this page.
Tribute Gifts
A special way to honor a loved one. A tribute gift can be made in honor of or in memory of a special person. Please indicate the designation on your check or in a note and we will provide you with a receipt and send a note to the family. Gift amounts will be kept confidential.
Book Funds
Book funds are earmarked for specific areas of library acquisitions (e.g.: Young Adult books, Children's Books, Fowler Library Collection, etc.). Book funds can be established in honor or in memory of a person with a special book plate placed in the book(s).
HOW TO GIVE
Outright Cash Gifts
It does not get any simpler than this. Transfer funds electronically, via check or use a credit card with the following information:
Development Office
Concord Free Public Library Corporation
129 Main Street
Concord, MA 01742
Securities
The Library is pleased to accept gifts of security, which offer special tax benefits. Please contact the Development Office at 978-318-3355 for the Library's account numbers and broker information.
Planned Gifts
From planning your own retirement security to ensuring smooth estate planning, please consider the library. For more information, please contact the Development Office at 978-318-3355.
Gifts of Art/Personal Property/Manuscripts/book Collections
Please call for the details about giving art, manuscripts, book collections, etc. to the Library by contacting Special Collections at 978-318-3342.
Corporate Matching Gifts
Many employers match the gift their employees make to Concord Free Public Library. If your employer does have this program, your gift may be doubled or even tripled simply by completing the matching gift form provided by your employer.
Corporate and Foundation Grants
Grants from Corporations and Foundations are an important source of funding for the Library. If you are associated with a Corporation or Foundation interested in giving to the Library, please contact the Development Office at 978-318-3355.
Give today to help ensure that the Library continues to evolve to meet the needs of our community.
Questions? Call the Development Office at 978-318-3355 or email: sghannam@cfplcorp.org