CFPL 150th Anniversary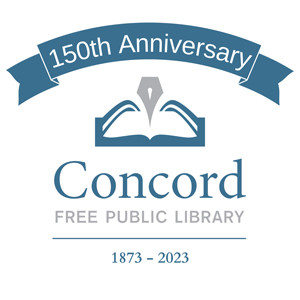 As we celebrate the Concord Free Public Library's 150th anniversary, we recall Ralph Waldo Emerson's words upon the dedication of the Library on October 1, 1873: "But there is no end to the praise of books, to the value of the library. Who shall estimate their influence on our population where all the millions read and write?"
Founded through the generosity and vision of Concord native William Munroe, the Library has provided books, information, and resources to both Concord residents and visitors for 150 years and stands as the cornerstone of Concord's cultural life. While the building Munroe donated has undergone many changes and expansions, the Library continues to inspire lifelong learning as we adapt to the needs of the community.
Please visit the calendar below for a series of the 150th anniversary events planned for the year.
Main Library Art Gallery
The Library's Special Collections Exhibition: Daniel Chester French: Art & Enterprise in Concord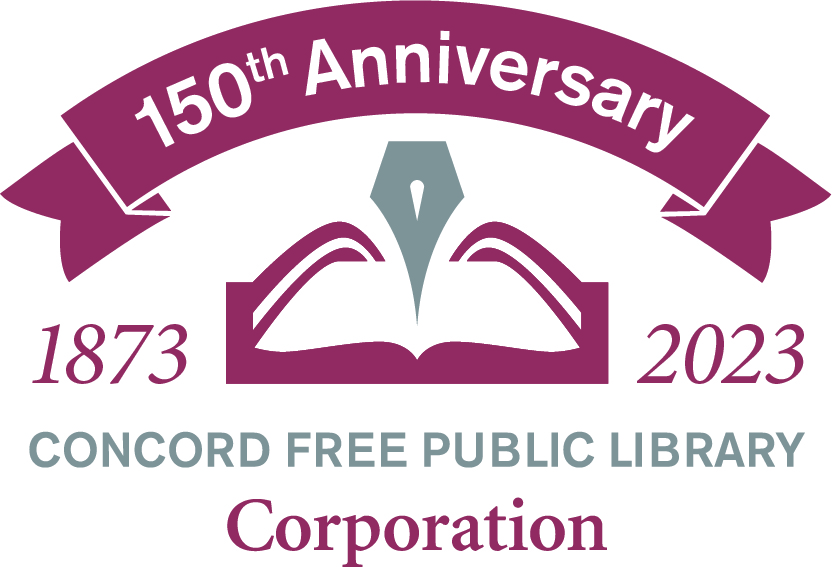 February & March 2023
We invite you to the exhibit Daniel Chester French: Art and Enterprise in Concord, on view in the second-floor Art Gallery at the Main Library. Why, you ask, are we leading the Library's 150th anniversary-year celebration with an exhibit on Daniel Chester French. William Munroe, the Library's founding benefactor, initially intended that the Library expand into hosting an art museum. The Library immediately began taking in the art upon opening the doors with art pieces like David Scott's Ralph Waldo Emerson and Daniel Chester French's bust of Simon Brown, French's oldest surviving portrait bust. Done as a commission for the Concord Farmers' Club, of which both Brown and Daniel Chester French's father, Henry Flagg French, were members. By the time French completed the Seated Emerson in 1914, located in the Library's rotunda, French was acknowledged, "to be the first sculptor of America." His monumental career capstone, the Lincoln Memorial, was still in its planning stages.
Yet, in Concord, French would always be the favored son who created the defining symbol of the town, the Minute Man. His sculptures captured the town's unique place in history, and the community allowed him to develop both his artistic vision and vocation. Special Collections is pleased to highlight French's art and enterprise in Concord in the current exhibit.
The William Munroe Special Collections holds over 200 pieces of art, including sculptures, paintings, and lithographs, from a wide variety of artists from Concord and beyond. Over the past two years, Special Collections completed a comprehensive inventory and documentation of the Library's unique art collection, including creating high-quality digital images of the complete collection that are on view on our art collection website here.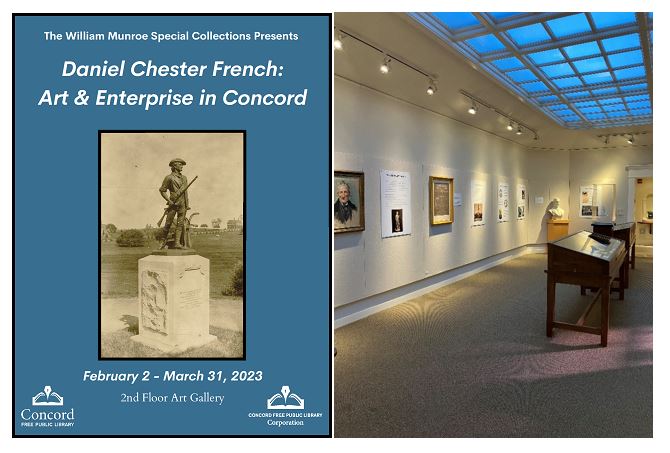 150 Years of Bestsellers
Click on the poster and then book covers to learn more.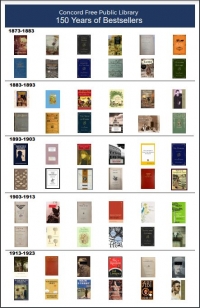 Click on the poster and then book covers to learn more.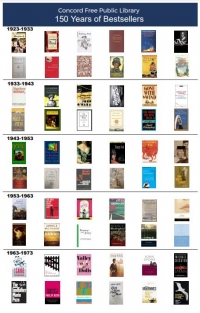 Click on the poster and then book covers to learn more.