The Charles Williams Scholarships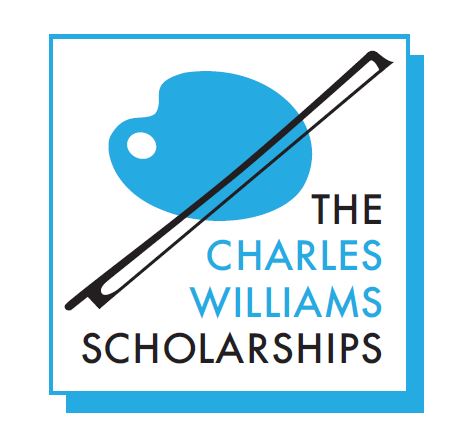 Among the duties of Trustees of The Concord Free Public Library Corporation is the administration of a special endowed fund, The Charles Williams Fund, that provides an annual stipend for scholarships awarded to college-bound Concord students who demonstrate an interest and aptitude in the Studio Arts or in Music. The Fund is named for Library benefactor Charles Williams, a contemporary of the Library's Founder, Williams Munroe. Charles H.S. Williams was born in Buffalo, New York in October, 1838 and attended college first at Yale University then Union College. He studied law, and went into practice in Poughkeepsie, NY, where he was married. After practicing for some years, Charles changed course and studied Theology.
He relocated to Concord and was ordained as a Congregational Minister and served as Pastor of the Trinitarian Church in Concord from about 1868 to 1870. He underwent a change in his theological views, and stepped away from the church, going back to the practice of law. Sadly, Mr. Williams' life ended prematurely when on December 26th, 1880 he was skating alone near Nine Acre Corner and it is surmised that he must have fallen through the ice. In his obituary he was hailed as a leading citizen of Concord, and a friend to all. Having no children of his own to inherit his wealth, Mr. Williams, working through the structure of The Library Corporation, created a fund that would benefit children of his fellow Concordians for generations to come.
The Williams bequest was notable in that Mr. Williams specifically indicated that scholarship funds should be equally available to young men and to young women. For many years The Williams Scholarship was run as an "affiliate fund" of The Concord-Carlisle Scholarship Fund (CCSF) which enabled the mechanics of scholarship administration to be managed in concert with other CCSF affiliate funds. During that time, the Library Corporation provided financial support to Williams Scholars who attended universities and colleges all over the United States.
In 2018, The Williams Scholarship was restructured to create two distinct awards, The Charles Williams Scholarship for Excellence in Music, and The Charles Williams Scholarship for Excellence in Visual Arts. For a comprehensive list of Frequently Asked Questions, please click here.
Most Recent Scholarship Recipients
2023 Grant Year
Sonia Vader, Whitmore Academy, Class of 2023, Simmons University, Class of 2027 (The Charles Williams Scholar for Excellence in the Visual Arts)
Sophie Richardson, Concord-Carlisle High School, Class of 2023, Yale University, Class of 2027 (The Charles Williams Scholar for Excellence in Music)
Sofia Travias, Concord-Carlisle High School, Class of 2023, Bentley University, Class of 2027 (Honorable Mention award in Music)
Clara Lewis, Concord-Carlisle High School, Class of 2023, Boston University, Class of 2027 (Honorable Mention award in the Visual Arts)
Elisabeth Parker, Concord-Carlisle High School, Class of 2023, Connecticut College, Class of 2027 (Honorable Mention award in the Visual Arts)
2022 Grant Year
Ruby Massengale, Middlesex school, Class of 2022, Cornell University, Class of 2026 (The Charles Williams Scholar for Excellence in the Visual Arts)
Samara Reid, Concord-Carlisle High School, Class of 2022, the Rochester Institute of Technology, Class of 2026 (The Charles Williams Scholar for Excellence in the Visual Arts)
Samuel Lyczkowski, Concord-Carlisle High School, Class of 2022, Harvard university, Class of 2026 ( Honorable Mention award in Music)
2021 Grant Year
Kincaid DeBell, Concord Academy, Class of 2021, Lewis & Clark College, Class of 2025 (The Charles Williams Scholar for Excellence in the Visual Arts)
Alexander Krusell, Commonwealth School, Class of 2021, the Massachusetts Institute of Technology, Class of 2025 (Honorable Mention in Visual Arts)
Laurel Sharakan, Concord-Carlisle High School, Class of 2021, American Musical and Dramatic Academy, Class of 2025 (The Charles Williams Scholar for Excellence in Music)
True Becker, Concord-Carlisle High School, Class of 2021, Tufts University, Class of 2025 (Honorable Mention in Music)
2020 Grant Year
Eleanor Kuchar, Concord-Carlisle High School, Class of 2020, Tufts University, Class of 2024 (Honorable Mention in Music)
Madeline Mueller, Concord-Carlisle High School, Class of 2020, Tufts University, Class of 2024 (Honorable Mention in Music)
2019 Grant Year
Rebecca Pasley, Concord-Carlisle High School, Class of 2019, Oberlin College and Conservatory, Class of 2023 (The Charles Williams Scholar for Excellence in Music)
Thomas Kim, Concord-Carlisle High School, Class of 2019, University of Southern California, Class of 2023 (The Charles Williams Scholar for Excellence in the Visual Arts)
Lily Cratsley, Groton School, Class of 2019, Georgetown University, Class of 2023 (Honorable Mention in Music)
Beth Fineberg, Concord-Carlisle High School, Class of 2019, University of Illinois Urbana-Champaign, Class of 2023 (Honorable Mention in Music)
2018 Grant Year
Timothy Collins, Williams Scholar, Denison University, Class of 2019
Elanna Honan, Williams Scholar, Boston University, Class of 2020
Helen Wargelin, Williams Scholar, Northwestern University, Class of 2020
List of Colleges and Universities Attended by Williams Scholars and Honorable Mention Winners
Boston University
Brandeis University
Brown University
California Institute of the Arts
Case Western Reserve University
Dennison University
Georgetown University
Massachusetts College of Art and Design
Mount Holyoke College
Mount Ida College
Northwestern University
Oberlin College and Conservatory
Pratt Institute
Rochester Institute of Technology
Rowan University
Scripps College
St. Anselm College
Syracuse University
Tufts University
Tulane University
University of Illinois Urbana-Champaign
University of Massachusetts/Amherst
University of Michigan
University of New Hampshire
University of Southern California
Westfield State University